Since her graduation from the International Centre of Photography (ICP) in 2009, Evgenia Arbugaeva (1985, Russia) has gained worldwide recognition for her work on Tiksi, a small town in Northern Russia resting on the coast of the Arctic Ocean, where she spent the early years of her childhood. In 2012 she received the Bright Spark award in the Magenta Foundation's Flash Forward Competition for emerging photographers, and a Magnum Foundation Emergency Fund Grant.
In 2013 Arbugaeva was named one of PDN's '30 Emerging Photographers to Watch' and she won the Leica Oskar Barnack Award at the Rencontres d'Arles. She has also been selected for the 20th edition of the Joop Swart Masterclass, the annual masterclass for emerging photographers organised by World Press Photo.


Things seem to be taking off in your photography. Where did it all start for you?
When I was an exchange student in high school in Connecticut (USA), I took a class in photography.
There I learnt many things that got me into photography. Somewhat later, when I was around 19 years old, I met a female 'Even': a member of a nomadic indigenous tribe of Yakutia (Russia) who lives part-time in the city and part- time in a reindeer herd. Her son was wounded after a gas explosion and she didn't have money for his surgery. So she went to companies in the city, asking for help. When my dad told me about this story, I decided to make a calendar with photos of indigenous children, to help raise money. I became close friends with this woman and when she went back to the herd, I asked her to take me along. Initially, it was just for the travel, I wanted to experience nomadic life. There I started to take photos capturing what I encountered during this trip. When I came back I realised: I want to become a photographer.

Then you went to study at ICP in New York. Is there something you learnt there that you still cherish in your practice as a photographer today?
When I went to the ICP I was still pretty clueless about photography, but studying there turned my life around completely. I discovered the world of photography. In Russia it seemed like people didn't take the profession of photographer seriously and the most common response would be: "What are you doing with your life? Get a job!".
In New York, I realised that it is okay to be a creative person, that it can lead to an acceptable profession and appreciated career. So, in answer to your question: I have internalized the core idea that you can build a life around your passions and I am grateful to the ICP that they opened my eyes to that perspective.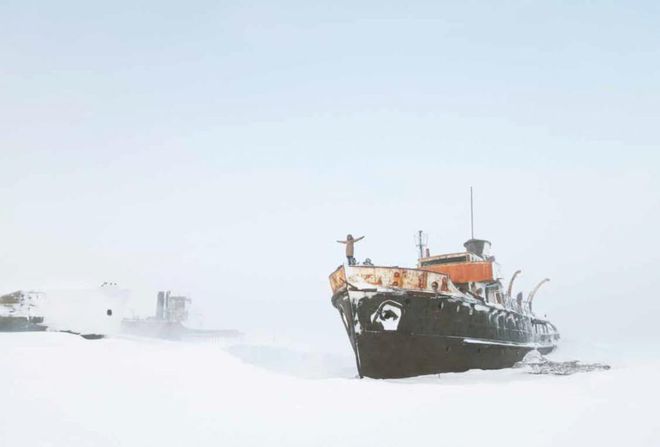 Your first big project is Tiksi.
What does this place mean to you?
When I was eight my family moved to a bigger city: Yakutsk – where my parents still live. This move was very painful: I missed Tiksi a lot. I couldn't forget the vast tundra without beginning and end, and the wind there is
so strong that it seems like it can pick you up and take you to far away places! I have travelled extensively ever since but always kept the notion of little town Tiksi as my own perfect world.

For this series you photographed a young girl named Tanya. How did you meet her?
I met Tanya when I first arrived to Tiksi with my camera. She and her mother were sitting on the shore of the sea looking very sad. I came up to them and started a conversation. They said "Today Tanya's older brother and sister left for a big city to go to college. Now we are staring at the horizon like Asole from Grin's fairy tale waiting for the scarlet sails – will they ever come back??" I thought: wow, this is almost like my story!
I took a picture of Tanya throwing stones into the sea and when I came back to New York, I didn't like any of my photos from Tiksi, except for those of Tanya. So I decided to go back and photograph her. Tanya reminded me of myself when I was a kid. She had a similar fascination with the sea and the tundra, and a similar urge to explore her environment. She quickly became my friend and
guide to Tiksi.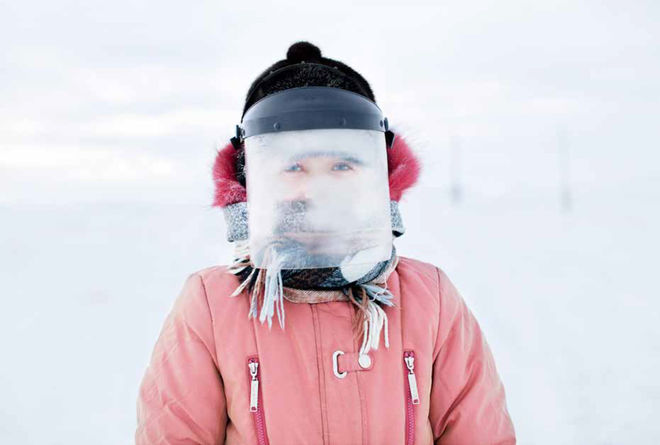 How important was it to you to find a balance between the aesthetics and the documentary aspect of your work?
As often happens, childhood memories begin to transform into surreal images, I wondered if this place really existed as I remember it... Nineteen years later I went back to find Tiksi nearly abandoned after the fall of USSR. The bright colours of houses faded, windows boarded and ships left rusting
in seawater. I wanted to show that too. In the middle of the project I thought: maybe I am overly beautifying things, making it too sweet. I was a little embarrassed of the naivety of my approach. >>

Why would you be embarrassed of that?
Perhaps, I felt a responsibility to photograph Tiksi in a true, documentary way. My first impulse was to tell the story of the town. But my photographs weren't exactly showing the reality and later I made peace with that. I find it much more interesting to make it a bit surreal. I wanted to make images that feel like 'nostalgic postcards' from the past, for Tanya and for myself.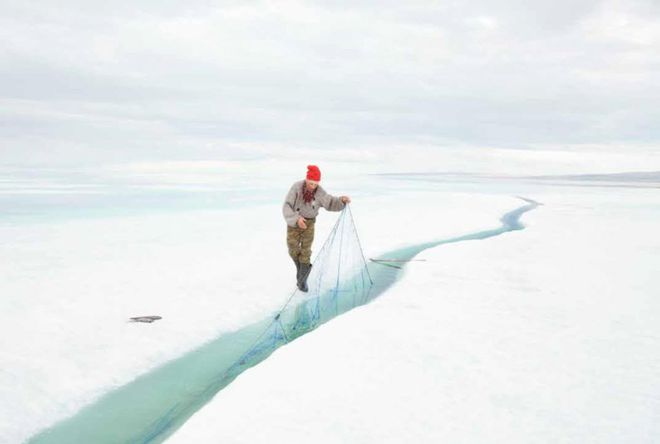 Did photographing Tiksi change your relationship with the place?
Yes, the photos fulfilled my nostalgia. It's like being very thirsty: you drink a glass of water, and you drink, and you drink, and you keep drinking. Until you're satisfied, then you stop. This is how it was with this project. Now I know that it is finished, but while I was still working on the series I was restless and could not stop myself from imagining all the unmade photographs that I still wanted to make.

Were there any images from this series that haunted you?
I felt the gaps in the story throughout the entire process, this frustrated me a lot and pushed me to explore. There
is an enormous antenna in Tiksi, for example, that I felt an absolute need to photograph. Tanya and I often went there because, during winter, it becomes a playground for kids.
I photographed it from every possible angle, but I was not satisfied. I even talked to it, trying to motivate it to work with me, like: "Come on, antenna!". One day Tanya and her sister were running around this antenna with flashlights and it became an image. I was so happy that it finally worked.
I can be pretty stubborn, but I also know that you can't force people or landscapes, or the weather, to have it your way. So, the only solution is to be patient and keep coming back till the universe is kind enough to give it to me.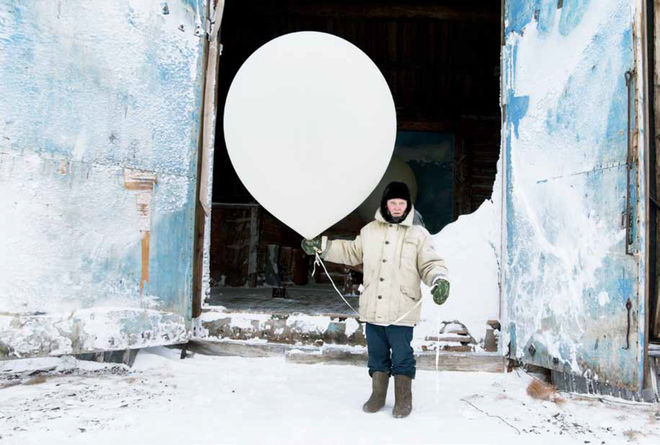 Arbugaeva's book on Tiksi is scheduled to be published in 2014 by Aman Iman Publishing.
This interview was featured in GUP#39 - Utopia.