Galerie David Guiraud of Paris will present a collection of historical male nude photographs by Wilhem Von Gloeden, Guglielmo Plüschow and Vincenzo Galdi, recently found in the archives of the Galerie Texbraun. The gallery describes the artists as two expatriated German aristocrats in Italy and a young Italian model, who served as "pioneers of the masculine and homo-erotic photography at the turn of the 19th and the 20th century."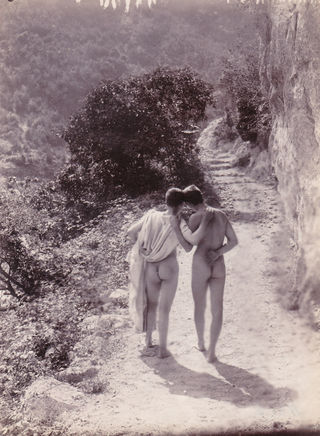 The images, taken with a romantic masculinity, show a reverence for Greek and Roman antiquity. The subjects assume classical poses and are occasionally draped with a white cloth, set against the backdrop of archaeological sites and Mediterranean skies and landscapes. The models, young workers from Rome or peasants and fishermen from Sicily, present a youthful idealism. While for our modern eyes, the nudity is perhaps what's most striking to us, the gallery is quick to point out that the images were not shocking at the time they were made -- a knowledge and appreciation for antiquity allowed for a different reading entirely. However, in today's context, we also must acknowledge how it fits in with art photography at large: "It is the first oeuvre exclusively devoted to male nudes (portraits, nudes and outside compositions)."
The prints themselves -- the exhibition will feature more than 100 vintage prints on albumin paper, all stamped by the artists -- are made all the more special and rare by the fact that so many photographs of a similar kind were destroyed by fascists in the 1930s.

The exhibition will take place at Galerie David Guiraud from March 10 - May 13, 2017. There will be an opening on Thursday, March 9 at 5:00pm.