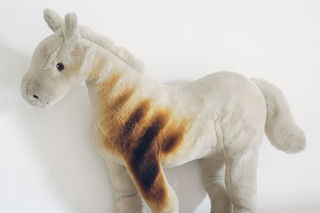 Our world is replete with symbols, both subtle and overt. Some of these are the basic symbols of everyday life – found on television controls, street signs, washing instructions – others are a complex and culturally nuanced network of images and meanings. Central to the definition of a symbol is the role of a visual image in representing a concept or reflecting a universal truth, in effect assigning a deeper meaning to one thing by using it to represent something else. All of us strive, in one way or another, both to create and to recognize meaning through the images and objects that fill our lives. Roland Barthes, the French theorist and philosopher, recognized this tendency to search out and fabricate meaning in modern culture, calling us homo significans, or meaning makers.
Photography is a process of meaning making. Profile pictures, holiday snaps, billboard advertisements – every image is a message: an assertion of identity, evidence of an experience, an elicitation of desire. In this sense, photography is a tool, dropping pins across the map of meaning via the images that we take for granted every day. Far from simply recording events or selling products, however, photography is also an art form that holds the power to engage the senses and awaken the mind. In the hands of the artist, a photograph is not a pin on the map of meaning, but a part of the map itself.
The American illustrator Edward Gorey once compared art to a kite, noting how through the movements of a visible object, one can deduce the invisible forces at play. It is through photography's framing of the visible that we are able to understand the invisible – feelings, beliefs, ideas and ideals – in new ways. Gorey's metaphor echoes in the movie American Beauty, in which a plastic shopping bag caught in a breeze "dances" with the character filming it. A photographer is likewise caught in a dance in his encounter with an image-to-be: sometimes a catching, sometimes a waiting, always a complex correspondence between seeing and stilling a moment.
The interpretation of the moment, and of the meaning behind an image, is an ever-developing relationship between photographer and viewer.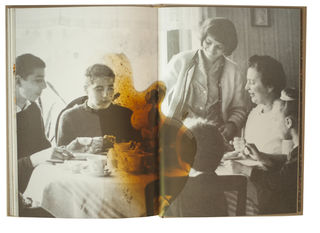 The act of transforming the three-dimensional into the two-dimensional, from moment to image, doesn't remove that moment from the flow of time, but rather imbues the moment with meaning that stretches both before and beyond its temporal frame. The poet Czeslaw Milosz wrote, "…a moment is not an abstraction, but is filled by what is seen by the eye. Time… always offers itself to the eye as saturated with a fragment of space, as in a film frame." A moment, any moment, is therefore a sensual experience: not an isolated sliver of time occurring independent of human interaction, but a juncture of time and place wholly defined by our ability to see and feel it.
A photograph can nevertheless abstract a moment from the particular, drawing the scene away from its context to take on a new and different significance. The best photographs capture the photographer's experience of the moment and impart the feeling of that experience to the viewer, all the while building meaning before every new set of eyes. The interpretation of the moment, and of the meaning behind an image, is an ever-developing relationship between photographer and viewer. The photographic act of granting significance to moments both great and small is a search not only for meaning, but also for spiritual sustenance found in the everyday, seen anew.
In his series Apparitions, Gustavo Sagorsky searches for this spiritual sustenance, and indeed seeks to capture the spirit that infuses his world with joy. Although quiet and at times austere, these images nevertheless seem to embody Sagorsky's delight in discovering the visual serendipities that enrich our daily experience. Abstracted from the context of their encounter, they become meditations on the relationship between photography and sculpture, an intertranslation between image and object. Even the derelict and discarded act as monuments to the human story, at turns sad or humorous, and become symbols, in Sagorsky's eye, for the persistence of life. A spill, a stain, a scar, shattered glass – physical remains act as reminders of what has occurred and become apparitions of what could be.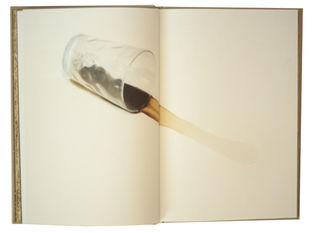 The word apparition has an interesting history. Initially used in reference to divine revelation, it soon developed more earthly meanings centered on visibility and the act of seeing. Over time the word came to be associated both with the anticipated appearance of a visible object and the unexpected arrival of a ghost or phantom. Thus the word traverses the realms of the known and the unknown, the material and immaterial, and could be said to refer overall to how something appears as opposed to what it really is – or, in Sagorsky's images, to the perceived truth behind the apparent reality.
Sagorsky cites the philosophy of Emmanuel Levinas as an inspiration in his image making. Levinas used light as a metaphor for knowledge: light is what makes the world visible, allowing us to experience it visually, but the light of knowledge makes it possible for us to see beyond the surface of things. Levinas described this light of knowledge as originating from within, allowing us to identify with what we see as a part of our experience, within our own unique frame of understanding. As a photographer, Sagorsky shares this light in a language of moments – and if a moment is defined by our role in perceiving it, one might say every moment is an apparition, taking shape even as it disappears.
---
Jordan Rockford is an independent curator and Senior Lecturer in the Photography program at the University of the Arts in Philadelphia. He holds an M. Litt. in Art History from the University of St Andrews, Scotland, with a research focus in the History of Photography. Jordan is a founding member of the Philadelphia-based artist-run project space NAPOLEON. Previous curatorial projects include David Adika: Equator at the Open Lens Gallery; Vuth Lyno: Thoamada at the William Way LGBT Community Center; Personal Renaissance: Portraits by Mustafah Abdulaziz for the City of Philadelphia Mural Arts Program; and Chad States: Night Sweats at NAPOLEON.

The essay Seeing the World For What It Is appears as an insert in Gustavo Sagorsky's book, which is available for purchase from Skinnerboox. Apparitions was included in the books section of GUP#47, The Big Ten issue. Read our review for more information.