The photography of Miron Zownir (1953, Germany) is a shining and still rare example of a well-tuned balance between factual veracity and visual perfection. Horrid, gloomy, sullen, dusky, grotesque - it's all about his work. Torrid, rugged, strict, severe, radical – it's about his temper. In this interview with Zownir, on the occasion of his recently published book Ukrainian Night (Spector Books, 2015), the master of noir shares the secrets of being invisible, recalls his Ukrainian roots, muses over the meaning of poetry, explains why he is not Boris Mikhailov, and pays tribute to Diane Arbus.
Looking through your different series, I recognize a couple of different kinds of marginalized people: there are those that are marginalized by their own accord (outsiders-by-choice) and there are also random marginals (victims of destiny). Am I right?
Right. I am interested in both but probably more in people whose marginality was caused by life crises, such as poverty, mental problems, addictions, disabilities or injustice because their situation is more existential, dangerous and unnecessary. Outsiders by choice are definitely more glamorous picturesque and funky, plus they don't give you that helpless feeling that something is wrong in this world. I think it is necessary to show all aspects of life regardless how convenient or painful it is.
And was it your conscious decision to shoot mostly the victims of destiny in your series dedicated to Eastern Europe?
Well, in a way I was mostly, as always, looking for people on the edge. But I was open for anything else that would grab my attention.I can never predict what is waiting for me in the next instants. After all, as a documentary photographer, I really depend on the context. Obviously, the level of social protection, the conditions of existence and the standards of life in Ukraine are much worse than in Western Europe. If you're down in Ukraine you're almost out. Especially if you're ill, on your own, without an income and without any family support. In Ukraine you don't have that many outsiders by choice who can take the chance to be open about it. Outsiders-by-choice are often forced to hide here. Transexuals and homosexual are far from accepted. And as a public freak you're an easy target for any police harassment.
Do you consider yourself to be an outsider?
Well, I've always been an outsider since I was showing or creating things most people liked to ignore whether it was too painful, too honest, too radical, too ugly, too obscene or too grotesque. But I'm not an outlaw, I'm not starving and I don't hang myself up on hooks for kicks or attention. In the context of contemporary art, well what should I say! I'm recognized to a point but still underrated. If you compare my situation with Boris Mikhailov: Today he is a millionaire, but he became famous through doing things that I've done 10 years before him. I shot even much crazier things. But I do what I have to do out of passion. My goal was never to become rich or famous. I mean, if I become known it is because of my work, but I don't do my work to become known. I do it because I have to do it.
Furthermore, I don't work in a safe or secure profession, and when I'm going out to do something I just don't know whether I'll get paid for it or not. It makes no difference if I write, make a film or do photography, I don't know where it will end up. So I'm always on the edge. I'm not suffering existentially, but still, who knows, I could be in a couple of years a millionaire, or starving. I might walk through any avenue of any city, stop 2,000 people and no one will know anything about me - because I'm a fucking outsider.
I think that if Dostoevsky lived in our time and wrote about the same topics he did in the 19th century, he would have no chance to become a bestseller. Just look at what people read, what people watch, what is on TV, what is everywhere. I think it is overloaded with disinformation, political righteousness and entertainment.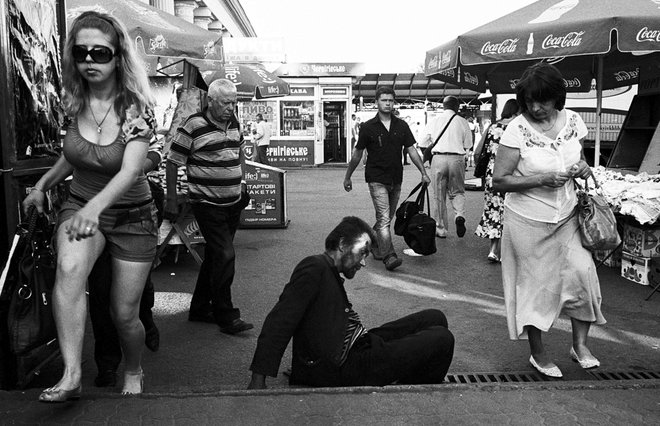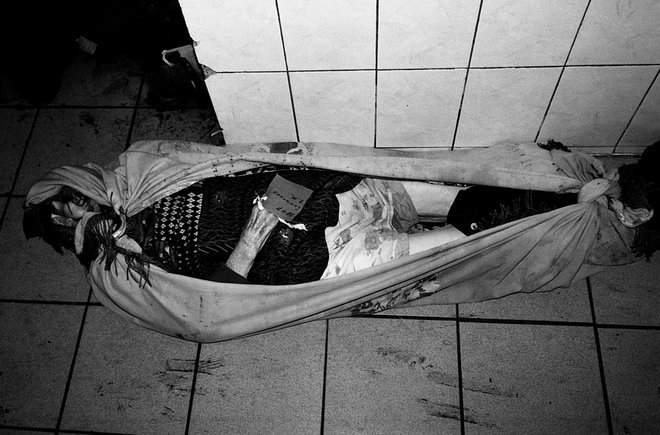 As a photographer, do you feel like a strolling flâneur or rather like a tourist on safari?
Neither. I'm not a strolling flâneur and I definitely don't feel like a fucking tourist on safari because I would never hunt animals. And on a safari you never step out of your car because you're afraid of your enemy. Even if I am not necessarily an insider I am never separated from people. I don't hide and I don't use a telelens. I always take a risk that someone might not like being photographed. I'm not searching for some cute panoramas or postcard motifs. I'm interested in specific people and scenes: shabby rooms, abandoned houses, dilapidated factories, ghettos and slums - areas of risk that no tourist would venture to.
How important is it for you as a documentarian to remain unseen?
Usually I try to get close to certain situations invisibly, but if it fails then I start some communication if necessary. The reaction can be acceptance or rejection. It is important to snap a moment of authenticity, so any reaction may be interesting and truthful. Of course, when someone resists being photographed, I don't try to convince them, because the magic of the moment is already lost.
When I documented the so-called 'Fuck Piers' in NYC, a place where many homosexual met to have sex, I went there often enough that at some point I became a part of the environment. And since I wore tight leather jeans, was young and good looking, I got easily accepted. I didn't have to hide anymore. They probably thought I'm a voyeur doing private photos for my own entertainment.
Well, but how obvious is the difference between staged photography and documentary?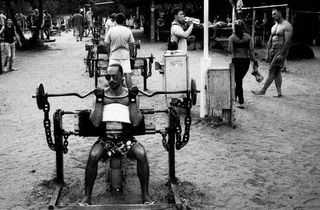 On the one hand, the difference is evident. But I think I understand your question, because after all, in documentary you can also control the situation, you can manipulate your characters and use various artistic techniques to bring some accents into a picture. And obviously, if you are visible and approach the person, this person starts to behave differently, and it can be said that you are manipulating the situation. Documentary has a speculative moment in the sense that each author brings to a photo his own prospect. But staged photography, in turn, can often be realistic too. I would say Diane Arbus is one of the best examples for a perfect fusion of controlled documentary photography.
You used to work as a bouncer in a night club. How has this experience helped you in your work as a photographer?
Well, while working as a bouncer I was young and reckless. But that was 35 years ago. I can still protect myself, but at my age you don't feel invincible anymore. But I became a little smarter and a little more careful and I know how to keep calm in any conflict situation. And this is a very important part of my work, since I have to do things that not everyone likes. Compared to my experience of Moscow in the '90s, or New York when I lived there, Ukraine was a relatively safe place for shooting. So there were some conflicts but nothing of consequence.
I've heard you have Ukrainian roots.
Yes, my father was born in Galicia, Western Ukraine. And as you know, in 1939, the Nazis occupied Poland, and it was divided between Soviet Union and Germany. Then my father's family got deported to Siberia, as many Ukrainians did, to the Gulag. But he was lucky to escape to Germany, where he was drafted into the army, which wasn't that great either. So, he was basically a Ukrainian who was fighting on the side of Germany. Afterwards he went to the Soviet war prison for 5 years. And after the war he went back to Germany, because if he had been recognized as a Ukrainian, he would have been definitely executed.
How did Maidan affect your attitude to Ukraine?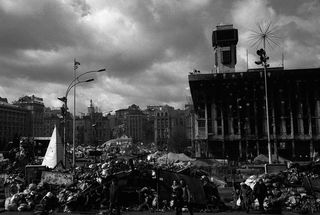 Actually, my attitude is expressed in my photographs. It was my seventh or eighth visit to Ukraine and, by that time, I thought that my book was finished. But I decided to go back for shooting the situation at Maidan. I went there two months after the overthrow of the government, when Crimea was already annexed. The atmosphere was incredibly apocalyptic; it looked like there had been an atomic explosion. The burned House of Trade Unions reminded me somehow of the Kaiser Wilhelm Church after a bombing raid in Berlin. But what amazed me the most was the solidarity between the people. Maidan was the place where any homeless person could come to eat. It was an unusual feeling of help and solidarity.
People experienced great sacrifices and these who continued to live on the square were left in the dark: it was as if they were waiting for Godot, staying in the dire uncertainty. It seemed to me that people who continued to live there found themselves in a kind of purgatory; barricades were partially removed and everyone was just suspended looking for answers. Of course, I was extremely surprised about this revolt and I think nations should revolt against the things that really don't work. It was a fight for freedom – it was a real revolution. It was something I sincerely admired. But at the same time the consequences of it are still unknown because Ukrainians don't see positive changes. And people cannot be forever waiting or fighting away from their families. What the fuck did we really achieve? I mean, is it better now than before – that's the question. It stands in the shadow of darkness.
There are three main passions in your life: literature, cinema and photography. How do these media interact in your art?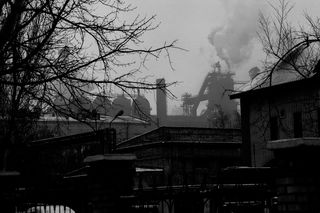 Well, my last movie Back to Nothing has very much the look and the atmosphere of my photos. The influence of my literary preferences is also evident in this film. And the relationship between photography and poetry is obvious as well, because photos can also be poetic. As an artist, I use all of these media and you know, I'm not schizophrenic, but I suffer from nightmares and these three media really come from me and interconnect in my work.
But what is your definition of poetry?
Poetry is more than words, it's a way of thinking, an aesthetic attitude. Poetry is something taken out of the state of sanity into something unreal and magic, something that has a certain sensual spirit or a cultivated insanity.
And how would you define the state of sanity?
Perhaps I don't have such a definition. I don't think we live in sane world. We are destroying too much. People continue to kill each other, people are alone, people are starving – we live in completely insane world. How can we remain sane in this insane world? It is incredibly difficult.
Tell me something about the title of your last book, Ukrainian Night.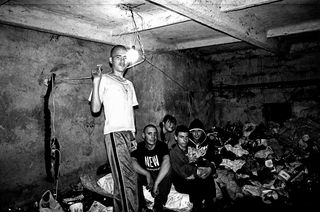 Actually it was the initiative of Spector Books, but I had nothing against that title. Speaking about the theme of night, shadows and negativity, I think they're integral components not only of photos, but also of literature and cinema of any art. Perhaps they can already be attributed to such classical elements, which are now involved in the implementation of culture and art and departed on a periphery. But these components interest me today, and I am interested in these topics thematically and formally. I am talking here about certain aspects of life in gray and some alternative forms of life. Ukrainian Night is not about a universal Ukraine, it reflects my subjective view on certain topics. When I look at pictures from this series I can assess them as a subjective document. I think that after 200 years they will be even more interesting to look at.
What do you think is the role for interpretation in your work?
For me photography is impulsive medium to which I turn rather intuitively. While shooting I never bring any theoretical or conceptual backpack and I am guided by certain impulses. When I shoot a photo, I never try to formulate any existential theory.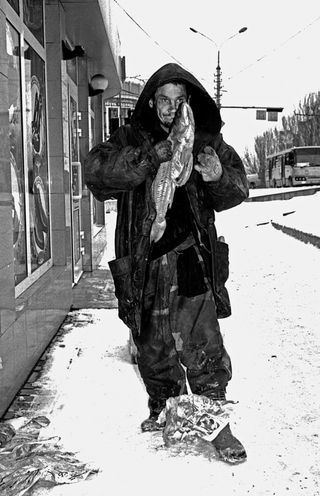 When I need to talk about my motivations or the intentions behind my photography, I immediately start to stammer and I don't want to build any story about the reasons or the basis of my work, although I've been doing photography for almost 40 years and it became a part of me. It is not because it is so difficult to look inside for some internal reasons, some calling, why I make this or that photo, but because for me it is so obvious. I think my photos speak very well for themselves. Obviously I want to show things that are unpopular, hidden or taboo, things that others do not want to see or recognize. But there are other motivations too depending on my subject.
It is clear to me that each person can interpret my photos differently. As I said, I treat photography as momentary snapshots of a moment in time. I try to show things as I see them, things many people might rather ignore or avoid. That's not a very popular attitude. I have a strong interest in people in a state of decay, in a certain existential point where it is really about survival. This human struggle deserves my respect and attracts my attention. Nothing is harder than to survive in the streets or to fight mental illness or to live in despair.
I deliberately leave in most of my photos an essence of void in the form of shadows. When you leave space for something unsubstantiated, something mystical, it becomes something that is out of time and out of space and at the same time something universal. So, we look at these images and cannot say whether it was made yesterday or 50 years ago. Because the history of mankind was always the Devil's playground.
Do we grow or decay?
Both.
At the same time?
At some point, one after another.
And one last question: Do you have an account on Instagram?
An account where?!
Ukrainian Night is available from Spector Books.