As a bookmaker who makes the photobook fair circuit every year (Paris Photo, Unseen, Vienna Photobook Festival, Third Issue Frankfurt), I get to see a lot of books. I also participated in the workshop hosted by Alec Soth (as part of his publishing house Little Brown Mushroom) earlier this year. All in all, I reside full-time in the microcosm of photobooks. So, as all the 'best of' lists begin to emerge this year, allow me to offer my own view on photobooks that came out in 2013. But, before I do, I'd like to set some ground rules, something often weirdly absent from many of these 'best of' lists: all the books on this list have a publication date listed in 2013 (not, for example, December 2012), and they're all first editions. I'm also not claiming these books to be the 'best', they're simply my favourites. They're in reverse order, counting down from ten, plus a big finish at the end: an interview with the author of my number one.
10. SUPERMOON by Adam Forrester, Self-published
I met Adam at the LBM Camp for Socially Awkward Storytellers and it was a bromance at first sight. On the last day, he gave me a copy of his self-published book and during my flight home, I finally got to sit down with Supermoon, a slim magazine-sized book that presents Forrester's evocative images that read simultaneously as police evidence photographs and scientific documents. The book collects together stories about the influence of the moon on daily life: from the mysterious disappearance of some pool water, to murder cases, to its effect on the eyes (and psyche) of famous astronomers. Even after a week of being surrounded by great storytellers, this still blew me away.
9. I SMELL LIKE RAIN by Verena Blok, Self-published
I met Verena in Kassel, and my friend and fellow bookmaker Lena Grass told me I had to look at her book. Verena pulled out an oversized, freshly printed copy from her backpack and handed it over. After flipping through the first five pages I was hooked. I Smell Like Rain documents Blok's relationship with a young girl named Natalia who lives in Northern Poland on a farm with her parents and four brothers. The book begins with an overture of local landscape photographs, before introducing Natalia herself in portraits. The middle section shows more portraits of Natalia and home interiors, interspersed with smaller booklets that are sewn in on top of the portraits, giving an impression of Natalia's brothers and her interactions with them, as well as interviews. While it may sound dry in written description, the entire thing packs a powerful storytelling punch, reminiscent of the tone achieved in Claire Denis's films: realistic, meditative, and melancholic.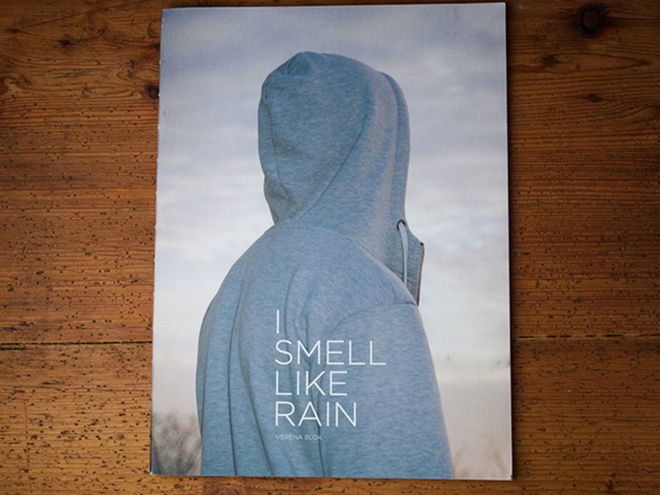 8. IS THIS IT? by Deana Kolencikova, Self-published
This was one of many great books I got in Vienna at the Photobook Festival in June. Kolencikova is from Bratislava and, here, she presents work she made while living in England. She photographed the mundane alongside the quirkier attractions where she lived, including an elderly man who lives with a white pet owl. For me, this book resonated with my own experience as a foreigner: the sense of newness everywhere, which can be refreshing but also disorienting in a terrifying or just simply annoying way. The text that Kolencikova leads the book with is also incredibly funny and well written.
7. MACQUENOISE by Pierre Liebaert, Le caillou bleu
The main thing I'd like to point out about this book is that Liebaert is currently twenty-three years old, and that is completely unfair. The guy has made an incredibly well designed and executed photobook at an age when most people are still photographing exclusively their feet, their cat, or very 'emotional' tree branches. Macquenoise is a pictorial essay on a mother and son who live together on a farm in Belgium. The images depict the tension of daily living in isolation. Skinned rabbits, tense looks, guns, and stray animals combine together pictorially to create a bleak tone, a kind of winter family-farm nightmare.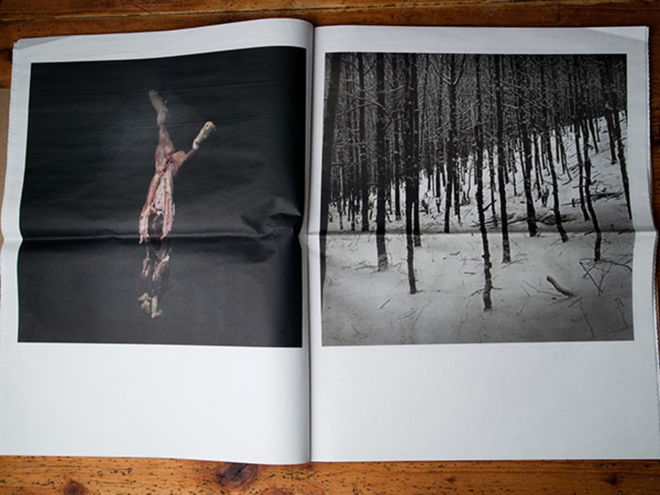 6. SELF PUBLISH BE HAPPY BOOK CLUB VOL. III, by Cristina de Middel, Self Publish Be Happy
Though I was too skittish to say it before, I'm going to just get it out of the way here: The Afronauts, in my opinion, is the most overrated photobook (and photo-series) of all time. Did everyone altogether forget about Joan Fontcuberta? Was everyone just happy to have a fun story come out of Africa? Am I just jealous? Maybe. Whatever happened, I think this book, which I reviewed earlier in the year for the GUP blog, establishes a much clearer and more original voice for de Middel (and she seems to be continuing the development of that voice with the upcoming PARTY). I will summarize my feelings here by saying that even if this book is worth €20,000 one day (and should that day coincide with the day my daughter has to make her first college payment) I still will not part with it. A great one.
5. FABRICANTS COULEURS: Pamela from Canada, the Others and Me by Marie Angeletti, Edition Patrick Frey
This year, I found many books that blew me away but sadly for this list were not published in 2013. One of these was Corine by Marie Angeletti, published in 2011. I was so taken with it that when I found out she had a new book, I eagerly sought it out. Fabricants Couleurs follows two factories, one in China and one in France, which manufacture the same product: artist paint. Angeletti worked with the employees, asking them to share their own paintings with her, those made before her project began, and those that she 'commissioned' as a part of the project. The final result, in book form, is a stream of consciousness reconstruction of Angeletti's photographs from visits to the factories, personal photos from the factory workers, the paintings 'found' and 'commissioned', and just about anything else that Angeletti encountered during the making of the work. At first, it didn't resonate with me emotionally, but there are few books that gave me so much food for thought. In the end, I'm reminded of what Gossage wrote about Le Lux in his best of 2011 list, saying it was a book: "…by someone whose failures are more interesting than other's successes."
4. THE BOOK OF A SAVIOR by Jana Romanova, Self-published
Jana is unavoidable at book fairs, which is completely fine with me. When I first met her at the fair in Vienna, she showed me this book and I knew from the first page of text that it was for me, since it deals with one of my favourite subjects: car crashes. Romanova lived with traffic accident workers in St. Petersburg for several years. This terrific book brings Romanova's photographs together with photos taken by the workers themselves (the photographic evidence they collect at crash sites) and interview snippets. It manages to perfectly walk the line between normal and quirky by adding just enough unique elements: envelopes attached to several pages with tiny prints inside, and transparent smaller pages of text bound into the book.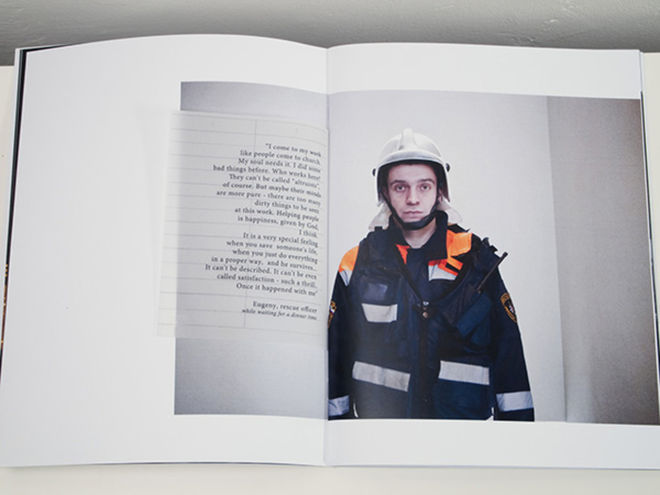 3. LUCAS by Eric Stephanian, Self-published
In sixteen pages, with only eight images (all crops of one single photograph), 'Lucas' has the ability to reach into your chest and rip your heart out. By progressively zooming out to reveal two boys crossing a lawn, beginning with a close-up on the face of one of the boys: Lucas, who is Stephanian's son. They met only once and Stephanian took only one photograph. A heart-breaking work that uses the format of the photobook in an incredibly effective way.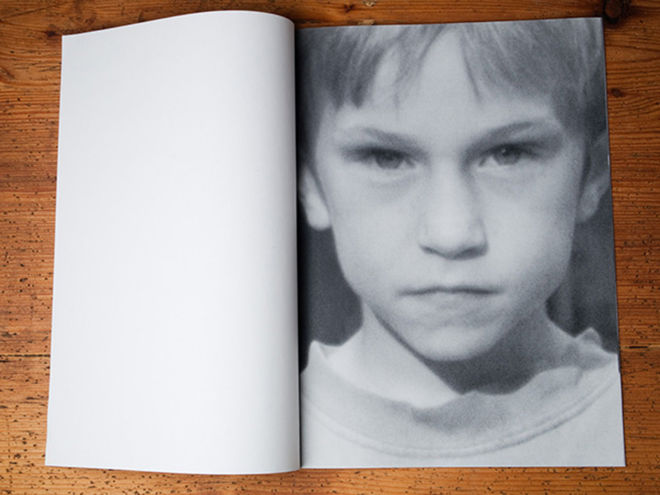 2. HOLY BIBLE, by Oliver Chanarin and Adam Broomberg, MACK
Broomberg and Chanarin are a force that everyone working in photography today must reckon with. Holy Bible is their most comprehensive statement on war, religion, and photography to date. Though it is indeed sprawling (the entire bible reprinted with photographs laid on top of text and certain bits of text underlined, on every page) it does not feel in any way like the cold, never-ending indexes of someone like Taryn Simon. Instead, Broomberg and Chanarin have transformed the bible into a canon-blast of distilled humanity in all its violent, beautiful, sadistic, and majestic glory.
1. IRIS GARDEN photos by William Gedney, Text by John Cage, Little Brown Mushroom
I saw a maquette of this book in Alec Soth's studio in the summer and was told only: "That's an upcoming project with material from John Cage." The maquette was simply a white slip case with a bunch of unbound, blank folded pages inside, seemingly the book version of Cage's famous composition 4'33", which seemed pretty bold and brilliant: to make a blank book in memory of Cage the composer. However the final result is something much more powerful and less gimmicky: Soth edited Iris Garden by pairing photographs by William Gedney from the Duke University archive with texts from a lecture series Cage gave, in which he would read short stories all in the span of one minute. If the text was longer he would read it quickly, if shorter he would read slowly, sometimes achingly slow. Despite all the books this year that knocked my socks off, this one did that and transported me back to when I was 16 and longing to be an experimental modern composer, or just longing for something artistic. Cage is one of the most perfect blends of candour, humour, experimentalism, bravery, and silliness. He was everything I wanted to be as a teenager, and LBM's book reminded me of that desire.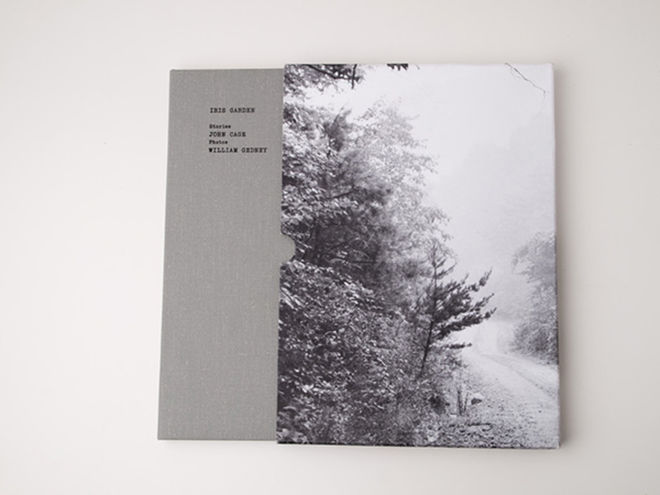 I contacted Alec to ask him a few questions about the book, and found that the book served a similar function for him.
What is the origin of Iris Garden? When did you first encounter Cage and Gedney, and why put them together in a book now?
Alec Soth: I fell in love with Cage when I was in high school. In retrospect, it was always his words I loved. I had a couple of his albums, but it was his book Silence that really affected me. When I got a bit older, I sort of dismissed him. I'm not sure why, but I guess it felt naïve, or too soft, or just not cool. In any case, he was pretty deep in the background. But then a couple of years ago I went through some changes and consciously tried to scrape off some of the cynicism that had attached itself over the years. As a result, I got back in touch with the person I was when I was 17 and Cage emerged. Re-reading him was a revelation. In particularly, I loved his Indeterminacy writings. These little stories of his aren't corny at all. They are funny, smart and emotionally complex. They are short and straightforward. They remind me of photographs, and I knew they'd work well alongside photographs. Gedney immediately came to mind. I've loved Gedney ever since encountering his work in the late great DoubleTake Magazine. Over the years I've looked at his pictures online at the Duke University website and knew there was a ton of great material, including his pictures of Cage. I did some rough drafts where I put his pictures next to Cage's words and it just worked.
Gedney is someone who seemingly never got the due amount of attention he deserved. How would you describe his work and style to those who've never heard of him?
Gedney is a classic photographer's photographer. His work isn't about developing a signature style or subject. It is attentive, understated and naturalistic. But there is a sadness at the core of Gedney's work, and a feeling that he was holding onto secrets. For me, this is both what makes his work special and the thing that kept him from finding a wider audience. I feel a quality of distance in Gedney. I imagine that he envied Cage's open spirit.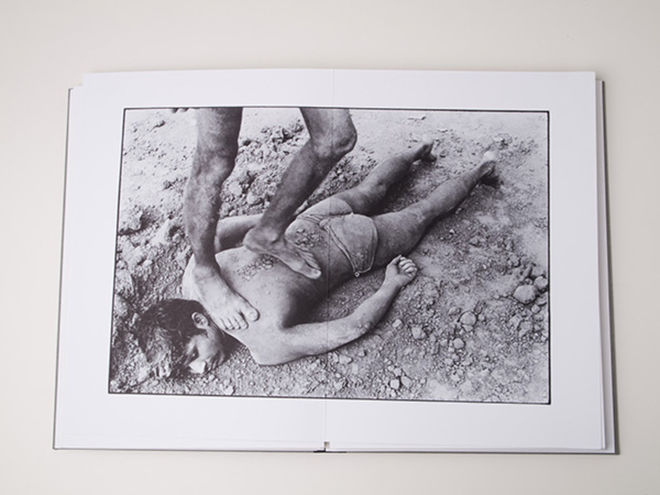 One thing you have talked a lot about is what you call 'The Eggleston Problem' of photographing everything. Cage seems to be a perfect mirror image of Eggleston in the world of music, placing the emphasis on sound itself and getting away from music that is telling a story or moving through time in a perceived sequence. Gedney also focuses his camera on the ordinary. How does all this come into play as you interpret their work?
Gedney is actually much more thematic and project-based than Eggleston. The randomness in Iris Garden was created in response to Cage's text. But I agree that Cage's world-view bears some resemblance to Eggleston's notion of the Democratic Forest. Here's the thing: the world only needs one John Cage. As much as I might learn from his approach, I don't really want to turn on the radio and hear I-Ching inspired compositions all day long. In the same way, the world only needs one Eggleston. But when I turn on the photo radio, I hear a whole lot of music that sounds like Eggleston.
Why do you think Cage's stories match up with the photographs so well? Do you think his incomplete narratives match the incompleteness of information in photographs better than more traditional writing?
With our various LBM projects, I always picture a balancing scale. The goal is always to balance the text and the image and the book itself – its design and construction – is the scale. (And maybe I'm the blind woman holding the scale). In the case of Iris Garden, I felt like the balance was really perfect. And yes, I do think it was the nature of Cage's text that made it works so well. They actually remind me a lot of Brad Zellar's texts for Inspector of the Moving World. What usually works best with photographs, I think, is short, straightforward storytelling without a lot adjectives or other verbal flourishes.
How did you balance the freedom of being an objective outsider, since you were working with other people's material, with respecting the work of such revered artists? Or was it the same as making any LBM book of another artist's work?
We handled the material with as much respect and craftsmanship as we could, but I did have a fundamental concern: how would Cage and Gedney feel about being paired with each other? I don't think they knew each other well. I have no idea if they even thought highly of each other's work. So who am I to put them together? I don't really have an answer. Of course I worked with both estates to get permission. But still this question lingers. In the end, I made this book out of a real love and devotion to the work. So mostly I just hope that this came through in the final book and that Cage and Gedney would approve.
Iris Garden is available for sale from Little Brown Mushroom. Jim Reed publishes his handmade books under the name Easter Trouble Press.