Mazaccio & Drowilal are a young French artist duo that combines kitsch and smart ideas in collage art. While they never wanted to be professional photographers, their work is now on exhibit at the influential Rencontres d'Arles Photo Festival. Elise Mazac and Robert Drowilal talk to GUP about the need for fun, the end of copyright and how we're all becoming better image readers.
Giving a guided tour of their exhibition in Arles, Robert is enjoying the role of presenter. A group of visitors has followed him and Elise up the stairs of a 12th century monastery to their exhibition on the two upper floors of the building. The first floor is almost entirely dedicated to their most recent series Wild Life, about animals in human environments, from dogs watching the sunset, to cats eyeing other cats on a screen. On the second floor, a giant pink arch with a collage of hundreds of people doing yoga poses welcomes visitors to another section. Here, we find wall-size prints of kitchen towels, patterned with typical scenes of trees or desert, with other photos imposed in the 'scenery': naked people engaged in mundane activities like biking and gardening. It is on this floor where Robert asks the audience to look closely at the "masterpiece" in the back of the room. It's a photo by Elise, Robert explains, and he's really proud of her, because "she got very close to her subject, and she captured exactly the right moment." The audience is looking at a photo of an elephant's ass with a blurry ball of faeces just at the moment of its free-fall.
Elise Mazac (b. 1988) and Robert Drowilal (b. 1986) are mocking the art world without taking the piss. Working from the small town Villefranche-de-Rouergue in the southwest of France, they're mixing up contexts and situations, and having fun with it. When they met eight years ago at the beginning of their studies (Elise in Paris and New York, Robert in Nantes and Lausanne), they discovered that they had very similar ideas about conceptual art. "We found out we had the same references from movies and photography," Elise says over an espresso in a café in Arles, "so we started speaking about everything we saw, basically all the time. We both knew we wanted to work with images and build something new with them. We didn't really want to become photographers. You'll become less spontaneous if you spend a lot of time with technique."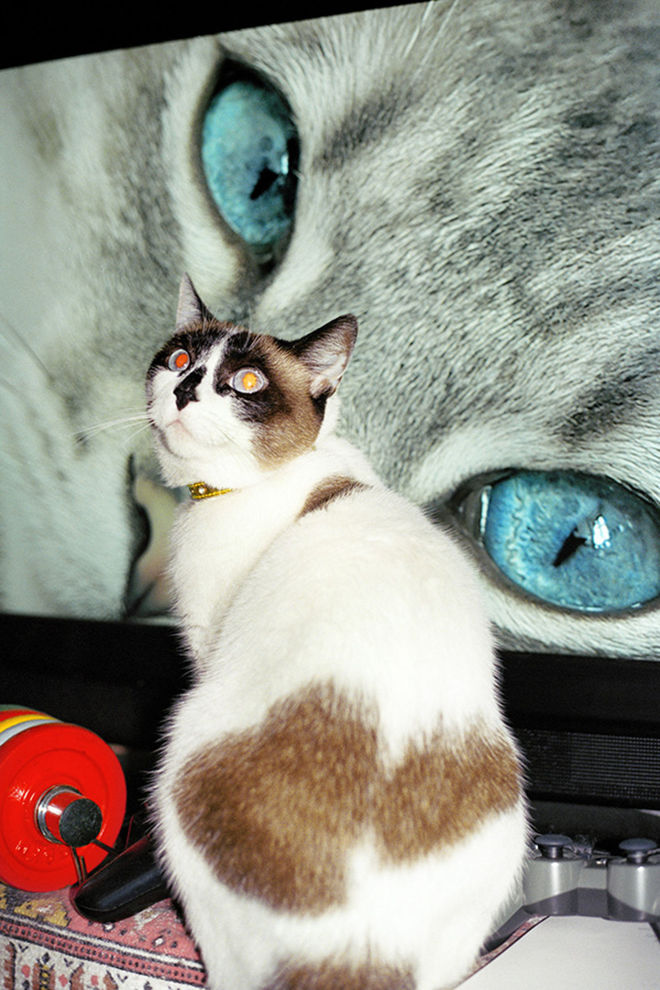 They began collaborating as Mazaccio & Drowilal. "We started mixing our pictures," Robert says. "We became editors of each others work, which worked out really well. We didn't choose a picture because one of us took it, but we selected images because they fit in the series." Elise adds: "Together we're more critical. And we laugh more."
Collaborating didn't only bring in the fun, it also changed their idea of what photography is. "When we were mixing our photos," Robert says, "you couldn't tell anymore who made what. We liked that."
"We are both born in the eighties," Elise explains, "so we always downloaded movies and series illegally and this feels natural to us. It isn't important for us to say 'this is his work and this is my work.' We like to think of ourselves as an architect firm, as a team."
"The point is," Robert says, "that it's a recognisable style, not who made it."
But the duo doesn't only use each other's photos, they also use other people's images -- without asking their permission. "We are inspired by artists like Hans Peter Feldmann," Robert says. "He was collecting pictures on the market and using these pictures in another context. You could say that he's Erik Kessels' artistic grandfather." Elise explains that they find their images mostly on the internet, but Robert is quick to elaborate: "But we aren't worried by copyright at all. We read a lot about appropriation artists from the '80s. Some of them have been in court, and sometimes they lost, but sometimes they won. We haven't had any problems with copyright. We think that this idea of copyright will change in the coming years anyway, because it's an old system. It's an old idea, and in a digital time where it's so easy to cut and paste images from the internet, it's bound to change. So we take the risk."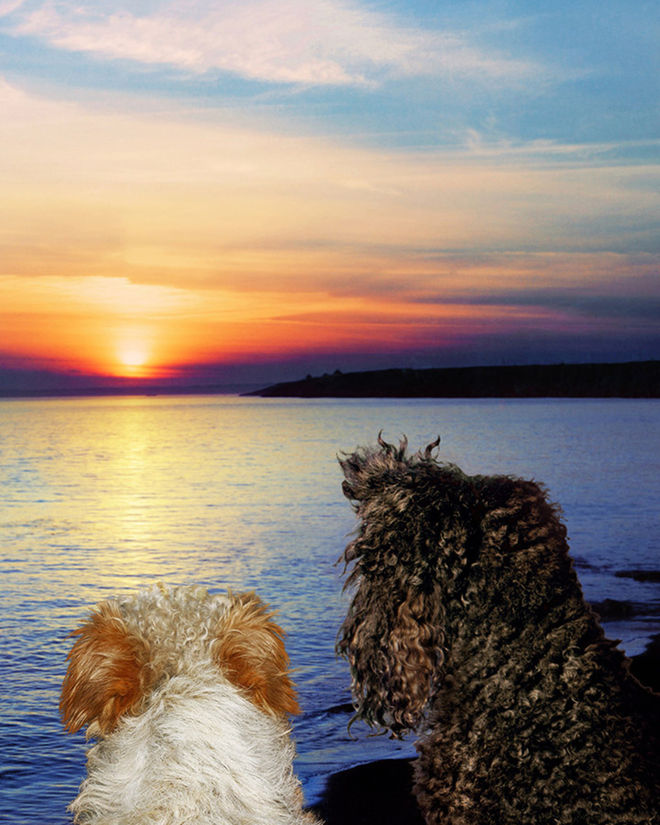 From 2010 to the present, the duo has made twenty artists' books. "We always have a lot of ideas," Elise says. "For us, books usually start with a title, and then we quickly execute them. We don't want to wait too long, because then we might lose faith in the project." Considering that they spend so much of their time on the internet, it's remarkable that they still use print for their projects. "We believe in photo books," Robert explains. "A lot of people are buying vinyl, while you can also stream the music. With books it's the same, you can go online to watch art, but people still like to buy books."
Though they've made books for many years, the exhibition in Arles is in fact one of their first. "We were in Paris Photo last year, but that was just one wall," Elise says. "Here in Arles we had to fill two exhibition floors, which was very exciting." But, the opportunity to show their work in a different way also led to a new creative challenge in how to best use the space. Robert explains that their approach developed as they worked on it, saying "When we started, at first we were translating our book ideas to the physical space. But each medium has its own specificities, and you can't say the same things with each medium. We realised that we should do something with this specific room, because the monastery is so beautiful." Responding to the medium of the monastery meant sometimes adapting the concepts of the different projects being shown. "For example," Robert says, "we once did an artist's book about Elise's index finger, she's doing all kinds of daily activities, like flushing a toilet and lighting a lighter, and you only see the close-up of her index finger. Since we were in a monastery, we chose to show it like a 'Stations of the Cross', which usually shows all the different moments of the end of Jesus's life. That's why we did exactly 14 pictures. It's a remake of the Stations of the Cross, and it's also a story, but instead of Jesus, a trigger finger is the subject."



Similarly, the previously mentioned arch gateway at the exhibition's entrance, with a collage of people doing yoga poses, is a reference to the gate of a church. And as with many gateways, you can already get a sense of what is going on beyond the gate, which might not relate to the gate at all. You can already see, for example, Elise's "masterpiece" hanging on the back wall, and you see the kitchen towel prints just on the other side of the arch. It's a weird mix of elements, but they encourage curiousity enough to pass under the archway and take a closer look. "It was very important for us," Elise explains, "that when you're in the exhibition you can see a picture from the one series, and the start of another series already. We tried to create a situation in which it feels like you can see several open tabs on your computer, you can already see there's something going on there, and when you go there you're in a new window and you can see what was behind the tab. It's like a collage in a physical space."
Their series, Wild Life, with pictures of cats and dogs, is a collage too, but this element is in fact hardly visible. Robert explains why they chose to make it appear this way: "We wanted to work with what people experience as reality and its representation. So what we did was, when we were photographing subjects, we were always very close to the subjects. The flash made them very flat. In that way you can't always see anymore which of the photos was the original photo, and what was added afterwards. For example, there is a photo of people carrying their cats, and they have shirts with wolves on it. The real cats almost seem to be less real than the wolves on the t-shirts."
While Mazaccio & Drowilal have only just started their career, they've already established their own view on the future of art. "Because of the digitalisation of photography, a lot of ideas in the art world will be expiring soon," Robert says. "It has become so easy with digital photography to replicate images, so the idea of 'original' and 'a copy' is bound to change, which also means that the status of authorship will change. Furthermore, the boundary between art photography and documentary photography is becoming less clear. The trust we have in images is over, and their documentary value is diminishing. Because people take more pictures, even with their phones, and know how to edit images, they are aware that the way a photo looks is not a direct representation of reality but the photographer's or editor's choice."
"That awareness," Elise adds, "also means that people have become better at reading images. The high traffic in images is creating visual literacy."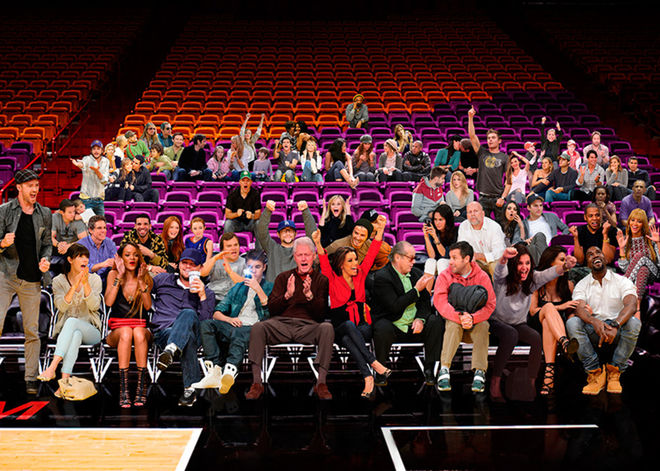 Mazaccio & Drowilal's exhibition Wild is on view in Arles till September 7th 2014.
View an online portfolio of their series Nunuche here.