In his mid-teens, Bruce Davidson (1933, USA) began riding Chicago's elevated 'L' train into the city, exploring neighbourhoods and observing wide varieties of people. It was in those days that he developed skills and interests that would be seen in his later photographic works. This becomes apparent when one looks at Subway, a now classic portrayal of the New York underground train network in the late 1970s. It represented the blood-filled arteries of a city pumping with organic, authentic, urban-brewed culture.
The New York Subway (MTA) is one of the oldest and most extensive public transportation systems in the world. This dark, democratic environment provided the setting for Davidson's first extensive series in colour, originally published in 1986. At that time, it was common for people to dress down, so as not to attract unwanted attention, while riding the subway in the pre-Giuliani and pre-zerotolerance era. People went on the subway because they had to, not because they wanted to. Looking at these pictures, you can smell the sweat... and fear.
People went on the subway because they had to, not because they wanted to.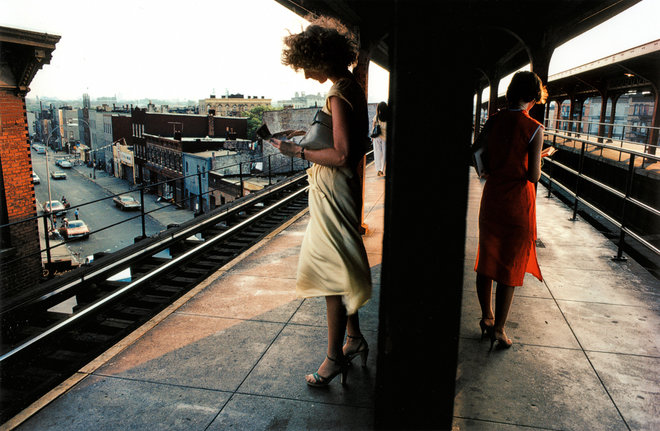 In 1979, when Davidson worked on this series, New York City was in default. Riding the subway was never a dull commute. The subway was dismal and dangerous. If you had a gold chain around your neck, it would be ripped off. It was a frightening place. But Davidson nevertheless felt the atmosphere needed to be documented down there. Not just the misery, not just the grime, but also the beauty.
Photography is particularly well suited to documenting the grandeur of large public works. But never before had the subway been portrayed in this idiosyncratic style, revealing the interplay of its inner landscape and outer vistas in such detail. Although black and white has always been an essence for Davidson, the meaningful colour of the graffiti in the subway was displayed in tones he himself described as reminiscent of ocean fish photography. By using an extreme wide-angle lens and utilising light and colour to accentuate subjects, Davidson defined a new approach in photojournalism.
Depicting strangers in an enclosed environment is almost a genre in itself, starting with Walker Evans' famous series taken in the late 1930s. With a 35mm lens poking through his buttonhole, Evans aimed to break free from the artifice of conventional studio portraiture and went on to create one of the most important and influential series in American photography. Something similar could be said about Davidson's Subway.
However, unlike Evans, Davidson did not hide his camera so that he could operate anonymously. Yet he cannot do away with the voyeuristic potential of the camera. That is to say, the proximity to fellow passengers on the subway allowed him to indulge in an activity that in other parts of the city would be impossible to perform.
Whereas Evans' subjects appear to ride the subway with pride and a sense of purpose, Davidson's subjects at first appear lost and alienated in a sea of urban grime. But when having a closer look it becomes apparent that he wanted to transform the subway from its dark, degrading, and impersonal reality into images that open up our experience again to the colour, sensuality, and vitality of the individual souls that ride it each day.
---
A limited edition Subway Portfolio is published by ROSEGALLERY, Los Angeles and Howard Greenberg Gallery, New York. Subway was originally published as a first edition book in 1986, and was republished by Steidl in 2011, printed from new scans of Davidson's Kodachrome slides and featuring additional images.