I've watched the moon in Bangkok, in Kabul, in Shanghai
and in dozens of other places.
It looked pretty much the same everywhere.

So begins the new book No Land Called Home from Wolfgang Bellwinkel (b. 1959, Germany), pulling together photographs and written vignettes of his experiences over the period 1994 – 2012, from locations all over Asia, Germany, Bosnia and beyond. Combining documentary with personal imagery, war shots with tourist shots, the book becomes an amalgam of restlessness -- a chaotic sprawl of locations, interactions and emotions (or lack thereof).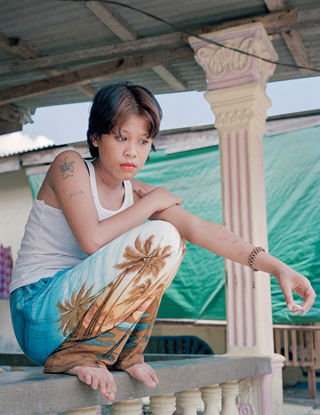 Bellwinkel doesn't guide us through his journey. There are no explanations, aside from the icily laconic captions of the images informing us of their location only. The short autobiographical texts that he offers throughout the book, while being surprisingly poetic and with a strong emotional undercurrent, are autonomous from the images. Neither the photographs nor the writing illuminates the other, except in the context of understanding the haphazard and sporadic existence that Bellwinkel occupies.

Over a few pages, we skip from Hong Kong, to Malaysia, to Thailand, to Afghanistan, then to Bosnia. In these locations, we see the sun breaking through the clouds, then a flower pot painted on a dilapidated wall bearing ancient power plugs, a portrait of a young Thai girl wearing butterfly wings, a desert view through some kind of metal circular carousel, and a bedroom furnished with television and rifle. Each are photographed plainly and, left to stand on their own, they perhaps do not call for repeated viewing. Yet their asynchronous combination is where the heart of the book is: to Bellwinkel, they're all the same. Rather, they're interchangeable places, each offering something different and all worthy of attention but fundamentally nothing irreplaceable.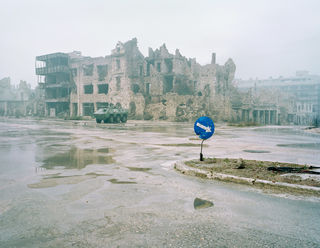 Though he shows us a scattered smorgasbord of topics, from beautiful blue skies to a crumbling building with a tank parked outside, because there are no descriptions of the scenes, it's not possible to know for sure what is happening in the image or what it means to Bellwinkel or even how they relate to one another in his mind. The images therefore seem to document all the scenes or moments that Bellwinkel has encountered which live up to the idea of nomadic homelessness: things which make you feel at home, or things which identify your failure to make a home. Because of this photographic souvenir approach, No Land Called Home is ultimately a personal document of Bellwinkel's life, but it will surely call out some familiar echoes to fellow wanderers.
---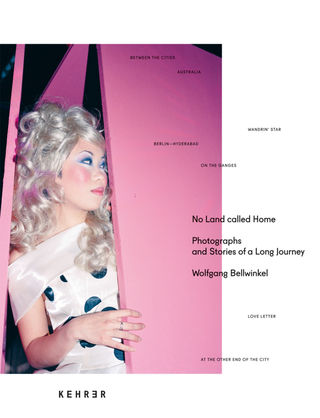 No Land Called Home is available for sale from Kehrer Verlag.