"I have led a double life as a photographer - one in black and white and one in colour."
Magnum photographer René Burri (b. 1933, Switzerland) has been witness to extraordinary events and people, creating photographic icons in their presence, though most of his immediately recognisable imagery comes from his black and white work. Phaidon's new book Impossible Reminiscences presents 136 colour images from Burri's archive, selected by the artist himself, paying tribute to his work in what is arguably another medium, or at the least, another mindset.
With each photo plate printed simply as a solitary image on the right side of the spread, and only a small number identifying the plate on the left side, the classic book presentation genuflects to allow the images to speak for themselves. Organised perhaps quite strangely according to colour, the series does not stick to subjects or unfold a narrative aside from a story of life told through colour. A walk through fifty years of Burri's photography takes you cavalierly through a blown up tank of the Sinai desert, Japanese workers playing golf on a male-only island in the Persian Gulf, Cuban street scenes, student riots of South Korea and a flower atop the highest village in Europe. This blithe approach to presentation encourages appreciation for the aesthetics of the photos above other readings, and ensures levity to even serious topics. Though, of course, the depth is still there for those with patience.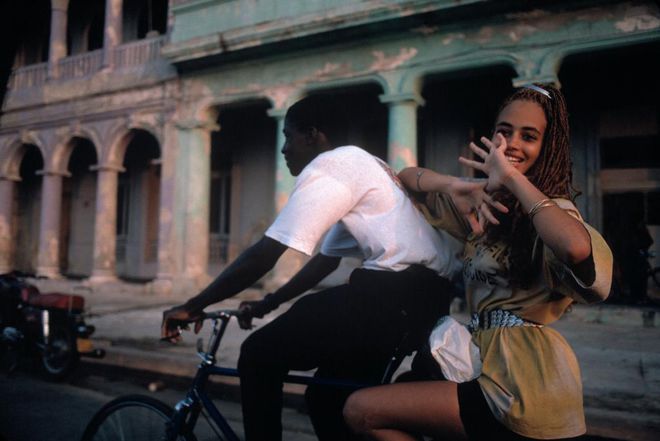 While some modern photographers switch between colour and black and white photography as quick as a mouse click, Impossible Reminiscences serves as a reminder for the craftsmanship required for both approaches: each is a process in learning how to see with different eyes. Even today, colour photography has a whole host of baggage as viewers struggle on one hand to see 'art' in mundane scenes from life, and on the other hand, to see 'reality' in images with the colours cranked up in interpretive ways. Through these images revealing Burri's approach to colour, we see the deep shine of dark skinned miners in a blackened gold mine in South Africa, the exploded rainbow decay of a former brothel in Beirut, the blue midnight glow of Red Square. Through Burri's photographs, we learn how to see colour, not just in photographs, but in life around us.
The book is closed with a thoughtful essay by Hans-Michael Koetzle on the context of Burri's mastery of both colour and black and white and, rather than a simple plate listing, image thumbnails are accompanied by short descriptions from Burri, giving some insight into how or why he came to take the photo. Some of these stretch into anecdotes while others are surprisingly laconic, such as, "This is the only picture I took in Barbados". Another photo included, in which Burri tried to replicate what's known as the first photograph, Niépce's image View from the Window of Le Gras (1826), has another scene of a bed embedded within it, leads him to say, "I don't remember exactly how the double exposure came about - impossible reminiscences, you know. Maybe I had a plan B, or perhaps I took a picture of my hotel room and while the film was being transported back and forth, this double exposure happened accidentally". The reminiscences, both in words and imagery, offer a photographer's take on memories, inherently personal and yet, keeping their distance comfortably from nostalgia.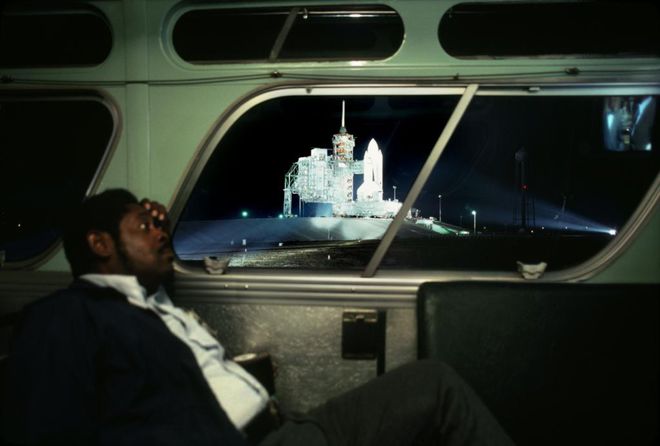 Impossible Reminiscences is available for sale from Phaidon.