The first monograph from young photographer Mike Brodie (b. 1985, USA), published alongside two concurrent exhibitions at the M+B Gallery in LA and the Yossi Milo Gallery in New York not to mention a flurry of media coverage, A Period of Juvenile Prosperity introduces 60 colour images of grimy train travel across the U.S.
Hopping trains and hitching rides, Brodie travelled over 50,000 miles through forty-six states, photographing his friends on the rails, raw and in a restless state of movement. Alternating between scenes of euphoric energy and the exhausted comedown, there's an animalistic simplicity in Brodie's images that claws at something fundamentally human. He presents a rough and tumble freedom spent sleeping on soiled mattresses or cardboard makeshift beds, in unselfconscious squalor. It's a life lived – in more ways than one – outside.
Fully embedded in the experience, Brodie's images don't distinguish between 'us' and 'them'. Instead, it's a playful portrayal of the time these rebellious friends spend together, full of connectedness and sensitivity, revelling in the unconventional life. In fact, it's this confidence and camaraderie that shines through the most. A reclining girl lifts up her skirt to reveal menstrual blood on her white panties, meanwhile loosely holding a battered Flannery O'Connor book. One friend tends to the wounds of another – wearing purple surgical gloves, though the two of them are surrounded by untold grime. They eat together, out of boxes, out of hats, on floors. Through his colourful 35mm images, Brodie brilliantly creates a realistically-grounded fantasy ideal of the life of train-hopping.
Though Brodie is by no means the first to spread the seductive appeal of being on the road by mixing life/art, A Period of Juvenile Prosperity is a monument to that movement, reinvigorating the genre with his modern take on a timeless urge. And though some of the images have the flavour of Ryan McGinley's work – see, for example, the image of the girl riding backwards on the train, hair flowing in the wind – they lack McGinley's manicured selection of models, his scrubbed-clean vision of free youth. It is simply hypnotising in its beauty. Unmissable, and unforgettable.
A Period of Juvenile Prosperity is available for sale from Twin Palms Publishers. A slip-cased limited edition is available from TBW Books from May 1, 2013.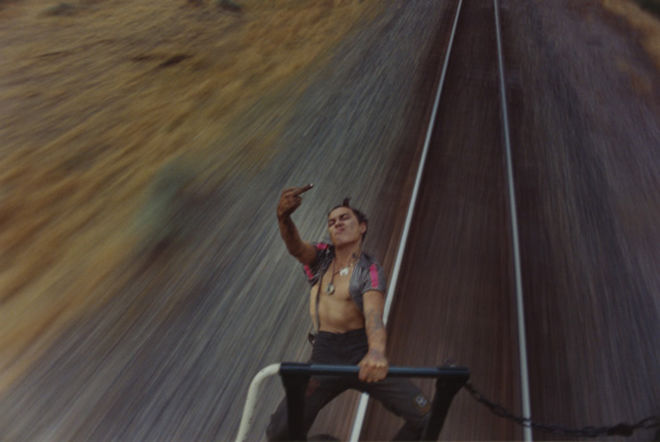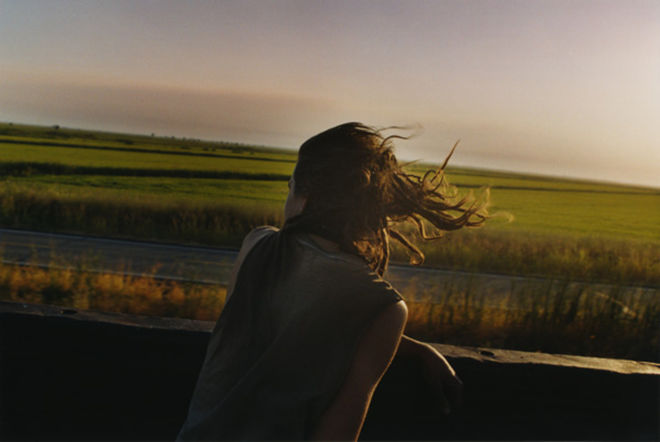 See more images in our online portfolio of A Period of Juvenile Prosperity.