Martin Parr's new book Life's a Beach is a humorous endeavour into the phenomenon of mass sunbathing and a sociological exploration of beach life on the edge of bad taste. Magnum photographer Parr has visited beaches worldwide - from Argentina to Ireland to Ukraine - over a period of 45 years, showing that cultural differences diminish as soon as we are united in the common pleasures of having our toes in the sand and a proper sunburn on our faces.
Be it the petit bourgeoisie vibe on the British shoreline, where one is never more than 75 miles away from the coast, or the artificial surroundings of Japan's mega indoor pools - Parr shows that our fascination with beach life is a global phenomenon and weaves a subtly humorous tale of human vanities, simple pleasures and cultural quirks. It is images we can all relate to: granny dozing off under her giant sunshade, the twisted limbs of people reading, the ubiquitous Speedos that hardly cover the areas we don't necessarily want to zoom into (Parr does though, deliberately defying pain limits), sticky ice cream fingers around all sorts and sizes of plastic animals. In short, life broken down to the simple formula of sleeping, eating, tanning.
Parr's choice of subjects is stunning, as he manages to document ordinary people in a way that they start to appear grotesque and ugly, but always recognisably human. We identify with the people in Parr's images, and through the universality of their actions, we smile at them and smile at ourselves a little. If it weren't for the descriptions below the images (Jürmala, Latvia, 1999 or Hua Hin, Thailand, 2012) one would have a hard time distinguishing the times and places of the photographs, proving the universal quality of Parr's collection.
The book itself is a gorgeous small-sized beauty that, with its flowery clothbound cover and swung golden letters, will, as promised, make the perfect addition to your beach bag. The wild aesthetics of beach life are represented in the thematic design of the book - pages of poppy colours and summery prints, reminiscent of swimsuits and beach towels, infusing the book with a sunny atmosphere and playfully breaking the pattern of two landscape photographs per spread.
With a snapshot aesthetic that shows Parr's ability to instantly detect and zoom in on the most striking moment, as well as his unusual sociological viewpoint, he created a unique documentary of the human race and its love for beaches. Flipping through the book, one cannot help but wonder how Parr took some of the images without being noticed from his angle, as all subjects seem to be at home in their perfect, weird selves. With this book, Parr created a universally democratic portrayal of sunburn on bodies, both immaculate and otherwise. Well, sometimes life's a beach.
Life's a Beach is available from Aperture.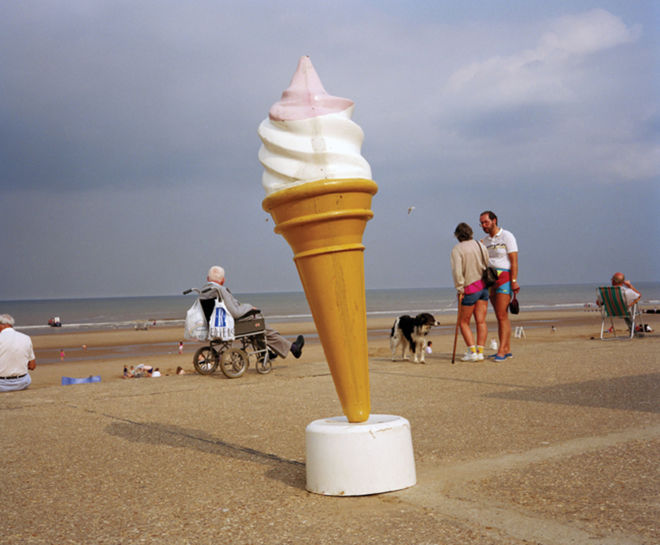 GB. England. Mablethorpe. 1992. © Martin Parr / Magnum Photos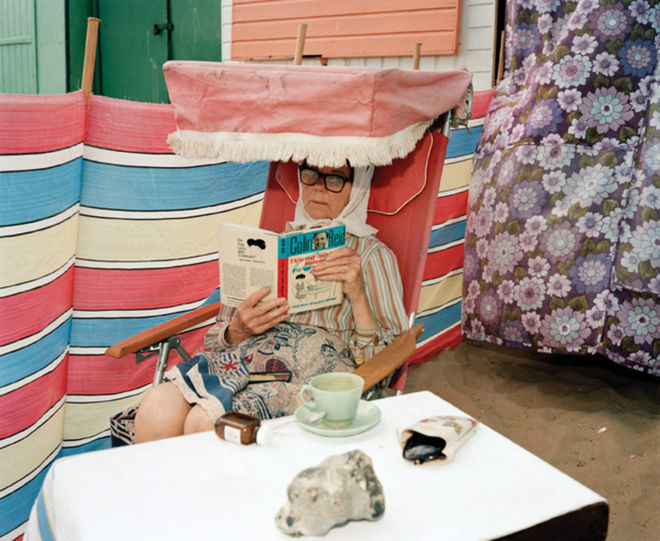 GB. England. Kent. Margate. 1986. © Martin Parr / Magnum Photos