The machines that Kirill Golovchenko (1974, Odessa) photographed for his book Kachalka are painted in blue. Rust and old wood show through, yet the machines do not look fragile. What are these machines?
There are sweaty people on the machines, flexing their muscles, so it may be naturally concluded that this is some kind of fitness equipment. But these peculiar pieces of gym equipment do not look like any 21st century fitness machines. They look big and complicated and ready to crush the people sitting in, on, or underneath them.
Built in the early 1970s, Kachalka is an open-air gym nearby Kiev. Between 2010 and 2012, Golovchenko frequently visited the place, resulting in a series of strong images. Lines of shadows and muscles are precise and sharp, and the composition is chosen well. But apart from a good photographic study, the series is an intimate document as well. As a viewer you get close to the people's deliberate pain and, of course, to the victory of an athletic achievement.
The poorly chosen two (!) subtitles 'Muscle Beach' and 'The Pumping Iron Revolution' don't do justice to the great diversity of stories that the book depicts. It's a nice surprise that the people training in the photographs are not just one type of 'gym bunny'. Besides many young muscular men, there are muscular women too, and old tough men and not so strong boys. For example, in one photograph a young boy lifts too much, while his toes curl in his flip flops, losing strength that he still doesn't know where to put. In another photograph there is a woman doing some kind of leg training while wearing high heels. But the viewer also gets to see an old man trying to lift either something or himself in a training machine that is at least four times bigger than him. His many wrinkles draw sharp curly lines around his mouth and in his stomach.
It's true, there are many muscles in this book. Muscles on men, muscles on women, muscles in a machine, muscles without an identity. But the photos managed to document something more impressive as well. It is perhaps the people's eyes that indicate this best. Whether you look at the older man with the sharp wrinkles or the young boy with the curled toes, you'll see that their eyes seem to be "turned off". They aren't always closed, but somehow you can see in their eyes that they don't register anything at that moment. The people concentrate so hard on their supreme effort, that they let many other feelings go. The photos depict what the training people must somehow experience: surrender.
Kachalka is for sale by its publisher Kehrer Verlag.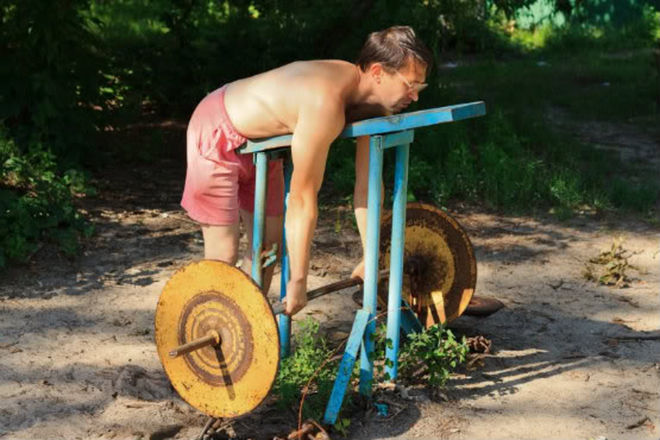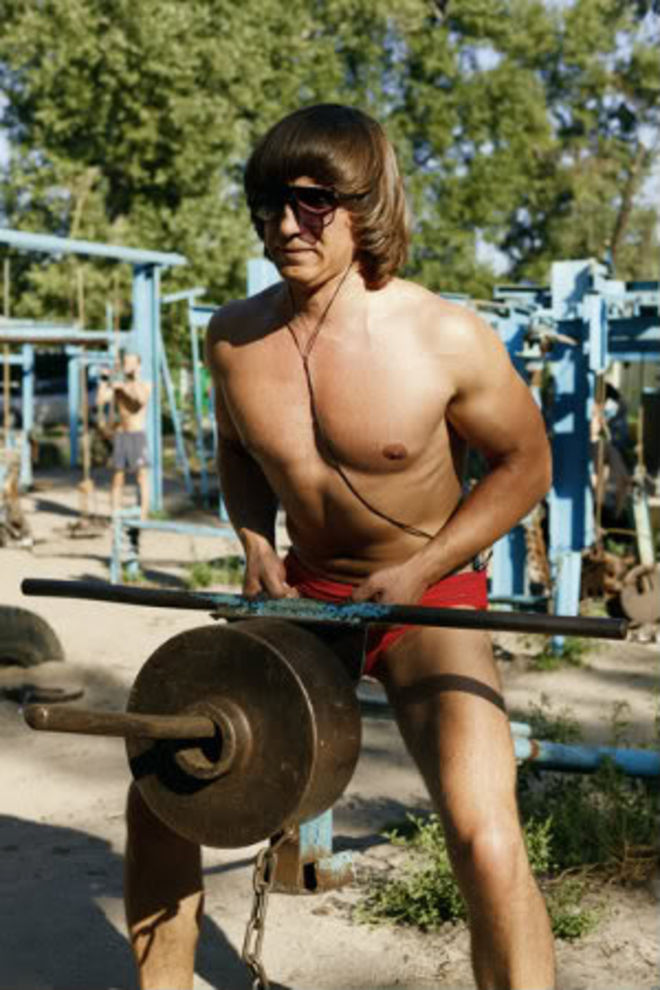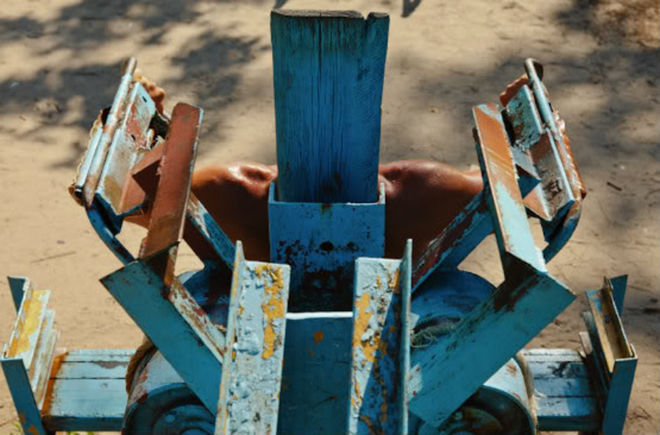 Reviewed by Nora Uitterlinden