If you leaf through our family album
the first ten years of my life
were spent in black and white
and predominantly in our living room
yet my memories of those years
are full of colour.

Hamid Ziarati, Iranian writer

Iranian Living Room is the first of a series of editorial projects self-published by Fabrica, an Italian communication research centre. Enrico Bossan, Creative Director and head of photography at Fabrica, visited Iran for the first time in 1989. Back then, he encountered a country devastated by Khomeini's Islamic revolution, ridden with a constant tension that made it impossible for any photographer to find a way into peoples' lives without putting them in danger. Now, over two decades later, he's returned to Tehran in order to realise a beautiful and multi-layered photographic project - Iranian Living Room. Visual social study and stunning photo book alike, Iranian Living Room allows for an intimate insight into these private living spaces.

The story is composed by the works of 15 young Iranian photographers, all born between 1987 and 1994, who invite us through their imagery into the homes of their family and friends, each documenting their unique point of view on contemporary life in Iran. Their inside visions are arresting in their contradiction of many typical Western stereotypes - stereotypes that have been formed by images taken almost exclusively on the streets and in public places, from an outsider's perspective. In actuality, due to the strictness of religion-based laws and repression by the Ayatollah Regime, an almost schizophrenic division has formed between public and private identities. People are forced to live out their yearnings for freedom, levity and informality at home, hidden from the outside view, making the unveiled perspective by these young Iranian photographers all the more intriguing.

The book depicts an interesting cross-section of Iranian society. We see traditional families where men and women watch TV from different sides of the room, strictly separated from each other. We meet people like Mohammad, who spends most of his time with his dogs, probably to overcome loneliness. Or Yasmin and Negar, two young girls who like to smoke, drink and check their Facebook pages regularly, not much dissimilar from the young single men that are also presented to us, as part of a different story. We also see Barbod and Saghi, a young, unmarried couple that has been meeting in secret for over a year, staying over at friends' places, as they both have conservative and traditional families. Iranian Living Room thus shines a light on quite different lifestyles that have but one thing in common - they are only to be lived behind closed doors.

In one image, we see Zoreh, a young computer graduate, sitting on her kitchen counter after having people over for a party. Surrounded by empty bottles, she obliviously smokes a last cigarette before going to bed. It is images like this that are astonishing in their recognisability; nothing seems truly foreign about the lives of the young Iranians presented in the book, much resembles home as we in the Western world know it. This is where we can start to grasp the true significance of what it must mean to live under a regime that oppresses individual freedom, forcing its people into hiding. This aspect of the book, and its use of different photographic viewpoints to raise substantial political and ethical questions, is one of its great merits.

The different layers are also reflected in the thoughtful design of the book. With its 316 pages from heavy paper bound in a pitch black softcover with gold-embossed letters and ornamentation, Iranian Living Room constitutes a captivating manifesto of the self-concept of a new generation of Iranian photographers. Under the formality of the black cover unfolds an unexpected finery of colours and Persian prints; each story is given its own colour, symbolically giving the spine a rainbow of colours. With its remarkable design and insightful composition of content, Iranian Living Room is a unique research project and an exceptionally rich book, opening doors to a closed-off world that seems so different, so far away, but sometimes feels just like home.

Iranian Living Room is available for sale from Fabrica in a limited edition.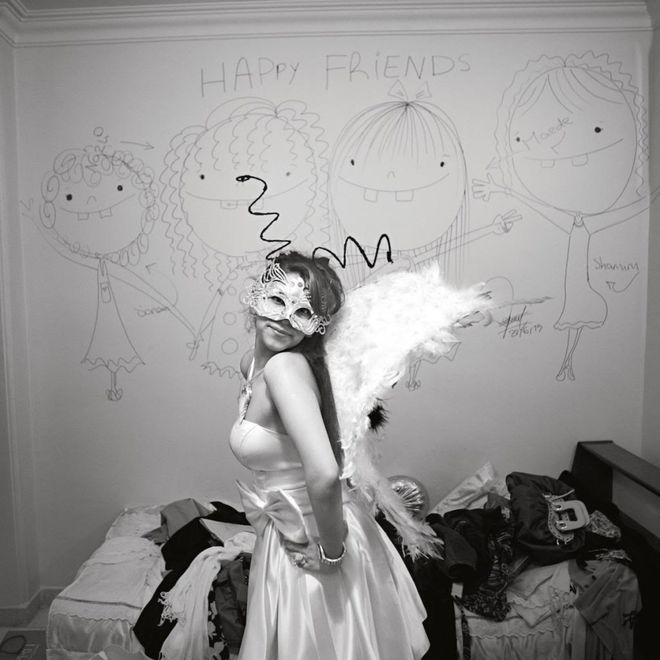 Ali Kaveh
Portrait during a party in Tehran. The person in this picture wishes to remain anonymous.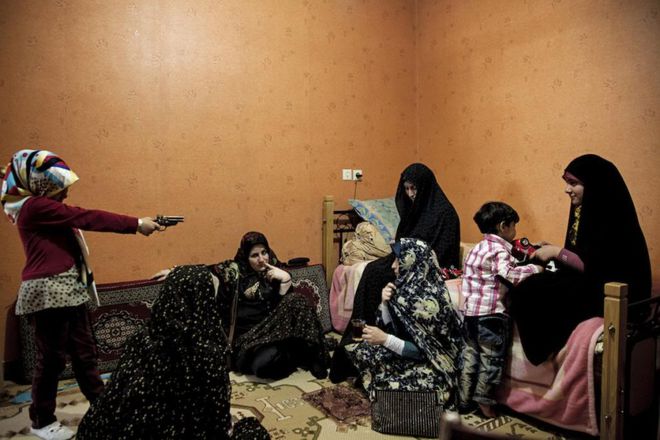 Ali Tajik
Women talk as a little girl plays with a toy gun during a religious celebration. In traditional families men and women gather separately.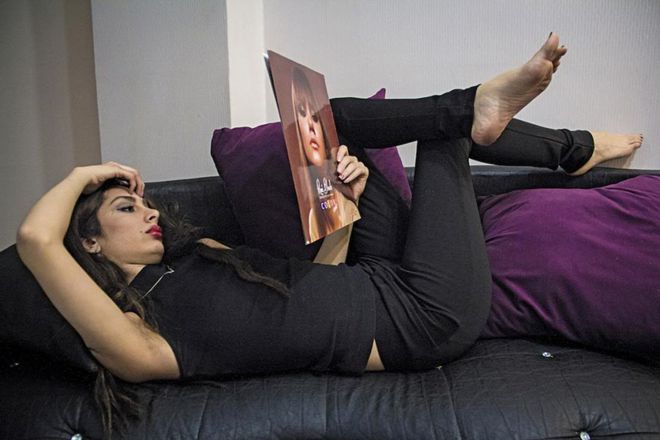 Negar Sadvand
Zohreh studies a hair colour catalogue in her salon.