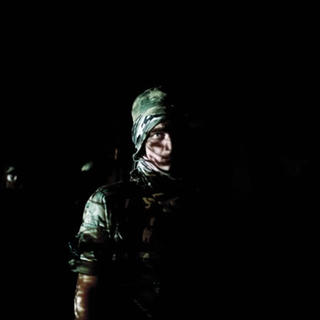 An award winning Italian photojournalist (including the World Press Photo 2007 and 2009 and the International Photo Award 2008), Davide Monteleone has been living in Russia on and off for the better part of the past eleven years, not only working as a correspondent for international newspapers but also dedicated to his own projects, especially in Northern Caucasus, a controversial region that has been the stage for many wars throughout the past centuries - the latest one in Chechnya.

Amidst the complexities of political conflicts, the first forgotten are often the people. Not so in his new book Red Thistle, where Monteleone tenderly intertwines his pictures and short stories by Lucia Sgueglia to disengage from the ideology and focus on the other life of the freedom fighters : families, friends, brides, children. Each page cracks a window open onto empathy, but without the rose-colored glasses of complacency. The reality of the struggle is still omnipresent - the red thistle, after all, is the region's symbol for independence - but the human takes center stage.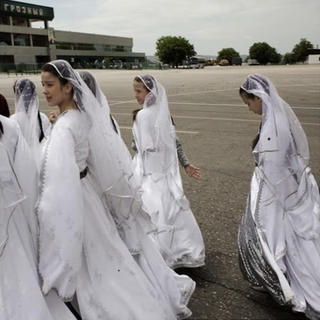 Once past the horrid cover, which shrubbery-green fake-leather and unattractive design are reminiscent of a high school chemistry book, each photograph and each short story, sometimes in the form of testimonies, tell a small tale of humanity. The rugged faces and mountainous landscapes are foreign, but the eyes of his subjects speak universal truths. Monteleone went way beyond photographing the staple sadness and misery. He found the modesties, the defiances, the motherly concerns - he uncovered the joys, too, and the affections, the friendships. His square compositions are rich in details, woven like the ancient tapestries that narrated more than one story. His portraits, and the accompanying texts, resound with the depth of individuality. He and Sgueglia brilliantly convey how no one is only one dimension; his subjects are filled with depth and contradiction, endearing and fragile, strong and resolute at the same time.
Red Thistle is a work beautiful in objectivity. It doesn't take sides and doesn't dissect the political or the religious; with every frame, stunning and full of grace, the photographer returns to the fundamentals of the human plight. We are all just trying to live our lives, with our loved ones, on our cherished lands, sometimes doing whatever it takes. It is a poignant oeuvre, well deserving of its European Publishers Award for Photography (2011).
---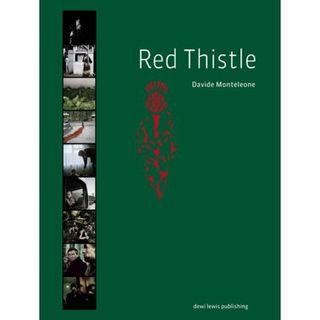 Red Thistle is published by Kehrer (German language) and Dewi Lewis (English language).