"These photographs are not about documentation or story telling or even art. They are declarations of love..."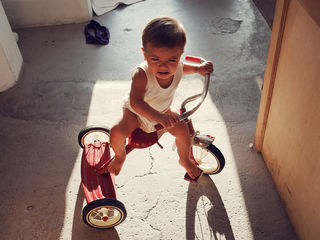 Son is the third monograph from Magnum photographer Christopher Anderson (b. 1970, Canada) but, in departure from the photojournalism and conflict photography he became known for, it's the first body of work he's published that is based on his own life. Beginning with the birth of his son in 2008, Anderson photographed his family – as many new fathers do. At roughly the same time, his own father was diagnosed with lung cancer, and his family photographs began to take on new weight, giving complexity to the images in a context of the circle of life and Anderson's dual identities of both being a son and having a son. These collected family works now form the series Son, which, though it did not start as 'a body of work', became what Anderson calls his "most important life work".
In 44 images, Anderson offers us a very brief window into his life in New York City – we see scenes of his wife bathing with their son, rich daylight streaming into the windows of their high-rise apartment overlooking the city, small toys on the tile floor. He creates an idyllic picture, a beautiful and romantic notion of their life as a new family. Yet with idealism, darkness looms – and shortly we are confronted with an image of the wrinkled chest of Anderson's father, marked by pen on certain locations, discoloured and sagging. The father's frailty and age are heart-breaking when paired with the soft-skinned vitality of the young boy, and the interspersing of pictures of blooming flowers as well as trees that have lost their leaves drives the point home.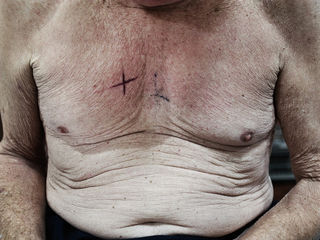 With vibrant colours and a documentarian's clarity, the images have a kind of masculine grace – subtle and sober, yet incredibly moving. Son is by no means an outsider's account of 'family life' or an abstractly distant notion of what it means to be a father – it is an intimate and up-close experience, lived from the perspective of the father/photographer. We are even able to 'see' his presence through the loving gaze of his wife, as she looks squarely in the lens. Through his emotional rendition, Anderson has found a route to transcend the specificity of his personal experience, and tell a story more universal about life and love.
---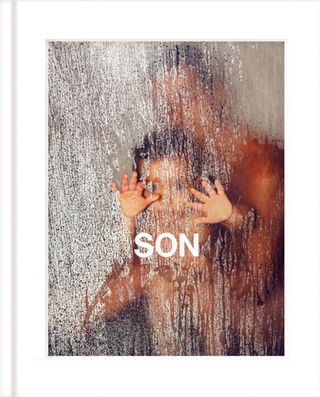 Son is available for sale from Kehrer Verlag. See more images from the series in our online portfolio, or learn more about Christopher Anderson in our interview with him.