In a small book with a cardboard cover, Christoph Bangert (b. 1978, Germany) presents photos of heavy violence. Dead bodies amidst garbage, people on improvised hospital beds with gaping wounds, the small bodies of children wrapped in white cloths. Aptly titled War Porn, the book shocks intentionally, in order to make its readers think about the practice of censoring violent images.

Bangert has been a conflict photographer for more than ten years. In War Porn, he shows outtakes from series he shot in Afghanistan, Iraq, Indonesia, Lebanon, and Gaza. In the introduction to the book he explains that, as he sought to publish his work, much of it was edited out of publication. There were several censors at work. Not only did the media decide which photos would be published, but he himself was leaving out certain images, too. Beyond the editorial process he even found that certain images escaped his memory. He writes that he can't even recall having shot them (strangely, in the back of the book he managed to include detailed descriptions of the events). Subsequently Bangert draws attention to the viewer's own censoring mechanisms too. He does so through the physical object of the book: some pages are bound together sealed, so that the reader must cut them open in order to view them. The reader must be an active participant, deciding for herself if she wants to see more of the images of violence or if she wants to protect herself from the cruel images instead.

However, it isn't stated that the sealed pages necessarily contain scenes of more violence. One spread, for example, presents an image of a large dish with roasted meat, bell pepper, tomatoes and onion. By implication of the seal, the reader is prepared to see violence, but is confronted with a meal instead. This mental act of projection, combined with the resulting ambiguity services to confuse one's expectations. It makes one suspicious, too, in a way that might not be far removed from the experience of people living in conflict areas: is something terrible happening in the room next to the food? Has something terrible happened just before this meal? Is something about to happen?

The book makes a political point, most clearly summarised in a story Bangert writes about a memory of his grandfather, who served the Nazi regime but could no longer remember the things that he had done during his service. Bangert sees this as a disservice to the actual events however, and makes the point that we should keep remembering events. "Because if we don't," he writes in his introduction, "these events did not take place."

It's debateable as to whether Bangert's photos of dead bodies and nasty wounds can indeed make us more actively aware of the importance of not forgetting (and therefore, repeating) acts of violence, or if they instead only contribute to an image fatigue that plagues so many modern image viewers, desensitising us to their impact. With his ambition of visual reminders of violent truth, you might say that the book could've been done differently. For example, using more or bigger violent images of violence. Or it could've been subtler, showing mourning people, for example, instead of the dead bodies, in order to enable readers to identify with the suffering of the living people in the photos. The book could've protected the victims' identities. But, as the photo critic Susie Linfield once wrote "[M]aking, and looking at, pictures that portray suffering, will always be a highly imperfect and highly impure activity."[i]

In any case, it can't be said that the presentation of this book wasn't thoroughly considered. Together with the photographers Chiho Bangert and Rafal Milach, and book designer Teun van der Heijden, Bangert created his book over the course of a year. The result is a simple and effective book. What's left after one reads the book is a frayed little object. It isn't a book that can sit nicely anymore in between other art books, because it wears the marks of its viewer having cut its pages open. Though, this must have been the designers' intention. After all, your thoughts are meant to be frayed, too, after seeing the photos.


War Porn is available for sale from Kehrer Verlag.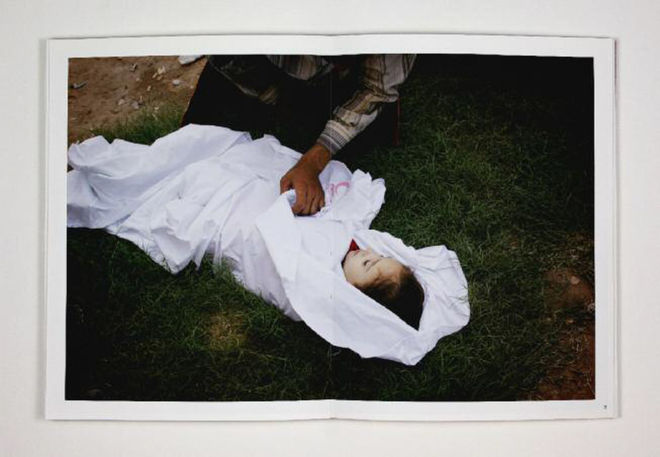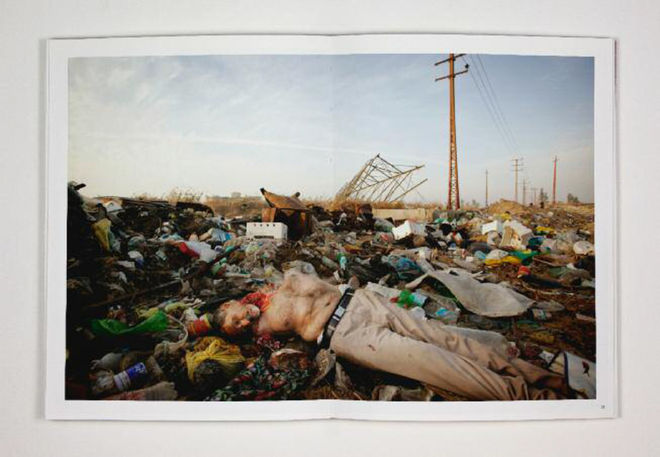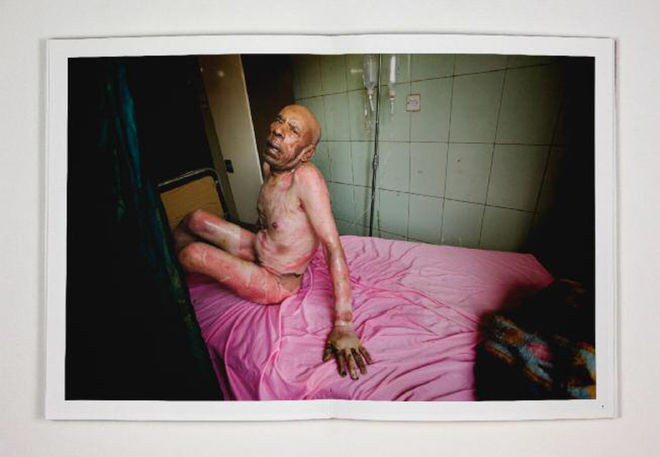 [i] -Linfield, Susie, The Cruel Radiance, Photography and Political Violence, Chicago: University of Chicago Press, 2010, p. 44