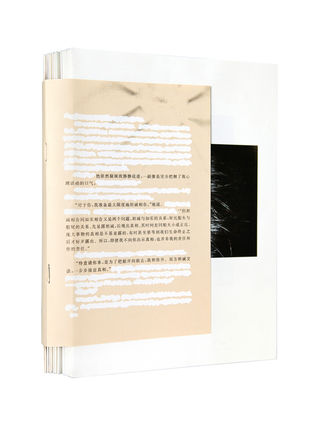 As a closing statement for her long investigation into disquieted souls and wounded bodies, Beijing-based photographer Chen Zhe (b. 1989, China) has published a book which combines two of her series, The Bearable (2007-2010) and Bees (2010-2012). The result is a reflective documentation of her dark, yet occasionally euphoric relationship with self-inflicted harm, focusing on the destruction of the human body and confusion of memory, mind and identity. While her early work focused on her own history, later, for Bees, she began to meet others who performed self-harm. The book is bound in an unexpected way, with its signatures of varying paper sizes stapled together, creating a book that feels fragmentary, fragile and temporary. Images are interwoven with diary entries, letters, online chats and quote fragments, generating an emotional confrontation that is at once intimate and academic.
Bees & The Bearable was featured in GUP#51, the Rituals issue.

Read our interview with Chen Zhe here.