Two Rivers, the first book of photography from Carolyn Drake, is a project of text and images that doesn't actually fit inside the book: the pages extend outside of the cover, the images spill over from one page onto the next and even the text doesn't fit inside the book, but is part of a separately bound booklet held affixed by a rubber band. By the mere act of holding the book in your hands, you begin to pick up on Drake's messages about borders, confinement, overflow and even, from the feel of the cover's cloth, the suspicion of something dry and abrasive.
The two main rivers of Central Asia are those under study, the Amu Darya and Syr Darya, originating in the mountains near China's northwest border and running into what used to be the Aral Sea, now dried beyond recognition. The photos, taken over a period of five years, trace the tracks of these rivers from beginning to end. While looking through the images – showing stuffed animals in a natural history museum, a detail of layer upon layer of aging wallpaper peeled from a wall, a woman's back as she sits soaking in a tub with a small plastic hourglass counting down time next to her – it's perhaps apparent that Drake's narrative is not about the rivers exactly, but rather their symbolism in the history of the space surrounding them.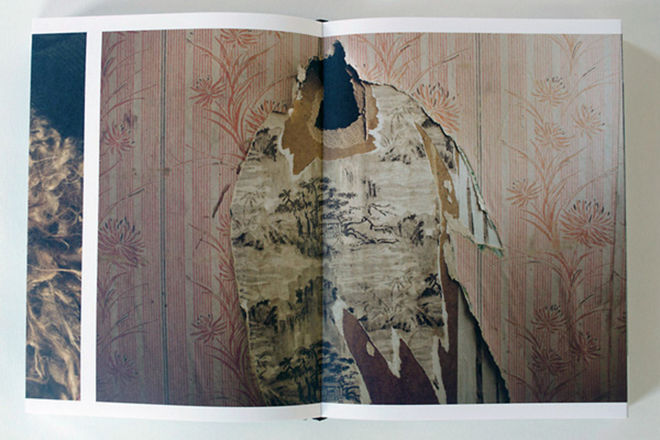 Despite Drake's main modus operandi as a photojournalist, the series of images laid out in Two Rivers is artful rather than reporting, often raising more questions than answering. One photo illustrates a crater in the ground burning with fire. The caption explains it's been this way since 1971, when Soviet geologists tapped into some natural gas and decided to let it burn off – which it has yet to do, four decades later – and the locals now call it the 'Door to Hell'. The next page reveals a young boy smiling in an indoor swimming pool. The next, a woman seated alone in an empty banquet room, slightly bored in a party dress with balloons spread around in lacklustre fashion. This frenetic sequencing, combined with bleed-to-bleed images, is an outpouring of the depth and chaos of the region, something that elicits studied attention and repeated viewing.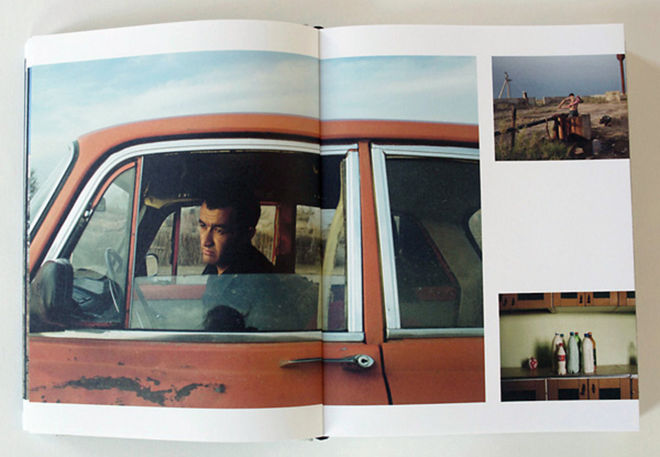 Journalist Elif Batuman writes an in-depth introduction along with story-like captions for each of the seven chapters of photography, which are based on geography as well as theme. This addendum, partially factual and partially anecdotal, provides a starting point for understanding some of the questions raised by the imagery, though perhaps more fully articulates the bottomless well of information surrounding the two rivers which is impossible to collect in one document. In taking a creative approach to the story of such a complex region, Drake gives herself the freedom to leave open ends rather than tie up loose ones.
Drake's images are often gentle whispers, more suggestive than illustrative, just small observations of passing moments, characteristic objects or scenery, or sometimes merely beautifully observed light. The book's design, however, with its images folding over pages and very little white space to breathe into, is more of an on-going shout, and because of this, there's something of a contest of voices - unfortunately, the photos sometimes lose out. Arguably, by presenting the work in this way, this medium is the desired message. Should you want to simply look at the beautiful photography, it may be more of a pleasant experience to view them online or in another format.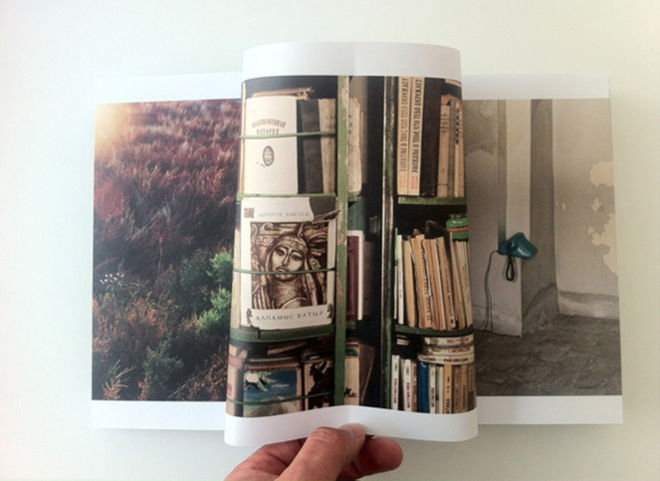 Two Rivers was designed by Sybren Kuiper (SYB) and has been published as a limited edition of 700 copies, with a special edition of 50 copies. It's available for sale directly from Carolyn Drake on her web site.
See more of the photographs from Two Rivers in our online portfolio.