The winners of the 2017 Viewbook Visual Storytelling Grant were announced on March 1 – with Guy Martin (b. 1983, UK) and his project, The Parallel State, coming in first place. In this project, Martin focuses on what he sees as the duality of modern Turkish life: the seen and unseen, the interplay between fact and fiction.
Martin said in response to the announcement: "This award also feels it was made for my Parallel State project. Turkey is an extremely complex story to tell. With a few notable exceptions, I feel it is always visually represented in an overly simplistic way. It is all too easy to fall back on visual cliché and well-worn story hooks that fit nicely into our Western ideas of what Turkey should be like. But this grant will now give me the opportunity to bring the complexity and layers to a story and a country that is at the forefront of all our lives. This feels meaningful."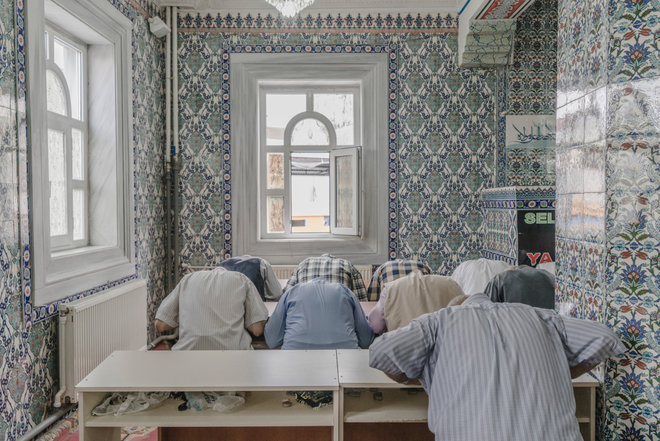 Viewbook explains that the grant is intended to support thoughtful photography that "makes us reflect on our world, ethics, beliefs and behavior" or "produce and share meaningful photo stories in inventive ways". The grant offers a photographer, group of photographers, or visual artist(s) a cash grant to a maximum of $5000 towards their project costs.
The competition received submissions from 60 different countries, with an equal number of men and women. Viewbook said that the overall quality of the submissions was very high and included many innovative approaches. Jury member Giuseppe Oliviero says: "What impressed me the most while reviewing the Viewbook Grant submissions was to see a marked entrepreneurial approach among photographers. Several applicants presented very strong proposals not only in terms of visual production, but also with respect to the distribution of their work across media, showing a clear understanding of today's opportunities and technology."
Finalists for the grant included Birte Kaufmann (with her project I Can't Forget Ogadima), Michal Siarek (with his project Alexander), Matt Eich (with his project Sin & Salvation in Baptist Town) and Sanne de Wilde (with her project The Island of the Colorblind).
On behalf of GUP, we would like to congratulate all of the finalists.