The exhibition WAR/PHOTOGRAPHY: Images of Armed Conflict and Its Aftermath is currently on exhibit at the Annenberg Space for Photography in Los Angeles until June 2, 2013. The exhibition arrives in LA after being on exhibit at the Museum of Fine Arts Houston (MFAH), though this exhibit introduces a new short documentary film The War Photographers, produced by the Annenberg Space for Photography specifically for the occasion.


We in modern times know what war looks like without needing to see it first hand, or at least, we think we do. Through static imagery and movies, fiction and documentary, we've been presented with uncomfortably close encounters of the on-goings and after-goings of war time to the extent that we have a gestalt of war constructed in our minds, though we lie far from harm's way. Photography brings war safely into our homes, but with a complex cocktail of individual reactions ranging from anesthetised boredom to reactionary rage to personally felt sorrow. The exhibit WAR/PHOTOGRAPHY brings together over 150 images of war-time for viewing, organised into themes of the different stages or impacts of war, including the Advent of War, Recruitment, The Wait, The Fight and several sections on the aftermath, including Exhaustion and Shell Shock.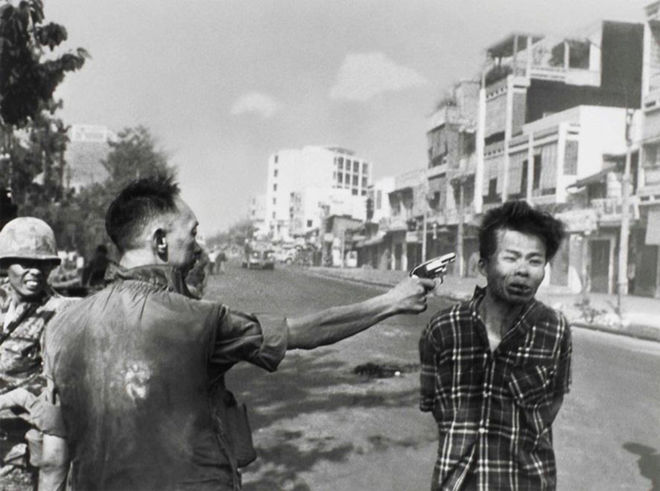 Eddie Adams, Police Commander Nguyen Ngoc Loan killing Viet Cong operative Nguyen Van Lem.February 1, 1968
The photographic icons of war which exist in our minds are all there to be found: the image of the napalmed Vietnamese girl running naked in terror (Nick Ut), the image of the Vietnamese man on the threshold of being shot (Eddie Adams), the girl holding the flower as soldiers point their guns at her (Marc Riboud), the image of the soldiers raising the flag at Iwo Jima (Joe Rosenthal), the kiss of the sailor and nurse in Times Square (Alfred Eisenstaedt). Images that have so much force, they become symbolic of the war effort, of the attitudes around the war, or even of the meaning and purpose of war itself. It's both the benefit and detriment of iconography, those shorthand notations that occur when we assign abbreviated meaning and constructed narratives to complex situations.
The images seen, without the context, without explanation, can come to represent ideology that simply isn't present in the messy scenarios of real life.
For example, while pictures of victory allow us to feel pride or relief, it's fundamentally a winnowing down of context and perspectives into themes that are simple and identifiable: good and evil, winners and losers. "Wars don't end", said the exhibition's curator Anne Wilkes Tucker at a lecture organised by the Annenberg Space for Photography. "Our fathers' wars are our wars, and our wars are our children's wars".
Similarly, it's all but impossible to have photos of war that are seen as neutral, but rather, they tend to serve the function in the viewer's mind of either glorifying or villainising war. But why not, right? When dealing with the bleeding edges of the human experience, to take a photograph without a profound emotional charge seems pointless. The reaction may be divisive, or even misused through its extremity, but perhaps inevitably so.
Of course, this is independent from the intentions of the photographers – many of whom are trying to document in an objective way without trying to promote a specific agenda. On the other hand, as Pulitzer-prize winning photographer David Hume Kennerly said at the same lecture, "I don't think you're going to find any photographer who covers war who thinks [war] is a good idea".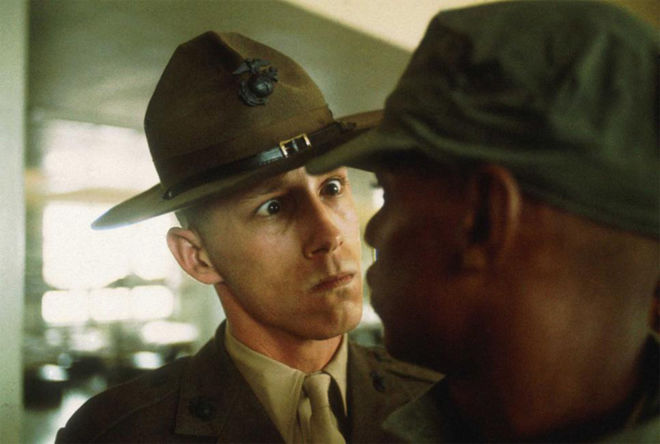 Thomas Hoepker, A US Marine drill sergeant delivers a severe reprimand to a recruit, Parris Island, South Carolina, from the series US Marine Corps boot camp, 1970.
The idea of having an exhibition of 'art' photographs of war may at first seem disturbing, or somehow a little too cool in a calculated way. It was, at least, my personal initial reaction when walking around the WAR/PHOTOGRAPHY exhibit. When being surrounded by so many phenomenal photos, I have to stop myself and ask -- Am I allowed to enjoy this? Am I allowed to appreciate the artistry in the photos, or appreciate the skill in capturing a scene well, or the beautiful colours or emotions portrayed? How do you look at the art of war without seeing war as art?
There are no easy answers here, and each visitor will have to find their own way of understanding such an emotionally charged topic. Being a little too familiar with the photographs, emotional distance was perhaps too easy for me. Another danger of icons, image fatigue, and the practice of photographic study. Anne Wilkes Tucker noted that some visitors have cried while viewing the exhibit (and, indeed, someone did run out crying while we were visiting), but she emphasised, "The point is not to make them cry; the point is to make them think".
And these are things that are uncomfortable to think about. Damon Winter's photograph of a military airplane packed full of soldiers gives testament to the factory treatment of war. Nina Berman's wedding photograph of a marine, dramatically scarred on the entire surface of his head, and his young bride, with a devastatingly conflicted expression on her face, portrays the loss of normalcy to a homecoming. W. Eugene Smith's photograph of a soldier holding a dying infant in his hands offers us inconsolable sorrow.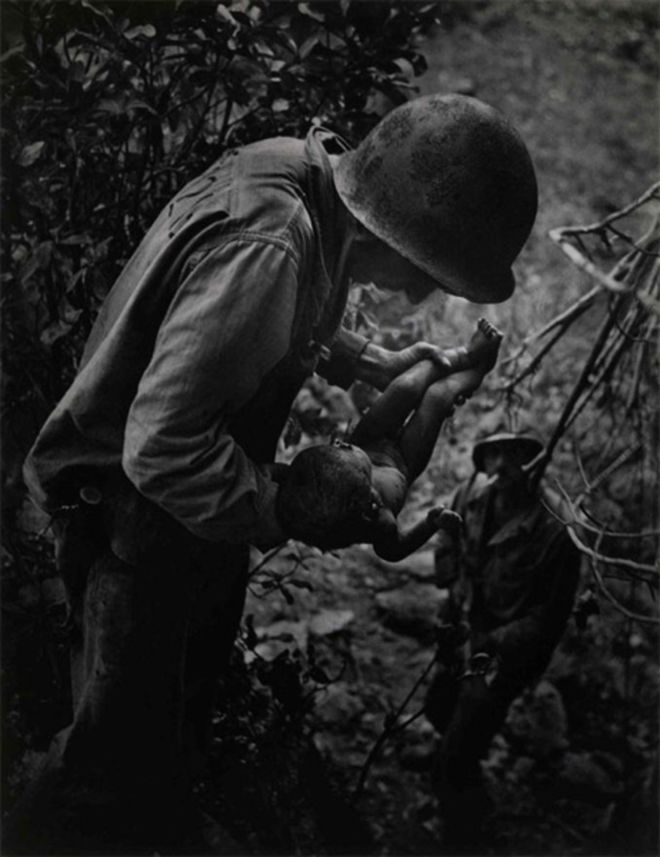 W. Eugene Smith, Dying Infant Found by American Soldiers in Saipan. June 1944
These are all the faces of war, and more. Anne Wilkes Tucker described the mass archives of images of war that she and others dug through while researching for the project, saying that, through all the photos of war, there are only two aspects of which there are never photographs: hand-to-hand combat and rape.
How can we reconcile the compassion of brotherhood formed between comrades with the inhumanity required to execute so many methodical deaths? How do we reason support for soldiers outside of support for war? How do we celebrate the greatness of a nation alongside its atrocities? War is irreconcilable, full of contradiction. While photography offers us a window's view into unknown hells, it does not offer us instructions for what to do with the new information. We can choose to only look, but it's better if we can also think.


WAR/PHOTOGRAPHY: Images of Armed Conflict and Its Aftermath is on display in Los Angeles until June 2, 2013, and then travels to The Corcoran Gallery of Art (Washington, DC) June 29–September 29, 2013 and The Brooklyn Museum (Brooklyn, New York) November 8, 2013–February 2, 2014. There is also a catalogue to accompany the exhibition, a massive 10 pound book including 500 images and vast supporting texts.