Too often a museum calls the photographer they're exhibiting 'one of the most important figures in photographic history'; it makes one wonder how many of them there could possibly be. In the case of Walker Evans (1903-1975), however, the statement is more than justified. The influence Evans has had on the medium, particularly in the field of documentary, is undeniable. When confronted with an overview of his work, like the one currently presented in the Huis Marseille photography museum in Amsterdam, it's not hard to recognise the beauty and strength of his images.
Yet, no matter how well observed and meticulously constructed the individual photos, Evans' work is best when seen within its narrative context. Coming from a literary background, Evans was not just a photographer, but a storyteller. In his acclaimed books American Photographs (1938) and Let us now praise famous men (1941), message and aesthetics go hand in hand. Hailed by Gerry Badger as one of the most important photography books ever made, American Photographs was released to accompany the exhibition of the same name at MoMA in 1938 – their first solo show by a photographer, at a time when the art world had only just started to embrace the medium. Badger calls the book "a work of photographic literature", in which Evans doesn't act as just a photographer, but as an author.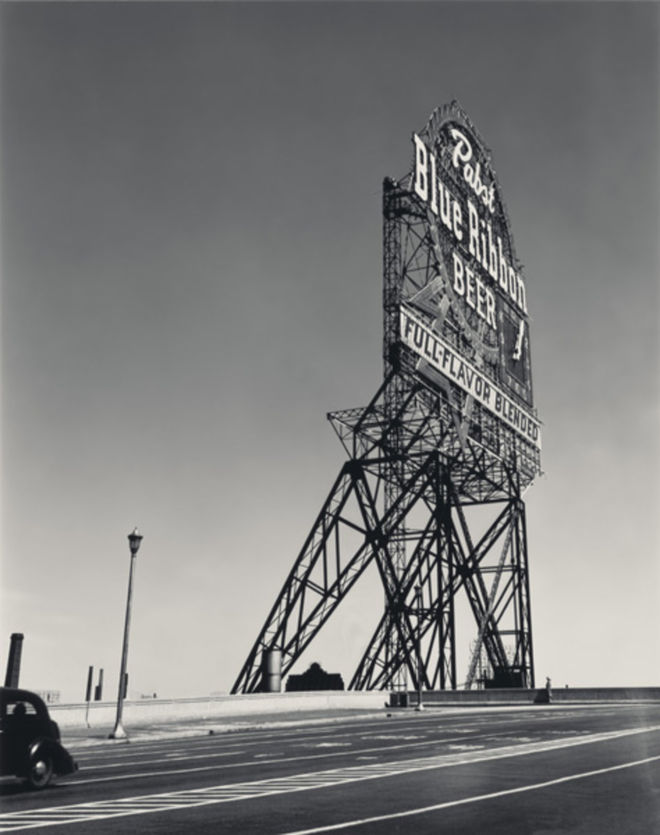 Pabst Blue Ribbon Sign, Chicago, Illinois, 1946 © Walker Evans Archive, The Metropolitan Museum of Art
Let us now praise famous men had even grander literary aspirations: the book is a full-fledged collaboration between Evans and his friend, the writer James Agee. Through a combination of facts and poetry, they tell the story of three southern tenant farmer families during the Great Depression, a subject largely invisible at the time. Included in the book, though unfortunately not part of the Huis Marseille exhibit, is arguably Evans' most iconic photograph, also now a symbol of this period of hardship: the portrait of Allie Mae Burroughs (1935/6). The woman shows obvious signs of poverty, but she refuses to be pitied, looking directly and confidently into the camera. The photo was appropriated in 1980 by artist Sherrie Levine in her photograph After Walker Evans, becoming an icon all over again, this time of the postmodern age. The re-photographed version, which looks exactly the same as the original, also raised important questions about originality and copyright.
Though not produced as part of Evans' commission for the Farm Security Administration (FSA), the portrait is representative of the work he made for the institution during this time, (1935 – 1937), the body of work for which he is most well-known. Thanks to these assignments - and thanks to Evans' refusal to follow orders too literally, thus putting his own unique spin on things - he has arguably become the most influential photographer of poor rural America. He was, however, not the first: Lewis Hine (1847-1940) had already set out to raise awareness for the underprivileged in order to force social change and reform in the beginning of the 20th century.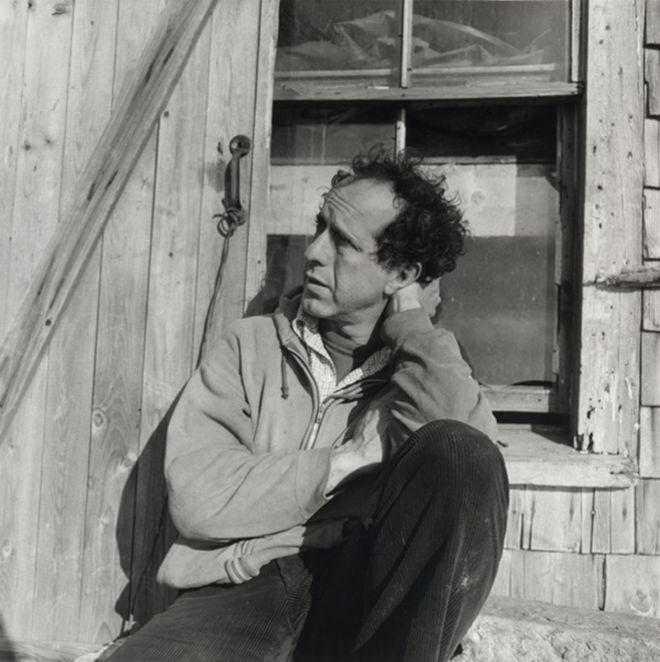 Man Posing for Picture in Front of Wooden House, 1936 © Walker Evans Archive, The Metropolitan Museum of Art
A unique branch of Evans' 1930s output is his series of New York subway portraits. The photographer rode the subway, documenting its passengers, decades before Magnum photographer Bruce Davidson (Subway, 1980) and Michael Wolf (Tokyo compression, 2010) would immerse themselves in the subject. Posing as a regular passenger, together with fellow photographer Helen Levitt, he took blind photographs with a hidden camera as a protest against posed portraiture. With this method, he had little control over the end result, but perhaps more importantly, the commuters also wouldn't pose for the pictures, as they were unaware of the camera. According to Badger, through this series, Evans aimed to filter out his own expressive voice.
When you go through Evans' – or any photographer's - entire career decade by decade, you'll inevitably find works you didn't know about or didn't expect to find. Honestly, you turn to Evans with an expectation to see suffering, but he has handled many subjects besides rural American poverty. Through relatively unknown photos, Huis Marseille shows how he started his career by portraying everyday objects like gladiolas, African art and Victorian houses. The contrast between these beautiful and elegant homes and the completely ruined buildings documented just a few years later is especially painful.
These early works give proof of his already great technical skill, but even more surprising is the work produced decades after his FSA years. In this work, we see private snapshots – of friends both unknown and famous, like Robert Frank – and several commissions that show a completely different side of the photographer. His panorama of the New York skyline or a huge roadside sign of a beer brand are simply gorgeous examples of Evans' unprecedented versatility, with which he's produced an incomparable overview of the American culture of his age.
The exhibition Walker Evans. Decade by decade is on display at Huis Marseille in Amsterdam until September 1, 2013.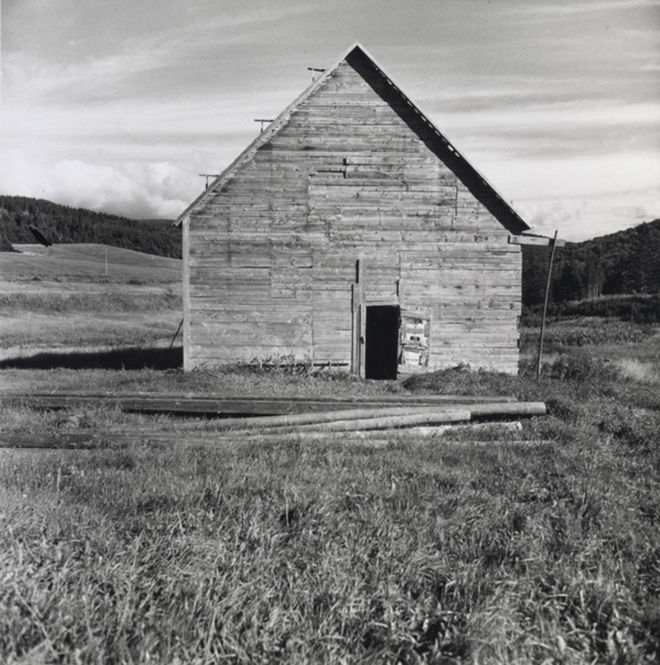 Barn, Nova Scotia, 1969-71 © Walker Evans Archive, The Metropolitan Museum of Art