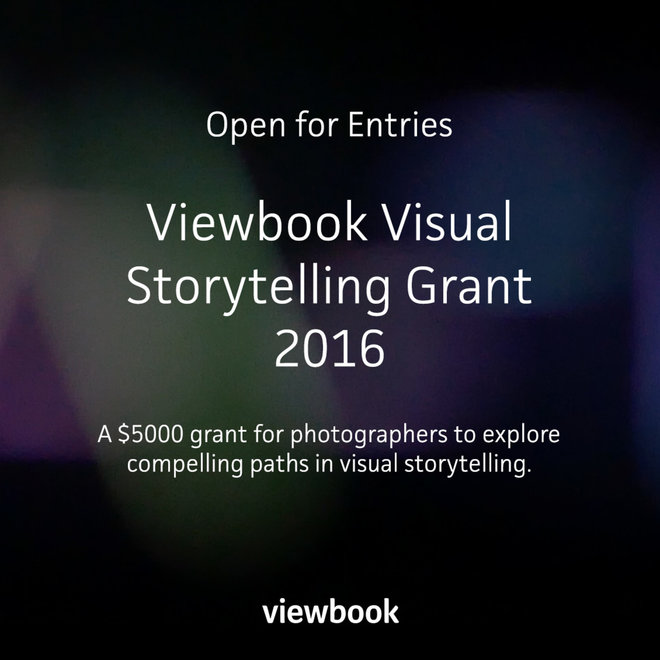 In today's image-based culture, it is hard to conceive a world without photography. Throughout this photographic revolution, professional photographers are being forced to reinvent themselves to stand out from the ever-expanding sea of pictures we are constantly swimming in.

Here to help these photographers struggle against the stream are the people behind the Viewbook Visual Story Grant, aiding photographers who "explore the varied possibilities of visual storytelling and pursue creative ways of bringing their work to a wider public."
Supporting thoughtful photography that "makes us reflect on our world, ethics, beliefs and behavior" or "produce and share meaningful photo stories in inventive ways", one lucky photographer or group of photographers/visual artists are being offered a cash grant of $5000 to cover a maximum of 50% of their project costs.
If you/your group of visual artists think your project, no matter what stage it is at could be considered as the following, you have until 31st December 2016 to enter:
In-depth, thoughtful visual stories.
Photography projects that demonstrate innovative ideas and novel ways of publishing and sharing photography.
Involvement with a community, wider participation, or a network effect.
Local photographers who are looking to gain visibility for their projects on a global stage.
Projects that focus on, or have a direct relationship with, the theme 'transformations in photography'.
All you need to do to apply is submit a written project proposal in English, detailing your motivations, plan of action with some examples of work. Please find a more detailed list below:
Written proposal outlining general motivation/plan of approach etc
A resume (including 2 references);
A calculated budget (the Viewbook grant is for a maximum of $5,000, to cover a maximum of 50% of the project costs);
Visual examples of on-going and previous related projects (no more than 15 images) and/or a maximum of 10 minutes of video material.
Apply here: https://viewbook.submittable.com/submit
Any other questions, email Rebecca at rebecca@viewbook.com
If accepted, the successful applicant will be given a twelve month period in which to complete their proposed project. On top of the grant, the recipient will also be given the opportunity to receive online feedback and guidance from one of the many experts at Viewbook. The winner will be announced on the 1st March 2017.