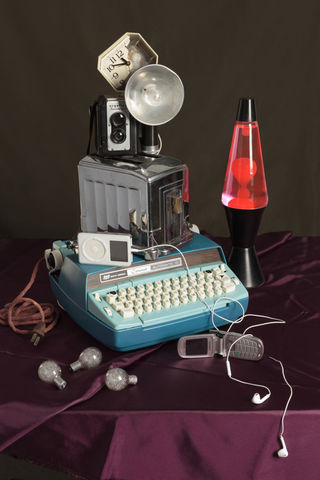 Now open, until June 30, 2017 at Klompching Gallery in New York, is an exhibition that showcases the work of two contemporary artists working with an art classic: vanitas. Known especially among Dutch Golden Age painters, vanitas comes from the Latin word for 'emptiness', referring to the traditional Christian view of earthly life and the worthless nature of all earthly goods and pursuits. As such, while the objects being portrayed may change according to the times, the reminders of mortality and immateriality remain steadfast. The two artists on display are Jeanette May (b. 1963) and Kimberly Witham (b. 1970).

May presents her series Tech Vanitas, in which she composes arrangements of recently obsolete technologies. Old mobile phones (which, of course, are not that old) are juxtaposed with lava lamps, old cameras are matched to an old boom box and a Palm Pilot. May's images of modern devices that became useless all too quickly are equal parts comic and depressing.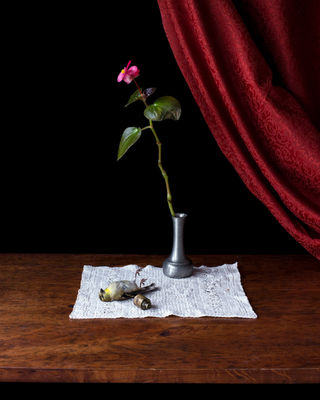 Witham's images are a more traditional take on vanitas, with still lifes of dead birds, flowers, and other decaying matter. The gallery describes her method of "incorporating roadkill with flora from her garden, creating meditative studies of fragility, beauty, ripeness and decay."
---
Vanitas is on exhibit from May 3 - June 30, 2017 at Klompching Gallery in New York.