It was a hot summer night, like they only get in New York, suffocating and smelly. The streetlights had become fuzzy and the sidewalk was sticking to my shoes. Veniero was calling to me with its creamy cannoli; I left a couple of sweaty handprints on the bakery's window, and walked to Avenue A until I found a comfortable stoop to sit on. I took my pastry out of its box, watching the yellow cabs zip by and reveling in the sensation of the solid, heavy air on my face.
And suddenly, it overwhelmed me. The furious feeling that I owned the world - every light, every sound; I was alone and still, and it was all for me. I ate my pastry, my heart exploding almost, with unadulterated joy and a freedom so heady it verged on dangerous. It was just an instant, innocuous but raging - that escaped as fast as it came, before I could take it all in, before I could even try and hold on to it.
I think this is what happiness is. Your hands let go and you giddily fly down the slope, taking up speed and losing anchor, with your eyes closed and your chest filled with an erratic, surreal taste of childhood. An uncatchable, absolute bliss that dies sooner than a flimsy firefly, leaving you lightheaded, still suspended and soaring even as your feet touch the ground.
Just like that, it was gone. I stood up, another girl amongst millions again, walked my way home, and waited twelve years for a trite but witty photograph to bring that moment back to me - my cherished yellow slide.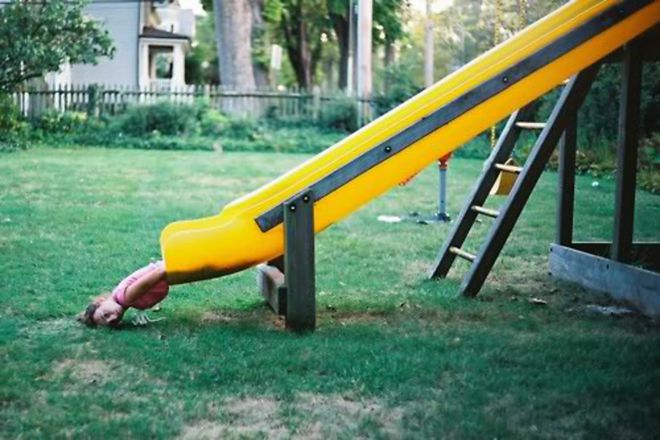 I think this photograph is by Joe Balice. I found it on Chase Jarvis' blog. I hope he forgives me for using his wonderful photo - and accepts my thanks for the moment of joy it brought me.