In a film on the project website, the 81-year-old Gennadi Kuk calls on the Dutch Crown Prince Willem-Alexander to consider the impact that the arrival of the Olympic Games is having on the historic seaside resort of Sochi (Russia). His call is exemplary of what duo Rob Hornstra (photographer) and Arnold van Bruggen (writer/ filmmaker) hope to communicate with The Sochi Project.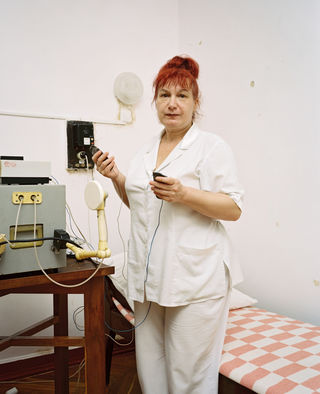 In a nutshell: what is The Sochi Project?

The Sochi Project is a unique documentary project in words and images about the region around the subtropical piece of Russia where the Winter Olympics will be held in 2014. The contrast between rich and poor, order and chaos and – at a basic level – warm and cold is almost nowhere as big as here. The Games create employment, but what will happen to all the buildings and jobs when the Games are over and no one has any reason to visit this remote city? Documenting this region in the run-up to the Olympic Games is a risky undertaking because it is costly and spread out over such a long period of time that the outcome is uncertain. We are financing the project with the help of donors and funding and – hopefully – the sale of photos to collectors. A unique undertaking.
Why this topic?

The run-up to the Olympic Games is an interesting phenomenon to follow, a phenomenon that we also already have our doubts about. It regularly results in problems and construction is causing a lot of damage to people and the environment. But this region – the Caucasus – had already caught our attention because there's so much going on. The differences are marked: between people, nationalities, conflicting religions, modernity and tradition, poverty and wealth... When Arnold heard that the Games would be taking place in Russia, he 'stalked' me until I promised to take part.
What is your goal?

We aren't activists so I don't want to denounce Russia or sue the IOC. However, it is our goal to raise questions about certain issues, but we will also report on things that go well. The contrasts in the region itself are what fascinate us the most. We want to portray that and make a sort of atlas for everyone interested in the kind of environment the Olympic Games will be taking place in. Because all eyes will be on Sochi in 2014, we think that there will be interest in it.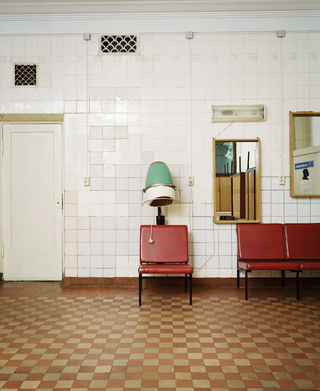 And finally: tell us something about the upcoming book?

In Sanatorium we focus on – what's in a name? – the sanatoria in and around Sochi. Every Russian knows Sochi from the Soviet era, because almost everyone was sent there on occasion as a reward for their hard work. In their heyday, the sanatoria attracted one to two million visitors per year. In addition, sanatoria appear frequently in Russian literature. Besides the fact that they are visually interesting, they are also a vanishing piece of history. We want to go there again to experience and record something of the old glory, before everything is smoothed over and filled with IKEA furniture. Our third trip (which will take place when this issue of GUP comes out) includes eight days in one of the 150 sanatoria to experience for ourselves what they are like. I don't really have any physical complaints but I'll make up a painful knee. At least then I can test one of the interesting pieces of equipment!
Sanatorium (designed by Kummer & Herrman) will be published in a limited edition of 350 numbered copies and is only available to donors of the project. Want one? Go to www.thesochiproject.org to sign up as a donor. The website itself is also worthwhile: lots of photos, insights into their working methods and on the Sketchbook page a number of entertaining stories.