'The Dwelling Life of Man' is on exhibit at KunsthalKadE in the Netherlands until Jan. 6, 2013.
'The dwelling life of man.' This all-encompassing and somewhat pompous title fits the scale of the exhibition in art space KadE in Amersfoort, spreading 160 photographs over 3 floors. The title, taken from a poem by Friedrich Hölderlin (1770-1843), is perhaps less informative than the subtitle, 'Masterpieces by American and European photographers from the Martin Z. Margulies collection, Miami.' Organised by guest curator Régis Durand, the exhibition almost functions as a retrospective of 20th-century photography, displaying an astonishing variety of works representing many different aspects of the medium and some of the biggest names from each era.
Yet, because of its generic meaning, 'the dwelling life of man' doesn't reveal much about the specific pictures included in the exhibition. To further explain things, Durand decided to apply the term 'condition humaine,' by which he means, "both the physical built environment and the people who live and work in it and the characteristic 'signs' that occur in that environment." This is still rather general, but Durand does touch on something; save for a few exceptions, the artists represented document their man-made surroundings, and the ways in which our lifestyle affects nature.
Apparently, man and nature don't always benefit from each other; poverty, decay and desolation are recurring themes throughout the exhibition. This becomes clearest in the collection of 20th-century documentary photos by, among others, August Sander, Walker Evans, Lee Friedlander and Dorothea Lange. It is truly a rare treat to be able to see all these classics in one place – and many are vintage prints too. Lange's iconic 'Migrant mother' (1936) is not on show here, but we do get to see two other prints from the same series, which actually add to the impact of that legendary photograph. Shot from a further distance, the dire circumstances of this woman become more apparent. As is shown, she lives in an open tent with even more children than were first seen in the iconic image. These pictures are beautifully combined with classic works by Walker Evans and rare first proofs by Helen Levitt from the same time period.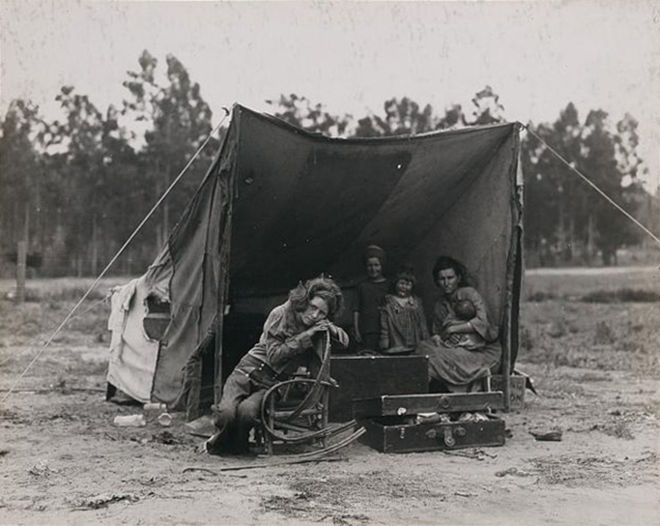 Dorothea Lange, Migrant agricultural worker's family. Seven hungry children. Mother aged thirty-two. Father is native Californian. Nipomo, California. From Library of Congress Prints and Photographs Division.
Documentary photography in an urban context represents the same themes of the human condition described by Durand - the way we inhabit environments we built ourselves - though in this case, our cities. Berenice Abbott shows us the continuous changes that took place in 1930's New York, where nature had to make more and more room for man. The disastrous effects of nature striking back are shown by Jeff Brouws in his pictures of New Orleans after hurricane Katrina. A large part of an entire floor is dedicated to the artists who documented the American 'man-altered landscape', made famous by the 1975 exhibition New Topographics. There are works on show by Stephen Shore, Bernd and Hilla Becher, Lewis Baltz and Frank Gohlke, as well as by several comparable photographers. Unfortunately, these aren't linked to each other within the exhibition and are instead mostly spread out. Because of this, casual visitors are left to make their own connections.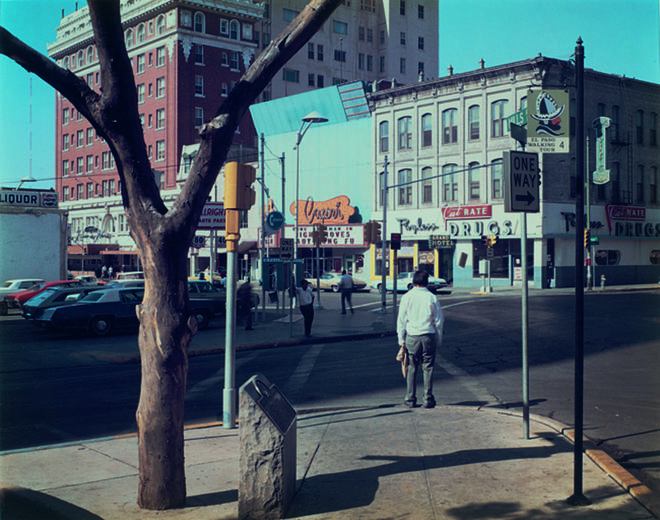 Stephen Shore, U.S. 1, Arundel, Maine, July 17, 1974, C-print. © Stephen Shore
There are small pairings of different works that make for interesting combinations: the staged photographs of self-built interiors by Thomas Demand and James Casebere go unexpectedly well with a series of anonymous documentary images made almost 100 years earlier at Vkhutemas School, Russia's answer to Bauhaus and short-lived home to famous artists like Kazimir Malevich and Vladimir Tatlin. These photographs of scale models are made to immortalize the plans for grand Constructivist architecture, while Demand and Casebere built their interiors for no other purpose than to photograph them. On a visual level, though, these very different works have much in common.
These kinds of pictures are among the biggest revelations in the exhibition; while giant photos by blockbuster artists such as Andreas Gursky, Gregory Crewdson and Thomas Struth make an impression because of their great technical skill, a different kind of beauty is to be found in smaller, less spectacular and more modest works. Baltz' series of blind walls with closed doors is another example. By meticulously chronicling every deserted building he came across, he created a series of pictures that fascinate because of their sameness and lack of spectacle. These works require a little more attention from their viewers, but in the end the subtle experience they offer is much more rewarding.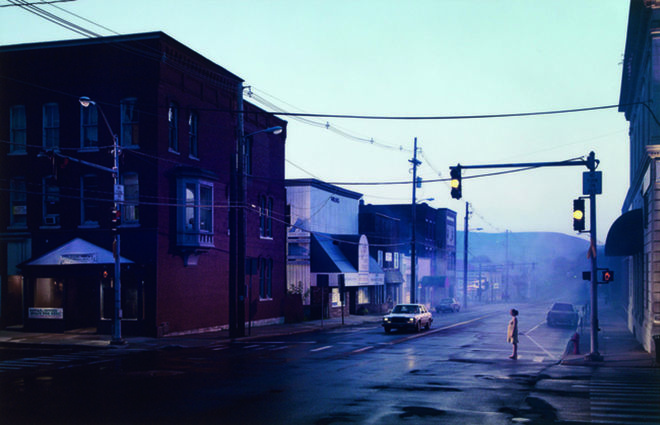 Gregory Crewdson, Untitled (Merchant's Row), 2003. © Gregory Crewdson, courtesy: White Cube
Because of the diversity of photographs on show, 'The dwelling life of man' can be a different exhibition for every kind of visitor. Certain works possess enough visual power to entertain anybody. However, some others would benefit from additional explanation, which is not always sufficiently given throughout the rooms or through Durand's themes. Because of this, some knowledge of the history of photography may improve the viewing experience, in order to fully appreciate what it means to see artists as diverse as Lange, Shore and Demand in one place.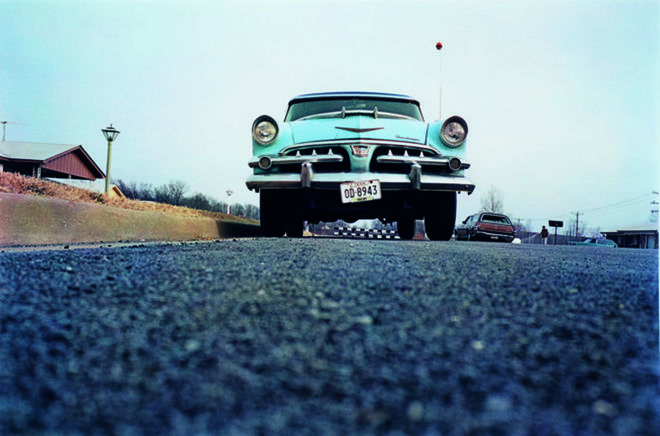 William Eggleston, untitled (Blue Car on Suburban Street, Memphis, TN) 1970, Dye Transfer. © Eggleston Artistic Trust, courtesy: Cheim & Read, New York