Claudia Gori is an emerging photographer born in Prato (Italy) in 1986. After studying Journalism at La Sapienza University, and photography at the CSF Adams in Rome, in 2014 she attended the International Programme in Photojournalism and Advanced Visual Storytelling at the Danish School of Media and Journalism. In her new series The Beautiful War, a series of self-portraits, she expresses a journey into a hidden part of herself. She speaks here with GUP about expressing wounds through photography, using backgrounds as a metaphor and what it's like as a photographer to turn the camera on herself.
Why do you call this series of self-portraits a 'beautiful war'?
Almost three years ago I had a tough time and, even though I had my own path to get over it, I had never 'physically' faced it. Shooting has been like jumping into my scars, trying to explore those old fears that were still ghosts to me.
Exploring these kinds of feelings has also meant understanding the way I could fight them in order to escape the darkness of my wound, which was a terrible heartbreak due to an unhealthy love, or, rather, I thought it was. That relationship was a never-ending fight and when it ended, I came out as the loser.
During this time, I felt I was 'fighting' for that love; it seemed like a sort of crusade and the sorrow was the proof I was fighting for the right cause. I was a warrior declaring a silent and unconscious war on myself.
When I started shooting this project, the word 'war' started to have a new meaning: my fears made me a warrior, so I had to declare war on those fears and fragility, and look at them head on without lowering my eyes. That was the moment it all looked just beautiful. It was about revealing the truth, and that's why my war has become something extremely releasing, so I decided to title the project with the oxymoron 'The Beautiful War'.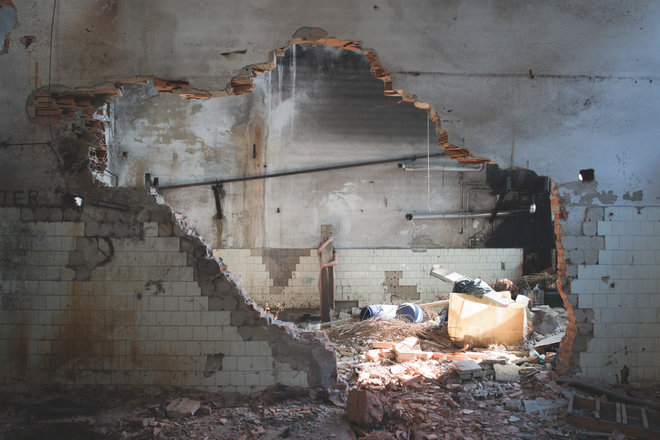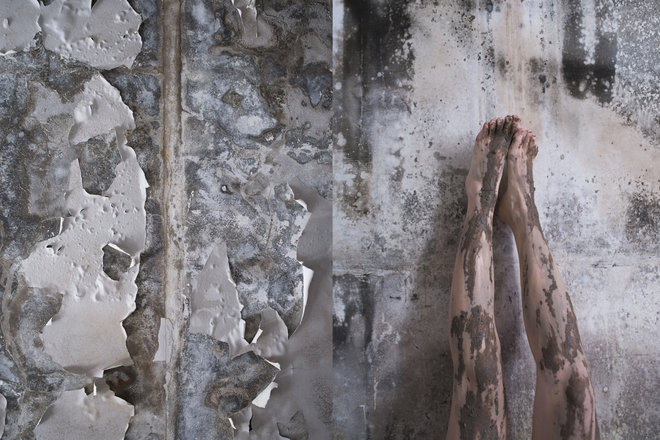 The images are all set in an abandoned, industrial location. Where is it, and what does it represent to you?
I've been shooting the entire project in some abandoned factories in Prato (Italy) and its surroundings. Prato is the city where I was born and I grew up. This area was one of the first textile industrial districts of Italy, but the economic collapse signified the end of that golden age. Some of these factories are completely abandoned, while others are used as deposits.
Those places are like cathedrals that keep the memory of old times, they keep old machines, dirty rags, strong smells; you can still 'hear' the noises of the machines.
The walls are just shells that shield a treasure, exactly as our skin does with our body. Somehow I've always found these places familiar and entering them was like having access to a forbidden part of myself, to the treasure that I've been preserving, both precious and painful. Blending into these forgotten and crumbling places has been so natural for me: they were the perfect metaphor of my oldest wound, which is the abandon.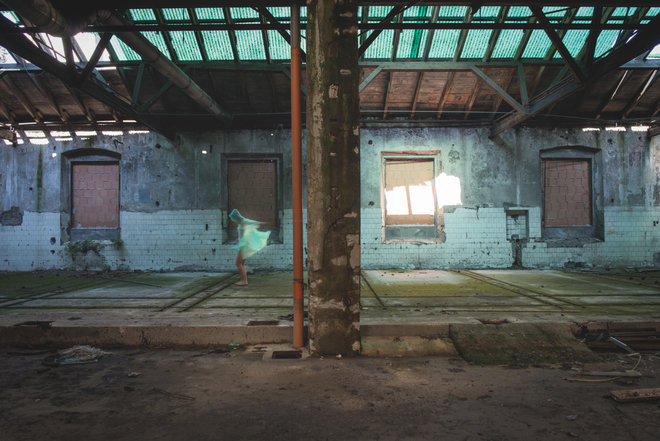 Your images are clearly charged with a profound significance, and are also aesthetically stunning. Are you inspired by specific photographers?
The aesthetic side of this project has been really important. I wanted to show these places so beautiful in their decay, and at the same time I wanted to use my body to show flexibility and an ability to blend with the environment.
This vision and idea is connected to the work of Francesca Woodman. In her work Disordered Interior Geometries, she merges with the surroundings to create a connection with her interior and the places. I did the same, playing with materials, hiding myself, and putting myself in physical connection with the things I found.
Did you work with someone else to help you set up the scenes and shoot? Or did you do everything by yourself?
Since I wanted to be like an actor on a stage, performing my own feelings, I decided not to do everything by myself. I was sure I didn't want to use remote shutter control. I wanted to focus on my perceptions and on my body, so I asked three friends of mine to help me. I intentionally asked people who do not work as photographers and who I feel comfortable with. I just wanted to maintain complete control of what was happening, and so, I put the camera on the tripod, I set up the camera with the framing and everything, and I asked them to just press the button.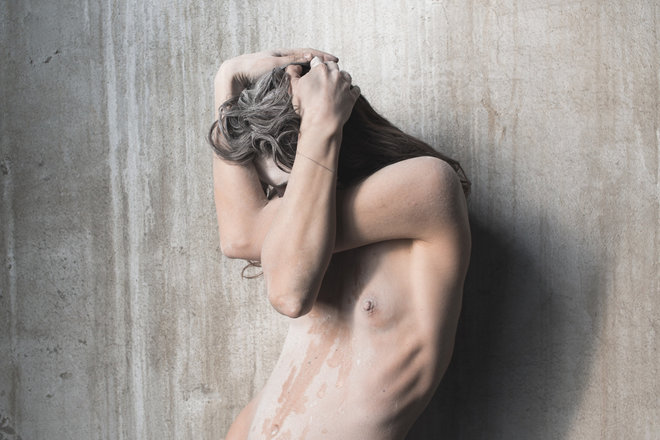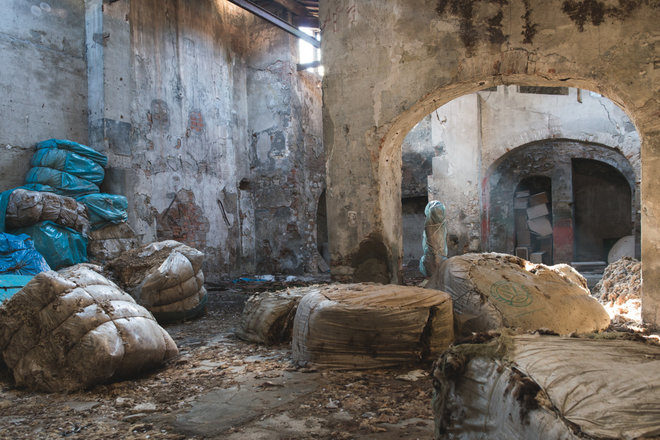 Your other projects, which aren't self-portraits, seem to be related to empathy for human beings, psychology and social conditions. How does it feel to turn the camera on yourself?
For me the self-portraiture experiment is something very natural. I've been taking self-portraits since I started photographing as a way to express myself and to tell stories. Turning the camera on myself has been the most natural step I could take. I'm the person that knows the most about my life; so I have to be the teller and the subject.
However, being the subject doesn't mean that the story is just mine or about me. Every story that raises questions becomes universal and I like to think that this story raises more questions than it gives answers. If it happens, I can say I accomplished a lot in my photographic practice. Even when I shoot other's people stories, I'm actually in every story that I'm telling, even though I'm behind the camera. I would never be able to put myself into a story that's not a reflection of a feeling or interest I have.
The most difficult part of this project wasn't shooting, but looking at the photographs. The process of selecting and editing has been extremely painful. I was forced to look constantly at me and I felt miserable and angry. That meant two things: first, that I really managed to express my feelings honestly, and second, that, somehow, I was still there. I realised that 'the war' was not over yet, and I came to the conclusion that I had to accept what I was seeing in order to get over it. So I did.