Atget, Brassaï, Cartier-Bresson, Doisneau. These photographers have helped shape the romantic image we've had for many years of Paris, the city of love. We've all seen countless photographs of young lovers kissing in the streets, wearing Breton stripes, perhaps even holding a baguette, with the Eiffel tower in the background. Many of the photos on the postcards and posters we buy at souvenir shops were made by these pioneers of documentary street photography. By now these images have become household kitsch, but that's not the photographers' fault – how could they know their images would eclipse icon status and become such clichés?
After an extensive solo exhibition of works by Eugène Atget in 2011, the Nederlands Fotomuseum in Rotterdam now shows the works of Robert Doisneau (1912 – 1994), his successor in a way. Atget's Paris was one in transition, and as Susan Sontag wrote, his aim was to document "a small-scale, time-worn Paris that was vanishing." The age of Doisneau was no less tumultuous - spanning the 1930s depression, World War II and its aftermath - but there's little of all that in his work. His focus was on both modernity and the eternal beauty of the city, on the little everyday stories he came across while roaming the streets with his Rolleiflex or Leica, trying to capture fragments of ordinary lives: children playing, young couples dancing, ladies sunbathing and so much more. Through his eyes, we see the lively city of Paris in the '30s, '40s and '50s.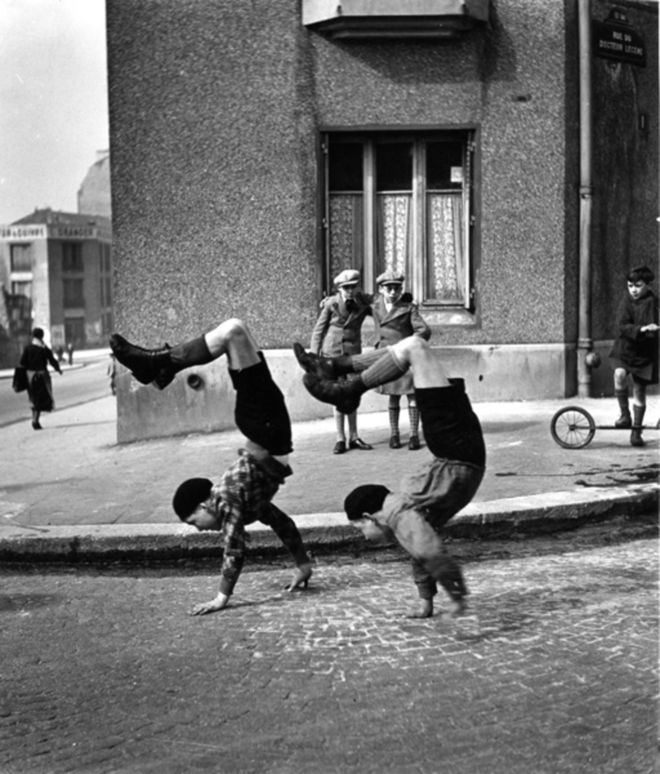 Doisneau chose the imperfection of unplanned depictions of everyday life over Cartier-Bresson's carefully timed 'decisive moment', but his scenes aren't always as spontaneous as they seem either. This becomes clear through the story behind his most famous and most reproduced image, 'The Kiss by the Hôtel de Ville' (1950). The truth remained obscure until the 1990s, when the photographer finally admitted that the scene had been staged, having asked an actress and her boyfriend to kiss in a few different places, ending up at the Hôtel de Ville. The image's popularity hasn't been hurt by the revelation, in any case: staged though it might be, and even cheesy by today's standards, it still functions as a symbol of unbridled love.
The Fotomuseum introduces the exhibition by telling us that "his photos have become somewhat unfashionable," and indeed images like 'The kiss…' feel somewhat aged or even old-fashioned. Thankfully, the photographer did have something up his sleeve to surprise us. In 1960, he went on an assignment to Palm Springs to document (in colour!) well-to-do pensioners relaxing in the endless sunshine. These are not the ordinary people that Doisneau devoted his life to documenting, and the resulting images show that he adjusted his modus operandi along with the scenery. The images are fascinatingly experimental and completely different from his other work. Gone is the romance; these images are almost predecessors to the direct realism of American pioneers like William Eggleston and Stephen Shore. (See some of the Palm Springs images on the Atelier Robert Doisneau's web site.)
Apart from his American work, Doisneau's photos inevitably induce feelings of nostalgia and sentimentality. They possess the power to make you reflect on mortality, feel wistful about the things in the past which were good but gone, or remember the person you've loved and lost yourself. While Paris might not have been nearly so romantic in person as it was through Doisneau's lens, he lets us look back on it fondly. That Paris is gone – after all, a photograph is always a document of a moment that's already gone a second later - but modern Paris can be grateful it has had a documenter like Doisneau.
The exhibition Robert Doisneau. Master street photographer is on display at Nederlands Fotomuseum in Rotterdam until September 1, 2013.