We all know Viewbook as a place where you can create your personal photography site and share your work. With the arrival of Apple's iPad the people at Viewbook knew that a new piece of hardware was born that would make a lot of photographers very happy.

The next step
Writing a review on a iPad app is quite simple; you use the app and write something about it. It get's much more interesting though, when you have the chance to talk to one of the creators while he gives you a tour on Apple's revolutionary machine.
After building websites for photographers the Viewbook crew noticed that updating and changing the sites they created took a lot of time and was quite costly for starting artists. That's where the Viewbook idea was born in 2009. With the arrival of the iPad, with a screen so bright and clean that you really feel like holding a picture, it was obvious what the next step would be.
The site
As a Viewbook user you can easily upload or import your photos from programs like Aperture or Lightroom. Logged into your online manager you can organize your portfolios and design professional portfolio websites. On your sites, that run on your own domain name, people (or agencies) can view, order and instantly pay for your content. The difference between Viewbook and other website services is foremost that you have much more freedom to actually create a customized site, without being limited by a certain amount of templates. Sharing your work through different social networks is also a piece of cake. If you can work quickly and in a simple way, you can work more effectively; that's the working ethos of the Viewbook team.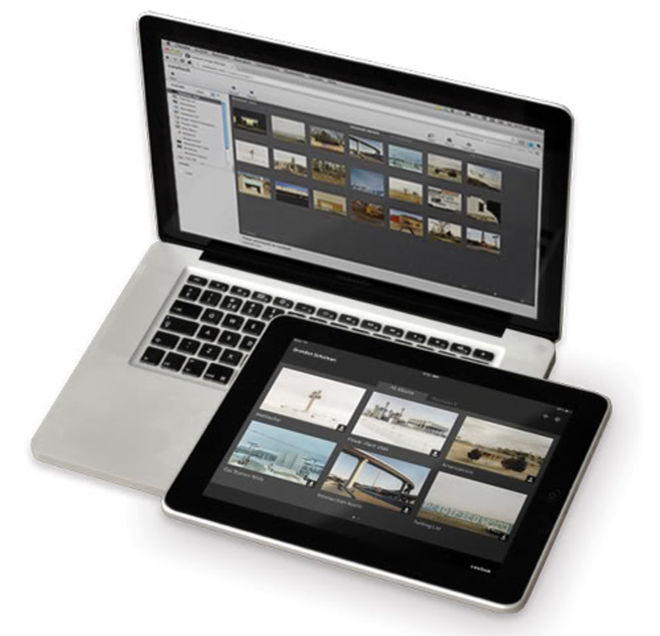 The app
Photographers who work with Viewbook and own an iPad can download the app for free. After downloading the app you simply log in with your existing username and your online albums will appear. Working with the app is very hands on and intuitive. Create different sections (such as commercial, fine art, etcetera). Simply swipe your albums into the different sections and decide if you want to keep your album in the cloud or, which is perfect for presentations, download the photos to your device. With this last option you don't have to rely on (slow) wireless connections whilst visiting a potential customer.

Pure portfolio
While Viewbook provides a lot of possibilities to design a personal site after editing your photos, the app is purely a digital portfolio. But in contrary of a paper portfolio the Viewbook app is much more flexible. You can for example organize your projects in different portfolio sections, choose for a grid view, mail images and (in the next version) share your photos to Facebook or Twitter.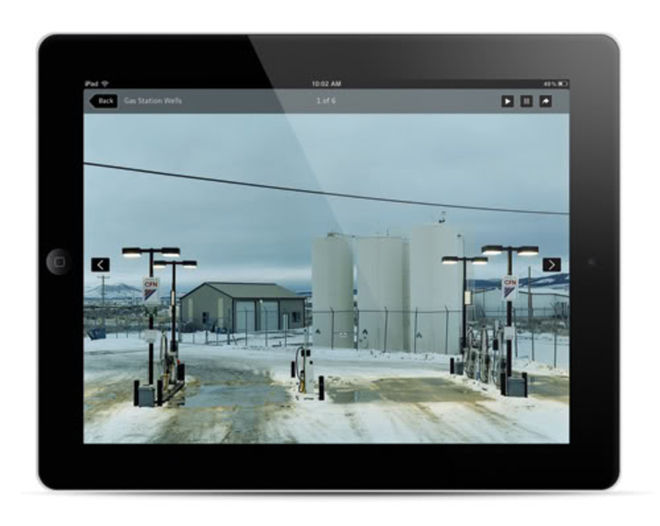 First month
Thirty days after the launch the app was downloaded around 3.600 times. Many photographers own an iPad and it seems that the enthusiasm of the creators is finding its effect. As an extension of their online portfolio service the Viewbook app is absolutely what it says to be: A pure digital portfolio for photographers who like to show their work in a new and refreshing way.
In September of this year the 1.1 version of the Viewbook app will be available with some new and surprising features. And even though they believe in the power of combining a Viewbook site with the app, developers are already exploring the possibilities so that in the future people who don't own a Viewbook account can also use it and show off with the perfect portfolio tool that the team from Rotterdam has created.

Viewbook offers GUP readers a special discount of 10%! Simply use the code VB34KJSD after your 30 day trial to recieve the price reduction.