Some photos take your breath away. Even more than single photographs, a photo series can blow your mind. It can change the way you see things and it challenges photographers to create powerful stories that they want to share with the world. But how to create interesting photo series? As with art in general, there is no specific recipe or approach. However, when you overlook the photography field you'll discover some basic angles that might inspire you to go beyond creating single photographs and come up with a true photo story. Starting point is to work with a concept. A second ingredient is to make sure that things happen on more than one layer.
In this feuilleton EAGER – platform for inspiring photo series, approaches the subject photo series from different angles inspiring you to make your very best photo series!
This is the fifth angle of a series of six. Read the first angle, The Power of Repetition, here. The second angle, Time Flies, so Try to Catch It can be read here, the third angle Connect Content and Form here, the fourth Make The Surreal look Real here and the last angle Catch Reality in Documentaries here.

Angle 5 – the abstract way
When viewing abstract work, you sometimes hear comments like: "anyone could take those kind of photographs". We would like to challenge you to make abstract work that is interesting to look at, cause it's not easy at all… Making abstract photographs is all about having an eye for detail. Less is more. And we think that abstract photos are another form of making surrealistic photographs: you leave so many things out of your photos that it hasn't much to do with reality anymore. However, the goal is different. Most abstract photographers aim to show beauty, perfection, sophistication, and subtlety.
Making abstract photo series is all about combining structures (lines, forms, colours, texture) and creating a new experience. The challenge is to leave as many elements out of your photograph, while still keeping it interesting to look at. There is a small border between what's strong and what's boring to look at. And it's challenging to make the next photo in a series that adds something new to it. Many abstract photographers carry telelenses around. But don't forget your wide angles, especially when you want to play with lines.



Popel Coumou is an example of an artist that knows how to play with lines and forms. She builds her own scenes (based on reality) and makes photographs of them resulting in rather abstract architectural photos. It gives them a surreal look and she combines forms, lines and colours as if she were a painter. Her approach results in photo series that give an abstract view on reality.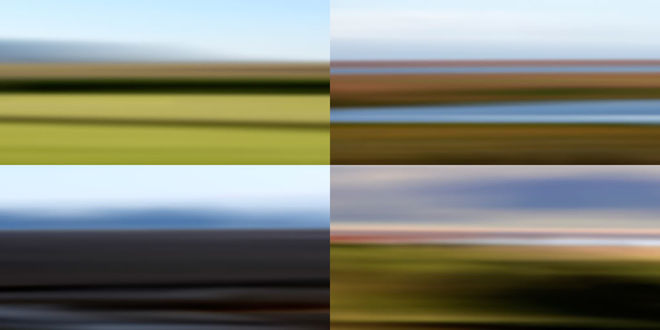 Even more abstract is the series Colors of Iceland from Peter-Paul Schouten. He made a landscape series in Iceland where he uses motion blur to abstract from reality. By doing so, he creates a very colourful series without losing the connection with reality. And by using the power of repetition an interesting play of lines and colours arises.