Where there's strobe lights, booze and beats, a camera can't be far. From low-key festivals to raging raves - it's now inevitable that we find our nocturnal selves resurrected in image form on Facebook the next morning. Surrounded at once by hundreds of smart phones and even professional nightclub photographers, there is almost no chance of escaping the recorded spotlight. Girls can be found grouping together and posing in the bathroom in a weird fit of exhibitionism, to the point that it's a challenge to even wash your hands without getting caught in the background of a shaky selfie. By transforming a party into a documented affair of public interest, going out has become even more a game of superficialities, status and self-affirmation. It may be time to ask ourselves as subjects before and behind the camera: Why is there such a widespread need for capturing and sharing our nocturnal excesses? How do we deal with the constant potential exposure, and to what extent does this habit influence our experience of going out altogether?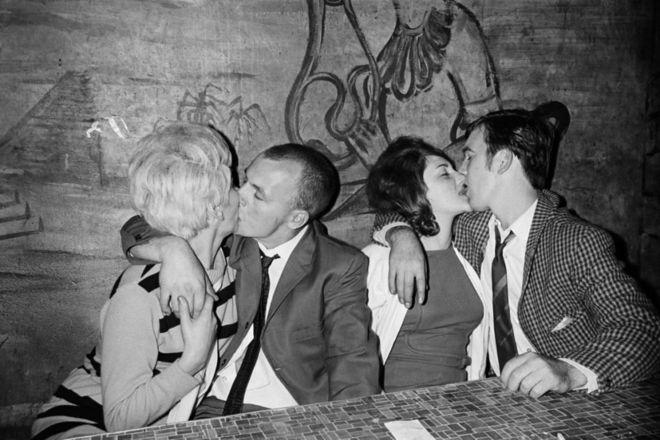 © Billy Monk, courtesy of Stevenson Gallery
No doubt, nightclub photography is fascinating and its unique appeal has been exerting an irresistible influence since its earliest days. In the early '60s, bouncer Billy Monk shot pictures at the rather seedy Catacombs club in the Cape Town docks. (The cult images were published in the book 'Nightclub Photographs' by Dewi Lewis in 2011) His work provides us with great contemporary documents of a bygone era and proves the genre's intriguing ability of capturing the zeitgeist, depicting styles and social customs alike. Billy Monk shows us that clubs have always been a melting pot for all sorts of excessive human subjects and pleasures - a place where high expectations and dashed hopes are more closely intertwined than anywhere else, where anything can happen from having the time of your life to falling from grace in a few shady moments.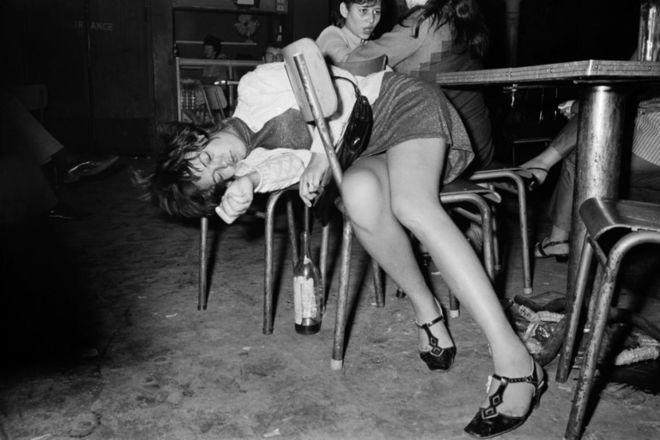 © Billy Monk, courtesy of Stevenson Gallery
Fact is, we all love a good party. But what is it that makes documenting every minute of it so intriguing, even compulsory, for so many people? Technology has of course had a hand by pushing forward the progress of photo quality and enabling the mass dissemination of images, but there's more to it. With the images you take of your crazy friends, your very cool self and the ultra-hip location you're at, not to mention the clever one-liners you deliver so nonchalantly, you create your own story and exactly which role you play in it. Because of course we as your digital friends only get to see a small selection in the end, the attractive bits and pieces that comprise your heavily defined and refined online alter ego. Even if you're one of the odd few that still doesn't possess a smart phone, you're still in the game. Professional nightclub photographers will make you look good if only for their own interest, with smoothing skin effects and radiating colours they try to capture beautiful people and a vibrant atmosphere to sell back to the organiser. Their images essentially speak the language of advertising and have the same deceiving potential, so no wonder they appeal to us on a level of desire. They are the primordial urges for friendship, social belonging, recognition or even admiration that push the buttons in our brains as soon as someone releases the shutter.
While the practice of nightclub photography has a reasonably long and widespread tradition, the modern omnipresence of cameras goes so far as to define an entirely new emphasis on appearances. Of course, being aware of one's looks has always been an essential part of going out. Social gatherings are places where we can experiment with our identity, meet new people and discover uncharted grounds in the twilight. Yet, now, as we prepare ourselves to be seen through the voyeuristic gaze of others, we essentially start looking at ourselves through the eyes of an undefined audience - one that is naturally augmented by the ubiquitous presence of cameras. Tons of images on the internet of party posers prove that we can even identify new patterns of behaviour, as people know exactly when to put themselves in the spotlight and have a clear idea of what they want to communicate when being depicted - and whether it's the cute, wild, ecstatically self-absorbed or good-looking tongue-in-cheek persona, all are aware of what it means to be represented through an image. A constant awareness of how we want to be seen by others undoubtedly invites a panoptical gaze through which we discipline our social behaviour as well as our bodies. This revelation is essentially a paradox of our own making: we are subverting the idea of a party as an occasion for unrestrained pleasure by submitting ourselves to such self-imposed rules of conduct.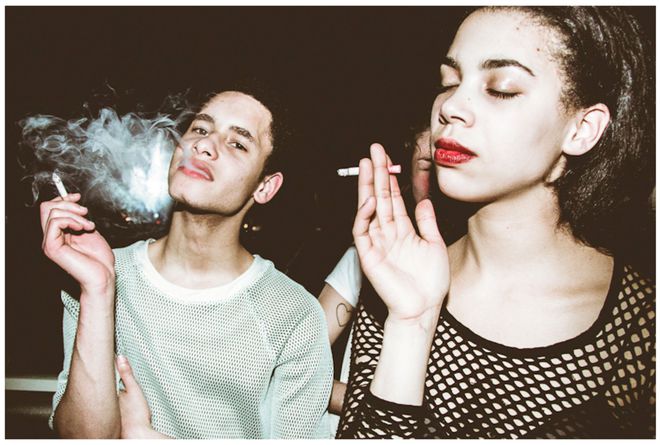 © de fotomeisjes
Yet, as some begin to recognise this, there's also an adaptive backlash towards authenticy or, at least, a simulacrum of it. Amsterdam-based event photography collective de fotomeisjes makes it their policy to depict as few posed scenes as possible, pointing out that it is spontaneity that makes people interesting and beautiful. But their images also demonstrate how impossible it is to capture spontaneous moments in a crowd that is so highly aware of the camera - hardly anyone who does not react in some sort of obvious way to its presence. The true toxic ingredient of this panoptical gaze is that, in a place where we are supposed to actually live and get lost in the moment, we step out of it in order to be at the helm.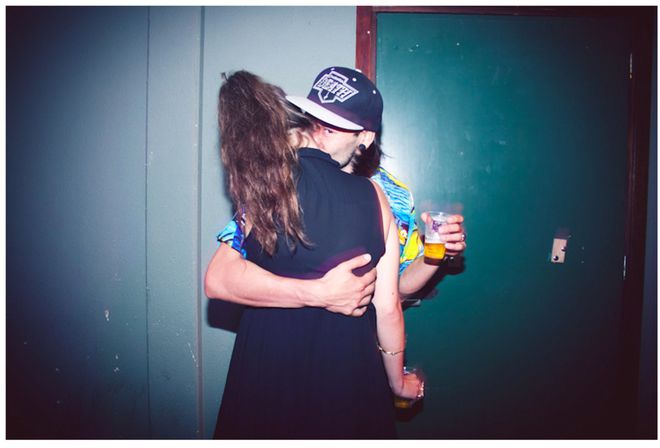 © de fotomeisjes
The series Is Getting Over by Italian photographer Andy Massaccesi (2011-2012, see the whole series in our online portfolio) offers us a different angle towards circumventing the omnipresent eye on party-goers. He inverts the attempt of creating the picture-perfect moment by portraying the masses from a distance and with harsh light - and it is exactly the fragmented body parts, distorted faces and skin impurities that create the grotesque appeal of his images. The stark flash of his camera overpowers any ambient lights, making it seem like someone accidentally turned on the lights, but nobody seems to care. Massaccesi alienates the events in a way that the individual is only important as part of the crowd, and essentially becomes interchangeable. Maybe this is a more truthful view, at least one that does more to suppress egos, instead focusing on what actually makes a party - the whole sweaty, ecstatic crowd. His approach is far from capturing the perfect moment as the individual might imagine it, but it does more to depict a refreshingly honest moment of fun than does a flood of calculating camera flirtations.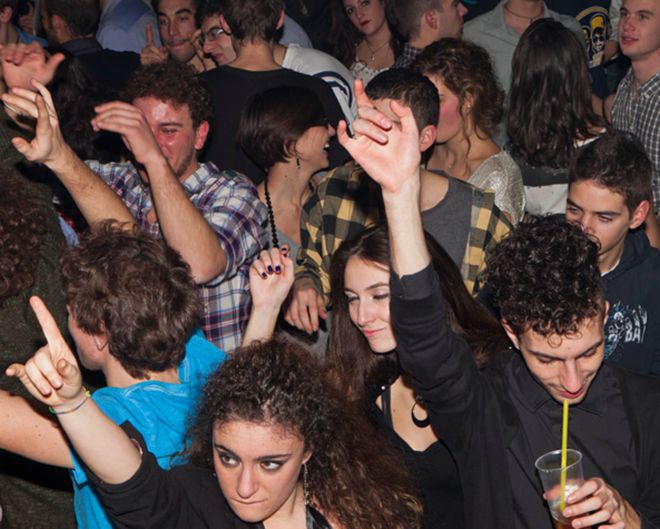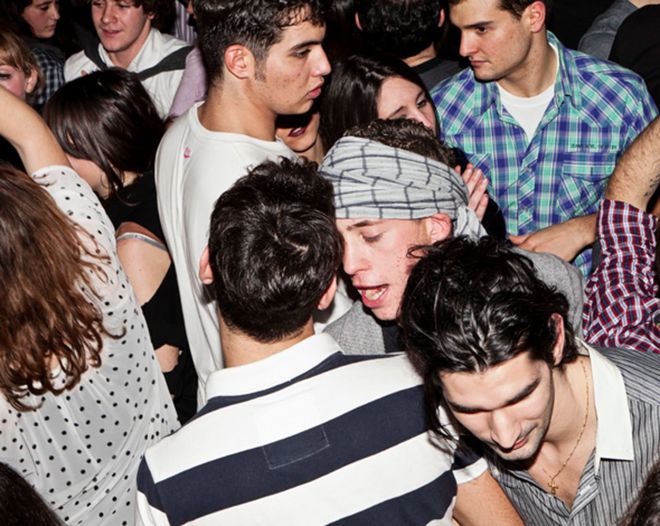 © Andy Massaccesi
Since the compulsion to take party photos seems irrepressible and exerts a monopolistic influence on the most basic forms of social interaction, some clubs are already starting successful counter-movements. The infamous Berghain in Berlin even took the drastic step of banning photography inside the club, consequently also forbidding the use of smart phones, in order to give people the desired freedom and privacy. What happens inside stays inside, and is known only to those who were directly involved. The unfiltered, analogue experience is paramount and restitutes the sense of the sublime that once triggered our curiosity in the first place. The event once again becomes more about the celebration of the moment and the self in the context of a like-minded crowd, while the narcissistic undercurrents of status, youth, and beauty fade more into the background. 'Party like it's 1999' is on again, and it's definitely liberating. Prince already knew by then: 'Life is just a party, and parties weren't meant to last.' Not even on the web.