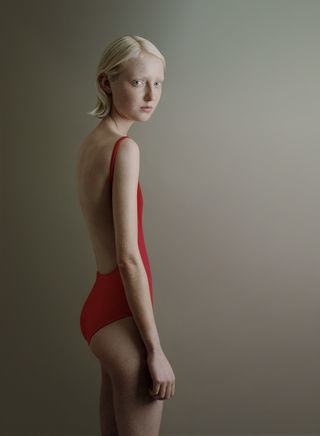 Hannah stares at me. Her grey eyes hold me at gunpoint, like a double-barrelled shotgun. She wants to know: who am I and who are you? A freckled body, a snowy landscape seen from above where the rain softly falls and leaves behind rust-coloured smudges of the earth that carries the snow. I try to look at her like a sculpture carved carefully from the background. A work of art that was brought to life with the best tools, was given the shadows that sleep on her white body with the finest of brushes. But I can't look at her like that. The tranquillity extends no further than her pose. Her gaze has more layers than an Escher lithograph.

I could pretend I know what is going on in her mind. A teenage girl is as fragile as freshly blown glass. I think back to the time I became an adult. Hannah sees that. But she is right when she tells me that I shouldn't show that. It is now our little secret. We seal it with an appropriate gesture. We close our mouths, zip our lips closed, turn the lock and throw the key far away. I look at Hannah again. I see her wake up in the morning and grab her hip bones. They still stick out, and this fact gives her a feeling of security. I see her walking carefully around the swimming pool. She is afraid of slipping and breaking a leg. She is terrified of not being able to swim anymore and becoming obscenely fat. I don't know if she actually feels that, but I see it.
With her fingers, Hannah combs a strand of hair behind her ears and turns her back on me. Her movements are as graceful as a kudu. Decisive, sensual. I suddenly see another Hannah, a young woman who knows what she wants and fights for it. I'm confused. Which emotion is mine? I only want to capture her as a work of art, devoid of emotions. If only I were a man, I sigh. Hannah reassures me. "Objectivity is an illusion," she says, as she looks at me intently.
---
Objectivity is an Illusion was featured in GUP#29, the Women issue.