GUP has turned 10! We've worked with a lot of great photographers over the years since we got started on the magazine, and our anniversary is the perfect time to look back on how things have developed. In this series of interviews, we asked ten photographers that GUP has had the pleasure of working with to reflect with us on changes in their own careers, and in photography at large.
Canadian photographer Naomi Harris first came to GUP's attention through her breezy sense of humour and eye for the edges of society with her book America Swings, capturing middle-class, middle-aged swingers in the USA, which was featured in GUP#15, the Graduate Issue. This self-professed 'professional hobo' splits her time between LA and Toronto, photographing unexpected sub-cultures and her dog, Maggie, along the way. Harris has also taken part in a GUP Instagram takeover and most recently, her project EUSA was featured in GUP#46, the Community issue.
Could you select one photo that represents your earliest work, and one that represents your recent work? What do you consider the most important development in your work between then and now?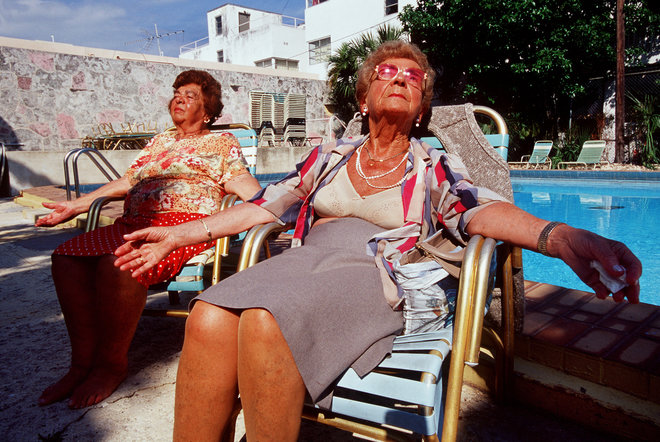 1. Marie and Sonja by the Pool. From the Haddon Hall series. Miami Beach, 2000
I'd like to believe I've evolved as a photographer but still have a viewpoint that is instantly recognizable, for people to be able to say "hey, that's a photo Naomi Harris took." I would say that over time I've switched to medium format for most of my personal work and learned how to use lighting better and to compose a stronger portrait rather than the purely documentary approach I first used in my photographs. But that might also be a hindrance at times. There was a purity and freedom with shooting reportage style with a 35-mm camera that isn't afforded when using lots of lights while shooting. I go back and look at my earlier work and recall how much easier it was back then…especially while traveling (everything fitting into one carry-on camera bag). Now I schlep all sorts of equipment that can be lost in transport, is hard on my body and then have to set up my shots, which is time consuming, and though I'm still being creative obviously that intrinsic fluidity is lost. I did try to capture the off-the-cuff approach somewhat with EUSA where I travelled with minimum lighting and tried to look for those moments but it's a little more difficult with a twin lens camera, which is what I shot this project with.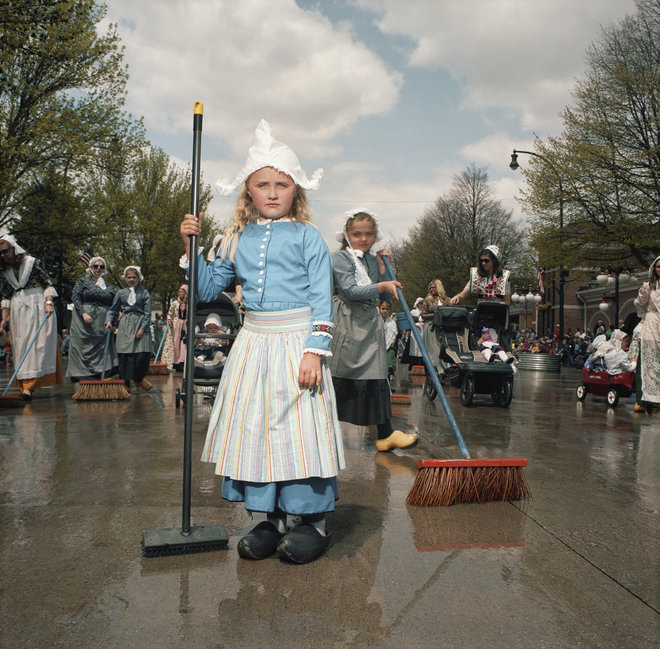 2. Street Sweeper. From the EUSA series. Orange City, Iowa, 2014

Tell us about a person who had a big influence on your work, in terms of a big break through or opportunity.
I'd like to give credit to Bruce Davidson. Though I didn't work for him for that long, maybe 6 months or so, I loved how kind and friendly his approach was and how generous he was with his knowledge (and books!). I mean this was THE Bruce Davidson, and he was letting me touch his negatives. In fact I made contact sheets of all the Brooklyn Gang work for him when he was making the book with Twin Palms so I got to see first hand how he developed an idea and when it became "the shot."


Bruce Davidson taught me how to conduct myself, treat people well and endear myself to others. That was an invaluable lesson.
I wouldn't say Bruce opened any doors for me directly in the sense of introducing me to editors or anything like that, but he taught me how to conduct myself, treat people well and endear myself to others. That was an invaluable lesson. I've heard of other internships where one never actually sees how the photographer works, as they don't get to join them on shoots, rather they are treated more like a personal assistant running errands like picking up dry cleaning. Horrible. Bruce's studio was in his home, so every day we'd break for lunch, which his wife Emy would make, and let me tell you, being a young, broke photographer in New York these home cooked meals were really something to look forward to. But it was also feeling like you were part of a family.
Can you tell us about a mistake that you made in your career that actually turned out to have a good effect later on?
I suppose I'd have to say making my book America Swings. I spent five years traveling around the United States photographing over 40 lifestyle events, documenting the behind-the-scenes of these swinger parties which had really never been done before by an outsider (Donna Ferrato had photographed swingers but she was also a participant). I figured people would be like "Wow, this girl can really gain access! If she can gain the trust of these guarded individuals and make these photos she can make anyone comfortable!" Well the opposite actually happened. Editors began to judge me and assume I was part of the scene. I began getting turned down for assignments because publicists would get wind that I did this project and they couldn't have their celebrities photographed by such a person. I was actually sent home two hours before an ad shoot for a well known running shoe company based on these photos being seen on my site, true story.


It's always been frustrating to me as I can name numerous male peers who can shoot absolute filth and still get to shoot The President!
It's always been frustrating to me as I can name numerous male peers *cough, Terry Richardson, cough* who can shoot absolute filth and still get to shoot The President! I really do think this was an issue of me being a woman and making these photos that made people uncomfortable.

And it didn't help that the book was first released as a limited edition version first that cost $500 and came out the exact same day the stock market crashed in 2008. But I'm still proud of this work and don't regret making it, I just wish I had anticipated the backlash more. I was fortunate enough to get my first book published by TASCHEN and work with legendary editor Dian Hanson whom I still call a friend. And through this project I learned a lot about photography, the business and myself all without going to grad school.
But to be perfectly honest I'm still waiting for the mistake to have a good effect…Maybe in a couple of years when it's "rediscovered" I'll be the toast of the town!
Have there been any developments in photography that forced you to rethink or reshape the way you work?

Stylistically I believe in always growing and trying new things. I feel there are so many photographers out there that shoot formulaically, like "insert subject here." I want to always challenge myself and choose the camera and way of shooting to reflect what I'm trying to say in the photographs I'm creating.

But as I get older and my body is getting a little stiffer and creakier I do think I'd like to try my hand at something that doesn't involve as much travel as I'm used to doing. Like maybe actually shoot something in studio or curate something with imagery found online and not even have to get dressed in the morning!
But I'm sure the question is more in reference to the state of the magazine industry or how things like Instagram have changed the way we see and take photographs. Sure there has been a monumental shift in how the audience addresses and responds to photography. I find it really frustrating how attached everyone has gotten to their cell phones. I was just away in Florida for a story and nearly everybody I photographed was either taking a "selfie" or was simply glued to their device. And if they did notice me photographing them they'd stop everything and give me their greatest Kardashian pose. Ugh. The way I see it the smart phone may be the death of documentary photography as we know it.

Youth bores me and making "pretty pictures" isn't why I got into photography in the first place, maybe to my own detriment.


You seem to be attracted to subjects who have an alter ego. Why are you drawn to these types of people? Or do you think of them in a different way?
I was once advised by an artist rep that if I wanted to work commercially I should photograph beautiful "normal" people and stop photographing the "real" people I chose to shoot. But I can't help what I'm attracted to. Youth bores me and making "pretty pictures" isn't why I got into photography in the first place, maybe to my own detriment.

I suppose I've always been a voyeur of some sort, and photographing those living on the fringe of society enables me to engage with them to some degree without actually participating in their activities directly. I like to photograph people and phenomena that I find interesting and want to learn more about, to gain access into places I have no business being in. After all most of my projects take years and I don't want to lose interest midway through.
I admire those photographers who are able to turn the camera onto their own lives and create riveting work, my life isn't that exciting; I go to bed at 9-9:30, I get up around 6-6:30, walk my dog, drink some coffee…I mean, who really wants to see that.
As an additional treat for our readers, an exclusive print by Naomi Harris is included in our special sale of limited edition signed and numbered prints from 10 artists!
Buy a limited edition print from Naomi now in our online shop.
See more in our archive from Naomi Harris. Buy GUP#47, the Big Ten Issue here.