How do you get the residents of a multicultural and underprivileged neighbourhood interested in photography? That was the main hurdle facing project coordinator Lisa Kleeven when she opened West Side Stories on Amsterdam's Confuciusplein in May 2010. Helmed by FOAM's education department, the project to create a neighbourhood structure offering free photography classes and workshops to area residents has become a huge success.
But when the team first started, the usual online marketing strategies could not work when so many of these residents didn't even own a computer. 'We had to get creative. The approach had to be more personal, more neighbourly. So we had the idea to build a fake photobooth and travel the area, taking pictures of people together. Then we distributed the portraits during the opening - it was a good incentive for people to show up.'
Two years later, the lively photographs are still decorating the square's empty shop windows; joyful, friendly moments frozen in time in an otherwise drab area. Since then, West Side Stories has become an integral part of the neighbourhood. Hordes of kids show up at the bi-weekly classes, their work proudly displayed on the walls. The monthly adult class has become so popular that a second one will soon be added.
Kleeven, with her bright and welcoming demeanor, works hard at coming up with original and attractive ideas for the creative workshops. 'It's important to create a bridge between FOAM and the classes', she says, 'so we try to bring the current exhibits to Nieuwe West in our own way'. Photographers on exhibit at the museum on Keizersgracht are therefore invited to come and teach a class.
Dana Lixenberg, whose 'Set Amsterdam' series was shown in 2011, organised a workshop of portraits taken as still lives. Residents came with a friend, a family member, and took photos of objects symbolising each other. Mieke Taekema participated with her language buddy, a 62-year-old Turkish immigrant, who took a lovely picture of a bike resting on a vegetable stand to represent her. She, in turn, took a photo of his shoes resting on his staircase.
Both photographs were chosen, along with 16 others, to be printed on billboards and exhibited on the square, before the bright red storefront of West Side Stories. The selected pictures, which are all touching glimpses into the intimacy of the community, will stay on show on Confuciusplein until January 31. Eleven-year old Bonnie Banen, who took a portrait of her friend Nazan, is delighted that her picture was chosen as well. 'I took it from a low angle, to make her look tough. It's a trick I learned during one of the workshops', she explains. To make her look tough, but probably also to show how important her best friend is to her, it goes without saying.
'We have multiple goals,' says Kleeven of her endeavour. 'Of course we want people who don't normally go to museums to get acquainted with FOAM. We want them to create, to participate in photography, but we also see it as an opportunity for residents to get to know each other and think about their neighbourhood from a different perspective'.
As Dana Lixenberg recalls of her experience, 'Everybody is interested in visual language, even if some of these people would not otherwise be taking pictures. It makes them look at the world around them, step back to study the obvious from a new angle. But their questions also made me look at my own work in a different way. It was nice to step out of the usual community for a while. It was an enriching experience on both sides.'
That perspective shifts for the unknowing visitor as well. The portraits of veiled young girls, of little boys playing ball, of elderly residents from the local retirement home, break down many social and human barriers. Each of them is an ode to the richness of the lives hidden behind the concrete-laden blocks. Even Bonnie confirms, 'I see my neighbourhood differently now,' she says. 'It just seems more alive.'
-----
The West Side Stories exhibit is on show on Confuciusplein in Amsterdam's Nieuwe West until January 31, 2012.
For more information about the workshops, visit http://foam.org/westsidestories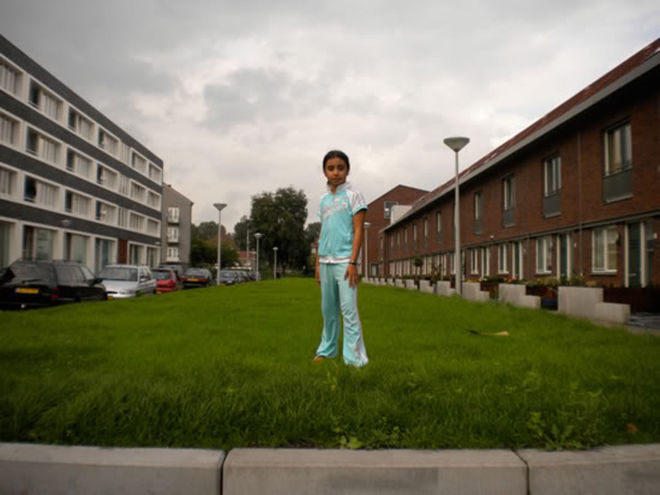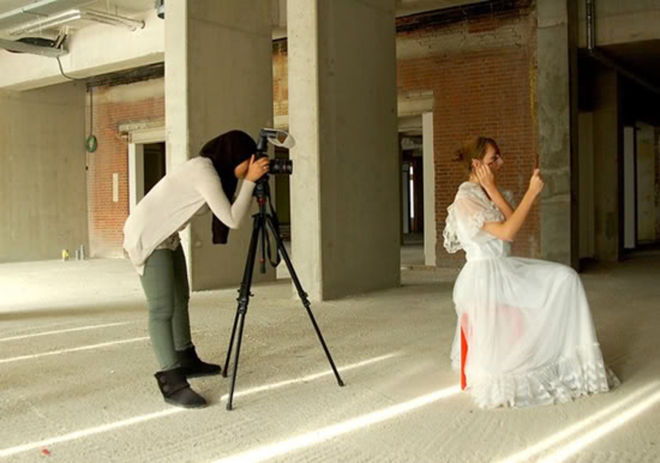 All pictures ©FOAM