In his series Bitter Honeydew, Ukrainian photographer Kirill Golovchenko (b. 1974) captured the uprooted life of temporary work migrants who come to the Black Sea to sell fruit. Every summer, with tourism at its peak, workers from Azerbaijan, Georgia and Armenia cross the border into Ukraine to run their roadside stalls. The series is on exhibit at BredaPhoto till the end of October 2016.
The traders settle their tochkas – a general term for a 'selling point', referring to anything from fruit to prostitution – alongside a road in Ukraine that passes by the Black Sea. The summer season brings a lot of tourists, so the roadside setup provides an excellent opportunity to sell fruit, vegetables and other goods. The migrants come either alone or with their whole families and live in temporary tents, huts, or caravans that lie just 10 meters away from the road.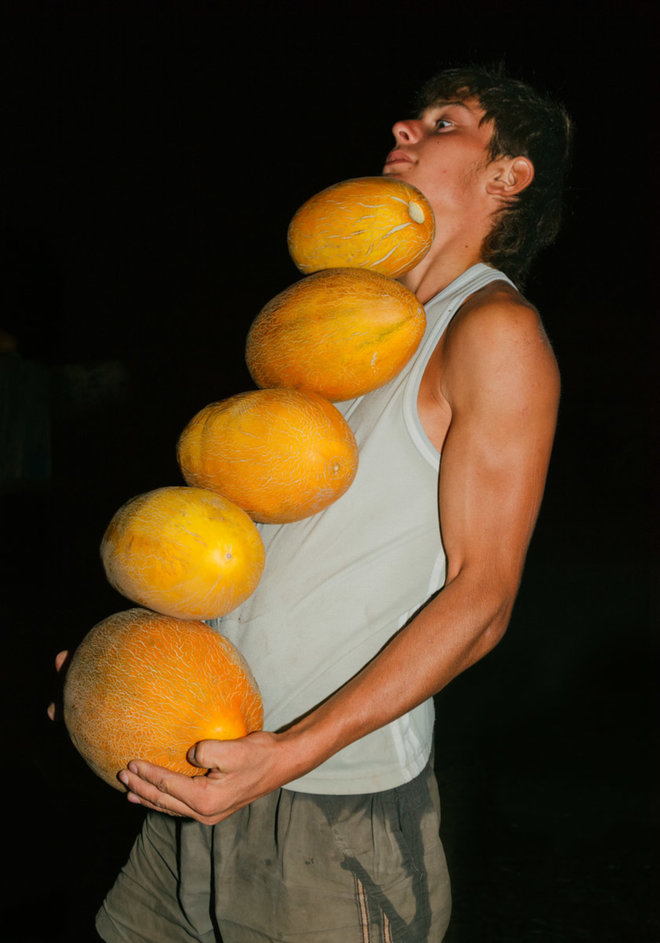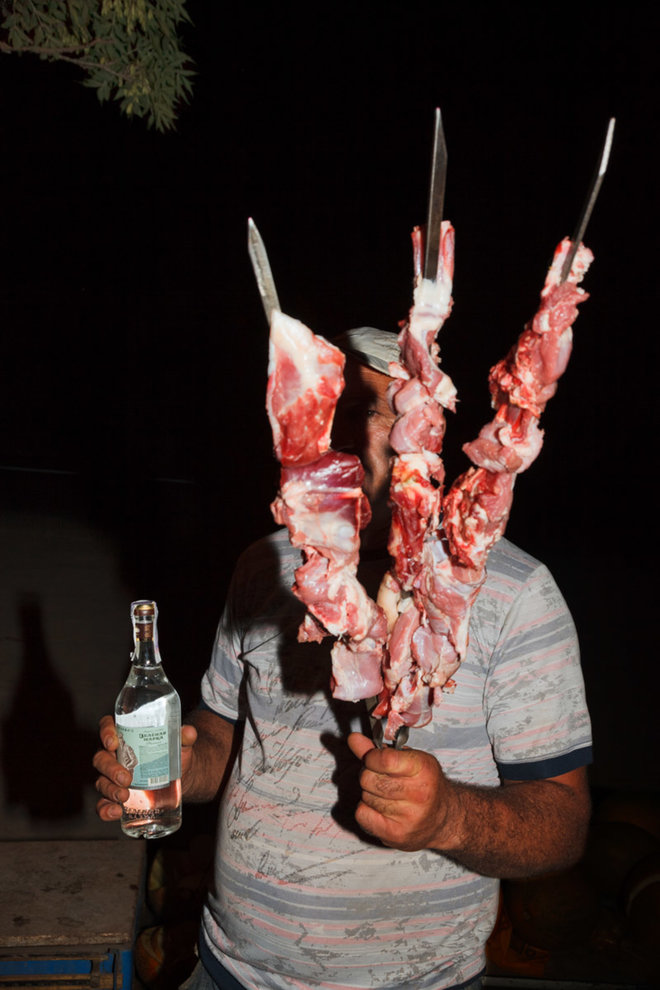 Golovchenko is interested in the small, everyday drama of the stallholders' lives, and the sense of theatre that accompanies a market, particularly a roadside market at night. With his sharp eye for absurdist detail and a talent for juxtaposition he captures the harsh life of these immigrants with a sense of humour. Using an aggressive flash, he isolates the details, the materials, the structures and shapes against a uniformly black background. He frames his subjects in a concentrated, unadorned way that makes them almost like sculptures. An old woman in a headscarf grins in profile opposite a snatched portrait of a man holding three skewers of raw meat in one hand and a bottle of vodka in the other; a boy holds a large melon aloft as if performing weightlifting exercises opposite a portrait of a large man whose belly balloons out of his open shirt. Strange and evocative compositions illustrate with simplicity the more complex issues at stake in a life as a migrant fruit seller.
In an light, humorous way, these photographs display the semi-nomadic life lived on the edges of society and also show the photographer's compassion for these uprooted men and women and the bittersweetness of their lives.
GUP featured Bitter Honeydew in GUP#42, the Open Space issue , and previously published it also as an online portfolio .The series is exhibited at the free outdoor exhibition Chassé XXL in the Chassé park in Breda, as part of the BredaPhoto festival till October 30, 2016.