The latest edition of the New Dutch Photography photobook is hot off the press and now available in stores. Now in its fifth year, the book serves as a platform that features the best 100 emerging Dutch photographers each year, to give them the attention and exposure they deserve. With this focus on the latest and greatest of the Dutch photography scene, New is a catalogue and style-guide for photographers, photography lovers, collectors, art directors and curators.

Across its 420 pages, with each photographer being granted two full spreads for a portfolio of images, the book shows a broad collection of conceptual and art photography. From personal and unprocessed black and white portraits and documentary images to vibrant and playful colour styled and collage photography, the spectrum of contemporary photography styles is represented in the book, visualizing people as well as objects and spaces.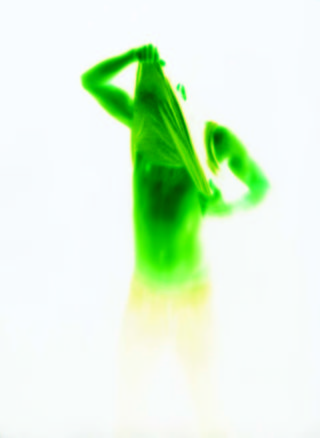 One photographer who made vulnerable, yet vibrant nudes is RÖNIN, who GUP has picked up before for an online portfolio of her series 'the zone'. Some of these images are included in New, showing, from a bird's-eye view, two nude Asian women embracing each other against a bright red floor. Another photographer, Thomas Heere, lays his focus on the process of negative colours, which resulted in extra-terrestrial and vibrant portraits and stills. But not only bright colour images play a part in the work of the best Dutch photographers of 2016. Baukje Venema has made a poignant photo series that captures of the complexity of a child with autism. Her photographs consist of little pieces put together, merging the information into one suitable whole.
New 2016 features an interview with Dutch photographer Linelle Deunk, who was included as an emerging talent in New 2012. We later featured her in GUP #44, the Raw issue, with her series of black and white series This World Is (Not) Mine. In the interview Deunk talks about her compelling black and white portraits and documentary photographs.
Order your copy of New 2016 now! The New book is printed with four different covers, each one chosen from the work of artists included in the book.

The book is launched on Thursday December 10 at the 5&33 Gallery in the Amsterdam art'otel, from 7pm onwards. You're more then welcome to join!