Loretta Lux (Dresden, 1969) was trained as a painter at the art academy of Munich. She starts photographing with a passion in 1999, but never without forgetting the art of painting. In her studio, Lux photographs models in vintage clothing against a white background. Later she inserts these images digitally into a setting that she photographed earlier. The photographs are then given subtle alterations in a digital process that takes months, resulting in carefully constructed compositions, which betray the influence of old masters such as Bronzino, Runge and Velázquez. In 2005 she received the prestigious Infinity Award of the International Center of Photography (ICP) in New York.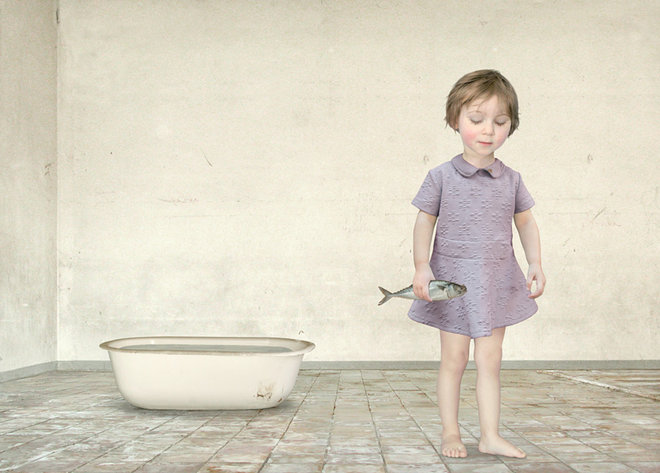 Loretta Lux is hot property. From her new home in Monaco, the German photographer is travelling all over the world to exhibit and sell her work. Her main photographs consist of portraits of children in isolated settings, who look away or straight at you with an almost arrogant self-consciousness. GUP asks Loretta Lux what makes her work so special.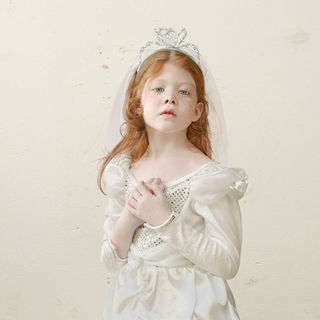 First of all, Loretta Lux, known only by her stage name, is not really that concerned about what other people think of her. And she certainly does not keep a close check on what other photographers are up to. "Because my style is so different from other work, people regard it as a kind of brand, while I'd rather focus on developing the psychological elements in each image", she says. Those psychological elements are the children and their surroundings. For Lux, her work is not about the specific children in the picture - young children of her friends, wearing doll-like clothes, including some that Lux wore as a child - but more about being a child in general and its influence on a person's life. But most importantly the way these children represent the ultimate metaphor for innocence and Paradise Lost. Her characters are new to life, but look out into the world as if they had rather given it a second try. "In children you soon detect signs of what they will be like as adults, and vice versa you see traces in adults of the child they used to be. This fascinates me."
Away from the canvas
Before Loretta Lux turned to photography she tried being a painter. But she had no real knack for the physical element involved in painting. But she still thinks like a fine artist, for example in the way she structures her images. This may sound like one of those eternal 'photography versus painting' tales, but with Lux this there is no way around it. She admits that her method of working is much more related to painting than to photography. Count her average annual production, only five or six images, and this says it all. Still, whereas a painter looks for the right composition, colours and forms on the canvas, Lux always works on a computer. Far removed from traditional or documentary photography, the camera is merely a tool for her (she doesn't care for personal photos either). "Organising the image, that's what it's about."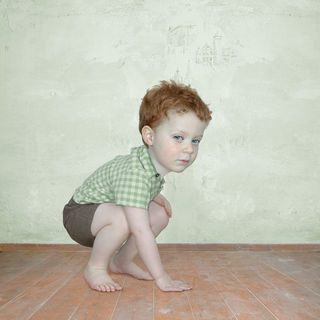 Would any photographer ever be capable of making as great an impression on the profession as the now 400 year-old Rembrandt did in painting? She does not regard it as a com- petition, but she does believe that the visual impact of photography potentially might be as strong as that of painting. Perhaps just as good as works by the Renaissance masters such as Leonardo, Bronzino and Holbein, whom she admires for their individual vision and quality. As a child she had reproducti- ons of Velasquez' Infantas in her room, but Runge's The Hülsenbeck Children is also an image she knows well from when she was young. She learns from looking at other people's work. For example, Francis Bacon taught her about vision on human nature, and Rothko about intensity and spirituality. The most recent photo exhibition that impressed her most profoundly was last year, when she saw Diane Arbus in the Metropolitan Museum of Art in New York. So real and perfect.
Depth and width
While Lux's images, with their antiquated feel, are marked by a combination of innocence and experience that appears as a comment on life itself, she is much less aloof when it comes to animals. As a fanatical activist for animal rights, having grown up with pets, she finds it unbelievable that even today so many animals are treated so awfully. "Animals want to feel free, just like you and me. That's their reason for living, isn't it?"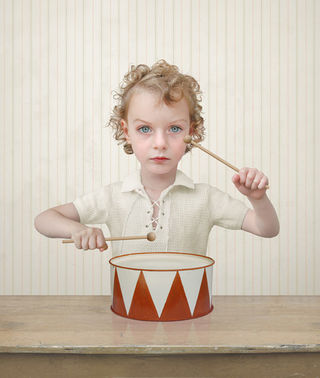 If this will be a subject for new work, she cannot say. At the moment she is involved in other projects, a creative process in which the brakes have come off. It will probably be within the same context as her current work, because there it offers more depth and width than she had imagined. GUP can only agree with her, after all, she has found a niche that only few are able to reach (because of the enormous run on her work she's recently forced up her prices to discourage fast traders). The photo museum in The Hague has a real scoop in that respect, being the first museum in the world with a retrospective on Lux. Even though she still firmly believes that she is not there to please the public, Loretta Lux finds it a great honour that her work is now in a museum. Later this year, she will have solo exhibitions in the House of Photography in Moscow and the Yossi Milo Gallery in New York.
---
This article was featured in GUP#3, the Manipulation issue. Loretta Lux is represented by Yossi Milo Gallery in New York and TORCH Gallery in Amsterdam.
All images © Loretta Lux, Courtesy Yossi Milo Gallery, New York.