With the current decline of Africa's savannah wildlife due to poaching and loss of habitat, the solo exhibition Inherit the Dust from Nick Brandt (b. 1964, UK) could not have come at a more appropriate time. The wildlife and conservationist photographer presents his latest series of large-scale black and white panoramas, all the more relevant, given that giraffes too are now facing the serious threat of extinction. These images, which are now on exhibit at Custot Gallery Dubai until Feb 28, 2017, depict the perishing natural world in contrast with an explosive urban landscape.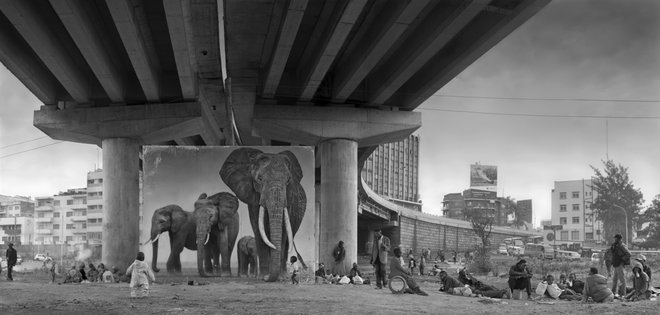 In a series of impressive sceneries, Brandt portrays his vision of the impact of man in places where animals used to roam, but no longer do. Each print emphasises the everyday struggle of survival endangered species face – elephants, zebras, lions, apes and rhinoceroses – as they stroll through a world of despair and destruction. Brandt spent months producing prints of life-size animals, in which giant panels up to 30-foot-high were constructed using elaborate aluminium frames. By shooting the world with the physical panels present, countless unpredicted instances occurred – the photo, Underpass with Elephants, 2015 (Lean Back, Your Life is On Track) sees a small child beneath the underpass, captivated by the gigantic elephant and touching them with what appears to be a stick. Moments such as this stress the gap between the natural and urban world, whilst other photographs underline the human populations' sometimes careless and ignorant nature; people going about their daily business, oblivious to the landscape's environmental degradation and the animal's ghost like images.
Each print emphasises the everyday struggle of survival endangered species face as they stroll through a world of despair and destruction.
When confronted with each haunting representation of the most majestic species, we question our own contribution to such destruction. Brandt says: "If we follow our present path of development and destruction, in just a few years' time, rural African children will be as uncomprehending that elephants and giraffes once roamed the land in front of their homes, as we are that wholly rhinos once lived where our nearest shopping mall now stands." His words resonate, as we reflect on the increasing number of us, and the impact of the very finite amount of space and resources for so many humans.

Depicting a giraffe looking over the setting of a giant quarry, a powerful picture is formed in which they are looking out at their past home and seeing what has become of it – a former utopia stricken with waste and stripped bare. Such images conjure strong emotions and raise present concerns. The majority of African people may argue that Western civilisations ruined their natural world because of economic expansion, and with that, may question their need to economically grow. Why should they be deprived of living the comfortable existent that most people have in the West? A rational argument, yet in many areas of East Africa, ecotourism is perhaps the single significant source of long term economic benefit. Therefore, protection of the environment and economic benefit can go hand in hand. Brandt concludes: "We must act urgently. If we continue to do nothing, future generations will be inheriting the sad remnants of a once-vibrant living planet. They will be inheriting dust".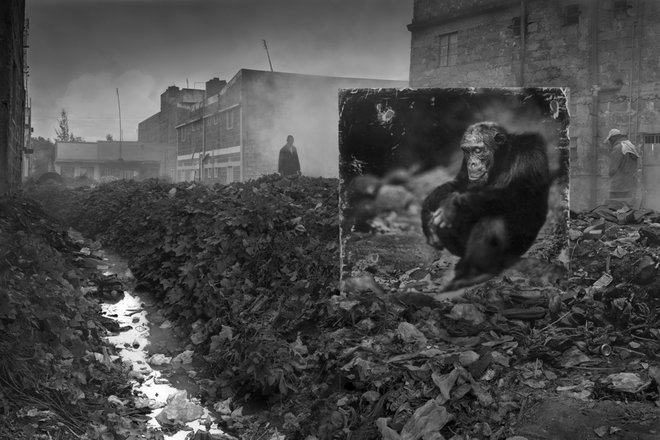 The exhibition Inherit the Dust will be on display at Custot Gallery Dubai from Dec 8 – Feb 28 2017.