In 2014 Joana Choumali (b. 1974, Ivory Coast) won the POPCAP prize for contemporary African photography with her series Hââbré. For this work she photographed people with traditional facial scars in West Africa. In this interview, she tells GUP about the tough early years of her career, and the importance of the detail in a photo story.
We're face-to-face with large prints of Choumali's latest series, Awoulaba/Taille Fine, on exhibit at LagosPhoto in Nigeria. The photos portray multiple images of women that she projected on top of each other, creating blurry contours of female bodies. In a corner of the exhibition room, we find two chairs, where we have a seat to talk about her work. We're in the way of a cleaner who has to pass by us to dispose large plastic bags with colourful waste in the hallway behind us. "This is so beautiful!" Choumali cries out. "I'm going to remember this, the way we're sitting here, and the colours of that waste in those transparent plastic bags moving by." She explains that she suffers from the need to see every movement and detail around her. "The way people and things move. The exact way your hair moves when you talk, I'll remember all of that."

It's remarkable that you think about motion so much, while, as a photographer, you take still images.
When I take a picture, a still image, I capture the whole scene in my head, as if it's a movie. I always remember the moment after and before I take the picture. I keep it in my memory for a long time. When I've visited a certain place and return there, I've remembered exactly that there was this red door here and this shop there and the colour of the shop sign. I don't always know what purpose it suits, and it's also tiring. But I tend to ask this from myself, that I remember everything exactly.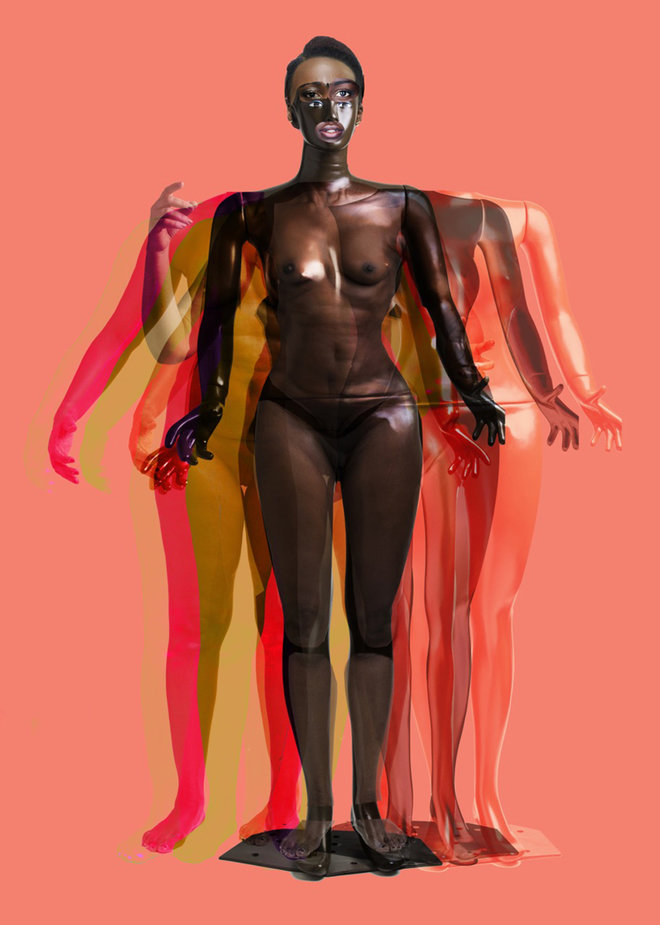 Is that why you take extensive testimonies when you take a person's photo, so you can remember everything?

Yes, I usually transcribe the testimonies too, and I never abbreviate them. When people ask me for details about the people that I photographed, I go back to the testimonies. It's important for me to show this kind of integrity and to respect the whole story. This is the journalistic part of my work. I want to catch exactly what people say. I don't want to assume and judge, because the basis of my work is not to judge but to observe.
I was wondering if I had to choose between photojournalism and conceptual photography. I decided not to choose.
Your work is often a combination of staged and documentary photography. Why did you choose this mix?
For example, in Awoulaba, I took pictures of mannequins in the streets, and then I took photos of the manufacturer working on them. And I interviewed the manufacturers. Only after I'd done all my research I went to the studio to start my project. My research had taken about two years. That's a lot of time, but I think that good research makes a work of art better. At some point in my career I was wondering if I had to choose between photojournalism and conceptual photography. I decided not to choose.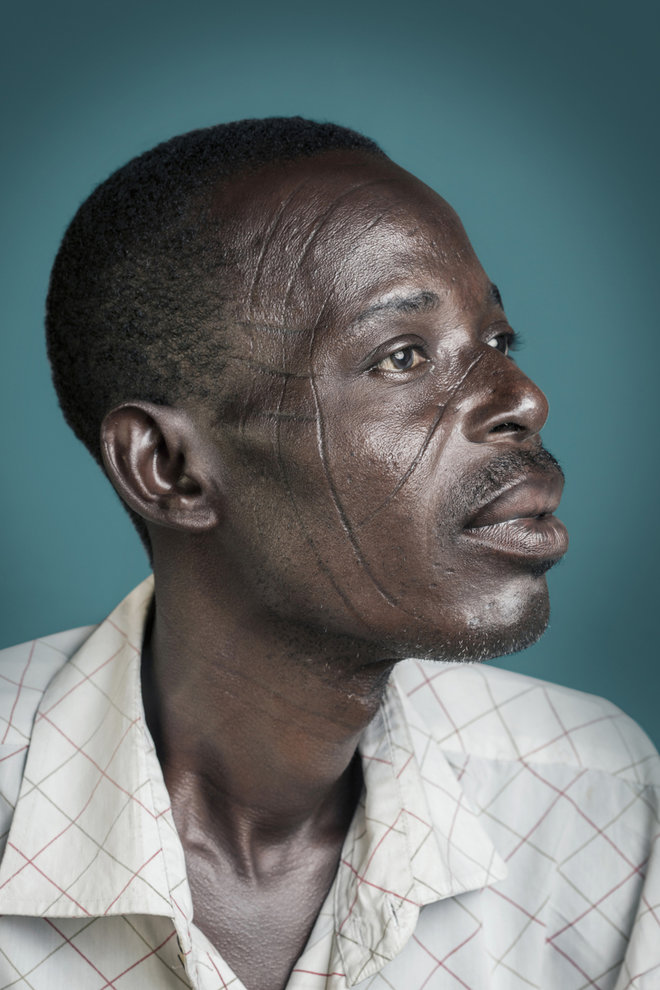 Many of your projects, such as Hââbré about the West African tradition of scarification, and the series Awoulaba on African feminine beauty standards deal with social norms on what people should look like. Would you say that this is the central team in your work?


Yes. It probably developed simultaneously with my becoming a photographer. I had a great job as an art director for an advertising agency. The job was fun and I had a good salary. My life was really well balanced. But I was also obsessively daydreaming about taking photos myself. I wanted to take those images that I saw around me all the time. So I quit my job in 2005.

Yet when I started taking pictures, I was not comfortable with the fact that I was always the only woman around. To hang out with other photographers meant to hang out with men. And even though I was a bit like a tomboy, other people would remind me of my gender. People said to me: "I like your work, but I was sure it was an old white man who took these pictures." Maybe because they made me feel uncomfortable and got so much negative feedback about not fitting the norm, I started to be interested in doing work that deals with social norms and stereotypes.

Do you think it would've been easier for you to get started with your photo career if you were a man?
Absolutely. At first I had an assistant, a man. Each time I went to an assignment they would ask me where the photographer was. So I would say: "I'm here." And they would say: "No, you're the assistant, I mean the photographer himself." Even women said that to me. In the beginning I was really reluctant to show my work and myself as a photographer. It took me many years before I would show my work on the internet or even on social media.
The man with the trash bags walks by again.
"So beautiful!" she sighs. "But let's not be distracted."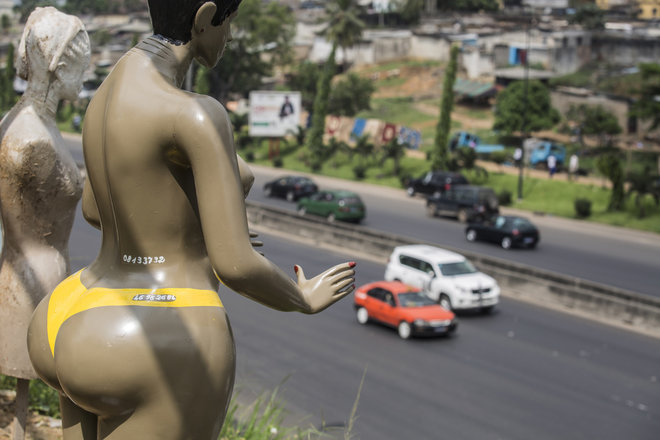 Tell us a little bit about your photo shoots, do you direct people?

For me taking a portrait of someone is not asking someone to give me something. I'm just waiting for what this person can give me or not. If this person doesn't want to be photographed, I won't push them, even if we're already in the middle of a shoot. For example, when I was working on Hââbré, I only took a picture of my models after at least 40 minutes of talking. Here again the testimonies were important for me. In Hââbré, most of my models were from Burkina Faso, but not all of them spoke French well. So it was really important for me that they felt the respect, and that they knew that I was interested in what they had to tell me, so they would have time to explain it to me. When I speak with people I always tell them that I don't know their stories. I will say: you teach me, tell me your story, because I don't know it. The most important thing of a story, I think, is to explain what you were feeling - even if it was contradictory.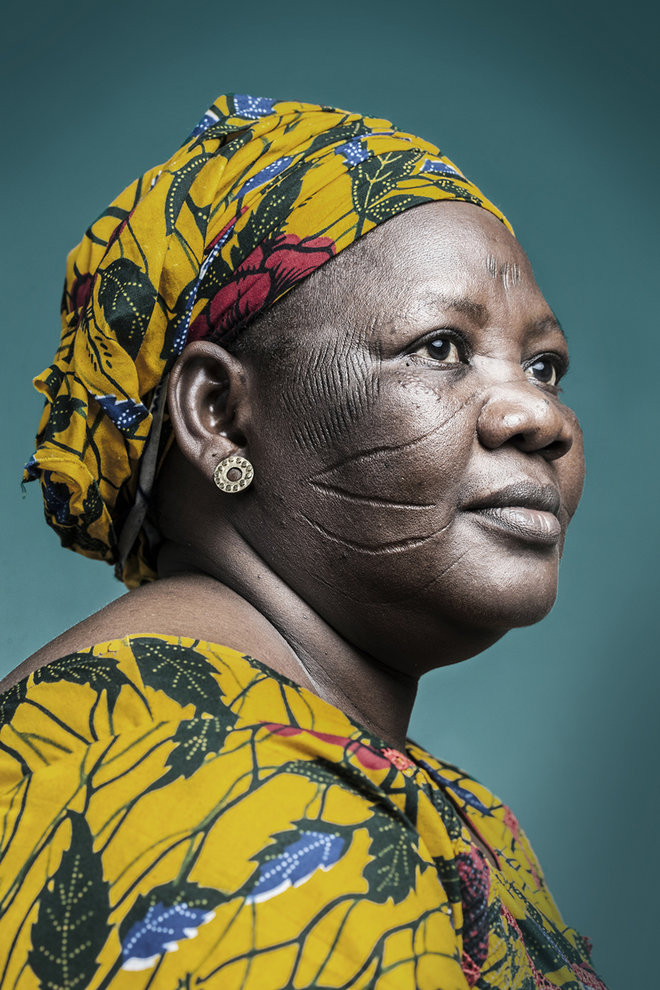 What are your hopes for the development of photography in Africa in the next few years?

In Côte d'Ivoire there is no museum for photography. There are some art galleries and there's the Fondation Donwahi for Contemporary Art, which is very active in promoting contemporary art in Côte d'Ivoire, but I would like to have a museum, too – then we can have more photo shows. I got to travel quite a bit myself, I've seen many European photo festivals, but we need more photography festivals like the LagosPhoto Festival. The African Artist Foundation does a great job. I hope their action will inspire more people to promote African photography around the world.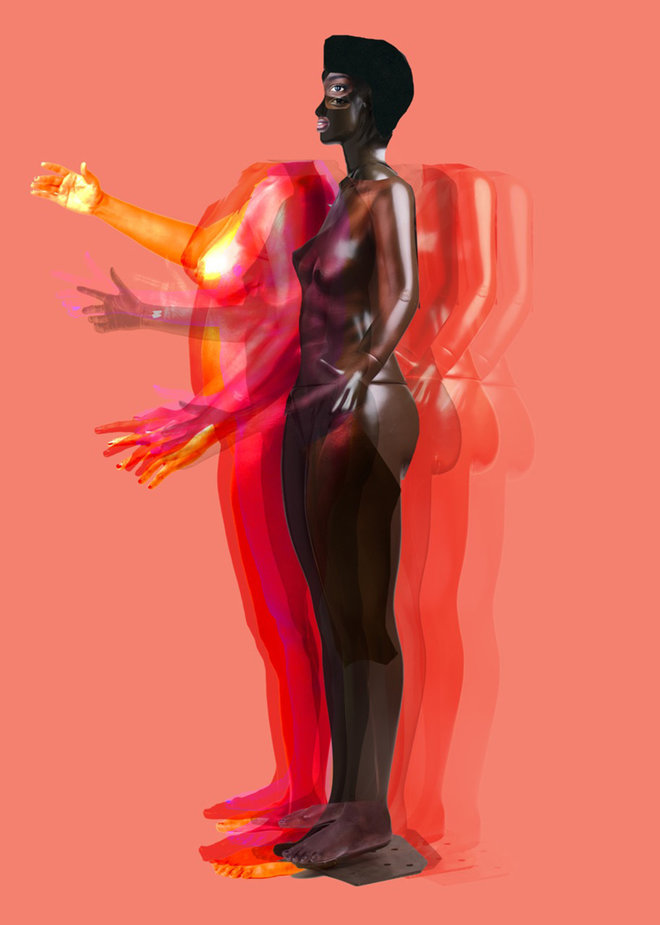 I'm optimistic. What I now see around me is that so many young people are getting more and more interested in photography, especially more women are starting to take photos and posting them on social media. I'm so eager to see more young women photographers around. There aren't many female photographers yet. In Côte d'Ivoire I like Hien Macliné, I call her my big sister, because she started a few years before me. In other African countries, I like the works of Fatoumata Diabaté from Mali, the French-Senegalese Delphine Diaw Diallo, Emilie Regnier, who's from Canada and Haiti, and I also like Namsa Leuba, a Swiss-Guinean photographer. I hope that we will have more and more young African photographers in conceptual and fine arts photography, and that we'll be able to create a movement. We're at the beginning of it now.