In his series Hong Kong Shop Cats, Dutch photographer Marcel Heijnen (based in Asia since 1992), photographed the small shops of Hong Kong, which each seems to be ruled by a small cat emperor. He walked around areas like Sheung Wan and Sai Ying Pun, photographing the typical interiors of the shops while also capturing the fierce independence of these mysterious domestic felines. Taken together, it's a light-hearted commentary on Hong Kong's traditional culture. As Heijen explains: "The cat is essential for the photo series but sometimes more a reason/excuse to shoot the shop, a common thread." Now released as a photobook, Hong Kong Shop Cats is available from Asia One Publishing, and will have a book launch and pop-up book launch in Hong Kong during December 9-18, 2016.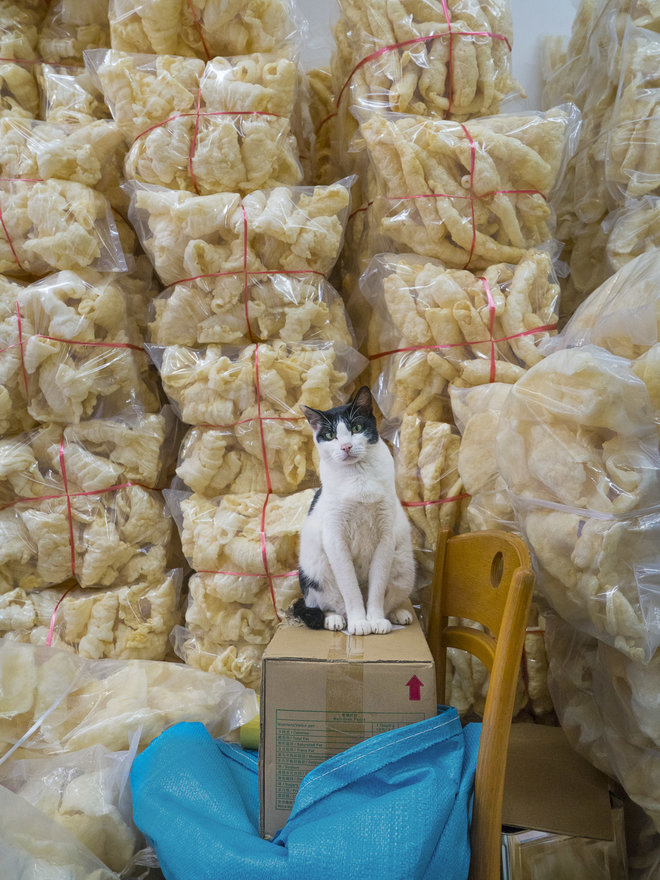 Perched up on a pile of boxes or rice sacks, sprawled beside the abacus, hidden amongst paper offerings or peeking out from between piles of dried fish, some cats almost become invisible in their chaotic surroundings, while others don't seem averse to a little camera attention at all; instead, they pose, showing off their soft fur and bright eyes that contrast against colourful backgrounds. Sitting in the store like a king in its kingdom, the cats sometimes seem to adopt the habits and facial expressions of their human companions as they play, sleep, wait, research, keep guard or just are extremely bored.

The cats are kept often because they're seen as being lucky, but their presence also serves a practical purpose: they scare off some mice every now and then, and they also serve as bait to lure in costumers. For this reason, the cats are seen as an essential part of the life, business and family of the shops in which they live and hunt.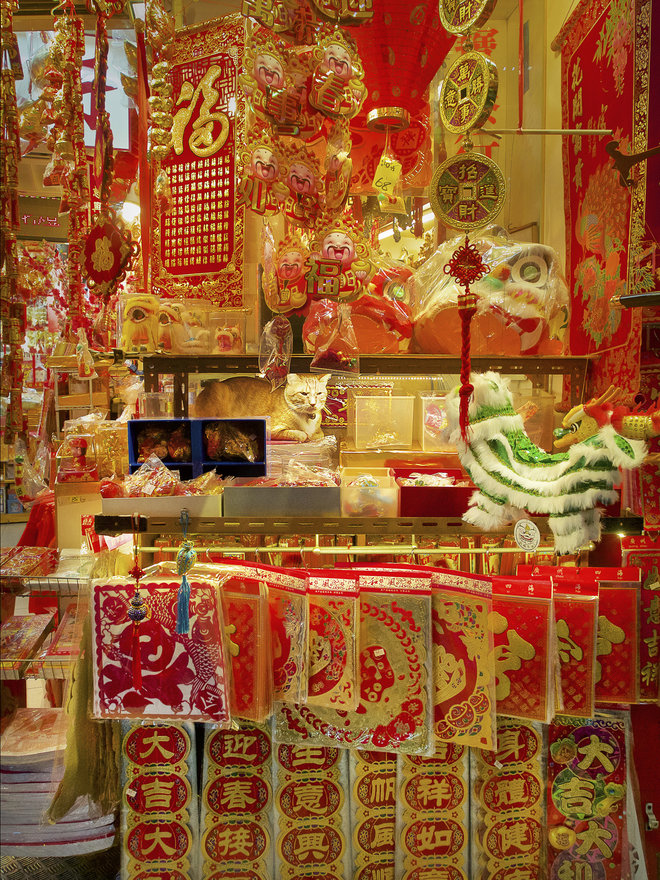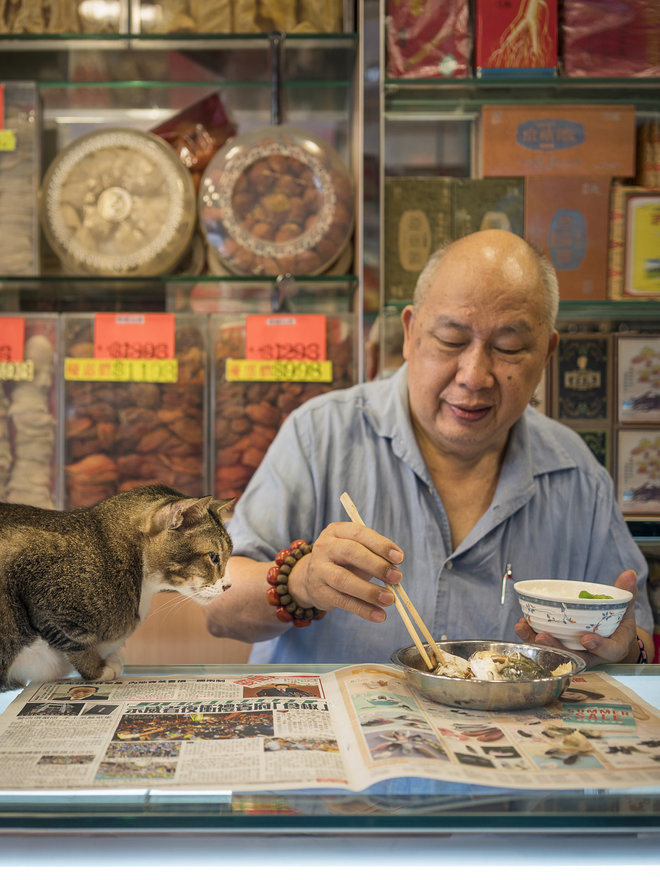 In this book, we see photographs of cats, their owners and the shops' messy interiors all bundled together. The images are accompanied by haikus written by Ian Row. With suggestive writings like, "I am soooo hungry / Hope fatty leaves some for me / He can afford to", next to a photograph of a chubby shop owner eating rice, while his cat stares at him desirously, letting us really get to know several cats and their personalities. The same goes for the short introduction texts written by Catharine Nicole, which introduces us to a few cats, like Ah Dai, the retired mouser, a rotund cat who only greets his owner every morning by asking for dried cat food, and leaves directly after to hang at the neighbours'. Or Fei Zai, who is affectionately known to some as The Godfather for his large and haughty demeanour and who likes to steal dried oysters and scallops for snacks when he thinks his owners aren't looking,

In Hong Kong Shop Cats, Marcel Heijden catches our attention with a sense of humour that afterward makes us look closer at the photographs, allowing us to see and discover other things surrounding his subjects. With the witty approach that he takes to display Hong Kong's traditions and everyday life, he shows a culture and its habits in a playful way, one that is surely inviting enough to take a peek.
The official Book Launch and opening of the pop-up exhibition will take place on this coming Friday, December 9th, 2016 at 6PM in the ZZHK Gallery in Hong Kong. The exhibition will last till December 18th.
The book is available for sale in the webshop of the Blue Lotus Gallery.