Alfonso Almendros is an emerging photographer from Spain who lives and works in Helsinki. He presented his series Family Reflections at Slideluck London earlier this year, a series of provocative portraits in gloomy colours and a dilapidated setting. He speaks in this interview with Maria Teresa Salvati, co-Director of Slideluck London.
To see more from the series Family Reflections, see our online portfolio.

Could you tell us the story behind Family Reflections?
Family Reflections came at a moment of my life that was full of indecision. It was a critical moment where I didn't know how to focus. After living abroad for a few years, I decided to go back to my hometown and spend a few months with my family. There, I found things that had changed during my absence. With more distance, I realized that, in general, that point in time was hard for all of us, and we were all bearing with big problems that didn't have easy solutions. In this situation, I discovered a parallel between my mother, siblings and myself. I was certain that we shared a common attitude towards those difficulties. Something hidden and common that defines us as a group and came from the farthest depths of our personalities. I don't remember when my father died, but I had the feeling that this new situation had many parallels with that tragedy which happened many years ago. In both situations, there prevailed a sensation that something important was irreversibly lost. I felt that something was changing around us and I just decided to photograph and reflect on what we were at that point, but also about what we had been back then.
Your father was also a photographer, correct? Is that how you got into photography?
Before I was born, my father was a photographer for many years. He passed away when I was two, but his cameras and photographs remained in our family house. I always felt curious about this side of my dad, so I guess I started to use them to find a common bond with him. I was fascinated by the idea that the cameras had been waiting 20 years to be used again. I never had any objects of his, so I decided to inherit them. They were beloved objects for him, so I tried to approach them in a similar way.
The series evokes feelings of nostalgia, melancholy, searching, even death. Is your image-making a sort of self-therapeutic searching? Or a way to universalise the concept of family and memories?
Well, I would consider this project more like a kind of cataloguing and free interpretation of something really personal in my life. My intention wasn't to find answers to anything, but quite the opposite: to ask new questions. My approach is purely subjective but I guess I am also talking about concepts that could concern everybody.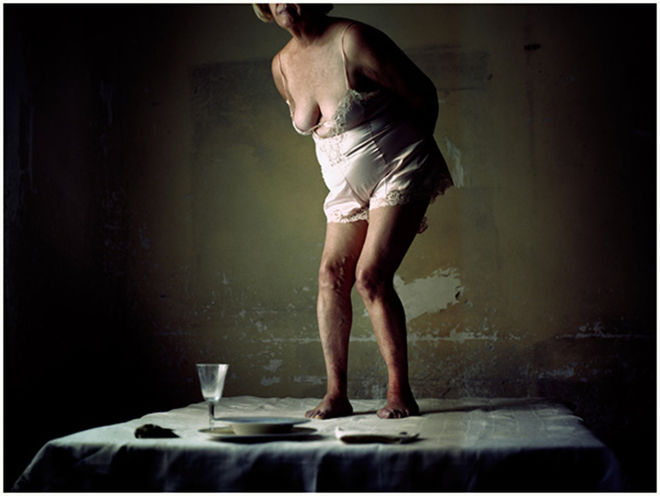 With your use of props, composition and lighting, the images are quite visually striking. The subjects also seem complicit in the images -- what's your relationship with the people in the images? And, how do you get them to act out the story as you would like it?
The subjects that appear in Family Reflections are mainly members of my family. When I asked some of them to collaborate, I was really impressed by their willingness to do it. Honestly, I think that none of them understood the meaning of what I was trying to do, but I like to think that they were somehow aligned with my convictions. I always think that showing your weaknesses to somebody is the highest proof of trust. For me, this was a hard process. I found myself apologising after every photo shoot. Normally people don't like to see for example that his/her mother is getting older, and doing the things I asked her to do. I felt a bit selfish, but at the same time, I had the urge to do it. Some people like to emphasise the provocative component of the project, but my intention was to find a kind of beauty in that fragility. Some of my siblings did not want to collaborate at all, some of them were offended by what I was doing. Probably that's the reason why, for some shots, I used self-portraiture.
Why is there always exactly one subject per image?
Sometimes circumstances reduce the range of possibilities. We are a big family with many members, but for many years, we didn't work as a group. Unfortunately, relationships can be really tricky and many of my siblings don't talk to each other. So I couldn't aim for family portraits as a solution. At the same time, I wanted to delve into my own and separate relationships with each one of them. This way, I could be more meticulous. In the end it was something than the act of taking pictures. We spent time together with nobody else around. I listened, saw and understood things that I wouldn't have been able to discover with more people around. I am the youngest of five siblings and, between them and me, there are many years of difference and a father that I don't remember. I think that this was my moment to finally understand some things.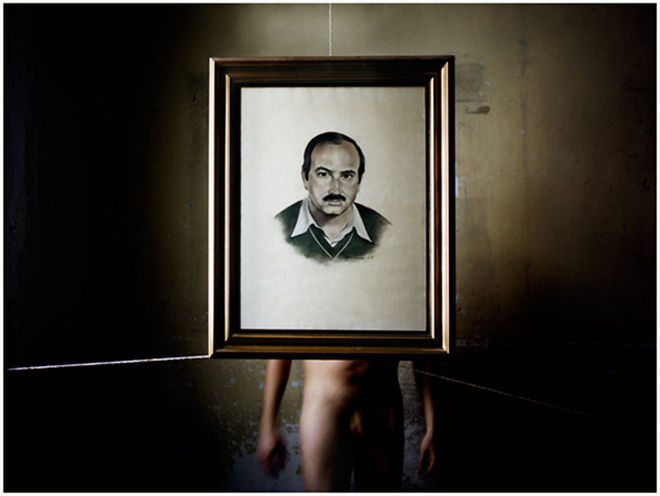 How has photography helped you to cope with the loss?
I never had any feelings of loss, due to the fact that I am unable to remember anything about my father. There is nothing negative about it. But I always felt curious about understanding some things from a past that I never experienced myself. I think that I just feel attracted to the traces or marks that the past can leave in people. My father, in the end, is just a pretext to reflect on this question. Everything around him is vague and distant but, at the same time, his figure and what happened to him directly affected my life and that of my family. The distance and absence are things that I find really evocative and hypnotic. There isn't any therapeutic intention behind this project. The intention is something else. I'd like to think that, in Family Reflections, I am formulating questions or leaving some clues, where dark and vague ideas become quietly noticeable and which you, as an observer, can interpret in an intuitive way.
If you could define memories, they are made of…?
Something malleable that with the passage of time becomes vague and blurred. Something that you can manipulate as you please.
To see more from the series Family Reflections, see our online portfolio.