London-based photographer Julia Fullerton-Batten approaches social issues with her cinematographic lighting and meticulous attention to detail. By insinuating visual tensions in her images, she imbues them with a hint of mystery and teases the viewer to re-examine the picture to finding a deeper meaning. In her most recent project, The Act, she photographed and interviewed fifteen female sex workers from a wide variety of cultural backgrounds and ethnicities. Her provocative, yet playful images examine the lives of female sex workers in a highly staged scene, and serve as a split-second filmic recreation of their life in the context of their work. In this interview, Fullerton-Batten talks about the women that she met, actively searching for diversity, and the consequences of photographing explicit scenes.
In your earlier projects, like Awkward, A Testament to Love and Teenage Stories you focus on women and their stories. That's also the case in this new work, The Act. What is it about the female perspective or story that interests you so much?
It's funny you should ask that, because before I started on The Act I was actually thinking about doing a project on brothers, to get away from the whole "female" thing! My earlier projects, like Awkward and Teenage Stories, were semi-autobiographical, and I used my own experiences and feelings as a basis for them. It's also something that I'm naturally attracted to, whether it's an autobiographical narrative or one that doesn't relate to my life story at all, because I'm female myself. This project is very much about other women, their stories and experiences in the sex industry; something that I definitely wasn't familiar with before I started working on it.

How did you first get the idea of making a project about women in the sex industry?
I got into the project because I became very interested and intrigued as to why women came to use their bodies and sexuality to make money, and how they feel about it. I first tested out the waters a bit, waited to see what kind of girls came forward and wanted to talk and be part of the project. From there it progressed and got more and more interesting. Before I knew it, I was producing a major project with 'stories' in text and videos. It has almost become a sociological study in scope.

Most of what I've heard from the women has been pretty positive, but I know that for a fact that it's not all positive. It was a surprise to find that most of the women are well-educated and very eloquent. Of course it's their right to choose what kind of career they want to have – for however long it may last. These specific women are happy and proud of what they do, that's why I photographed them the way I did – not in a celebratory way, but definitely more upbeat. I wanted to show them in a more positive light, rather than how society generally considers them.
So you tried to shift that negative gaze for a more positive one…
I have to be very careful with how I portray this body of work, because I can't just say that it's a celebration of (all) women in the sex industry, and that the sex industry is totally fine. There's a very fine line, and for me as an artist, it's more important for me to question whether it's all really true, rather than state it to be completely factual or a lie.
I understand that there is a negativity surrounding the sex industry, and I understand that there are major issues of women who are being forced to do something that they don't want to do. But in this case, with my fifteen women, it's not the case. I wanted them to speak out and let people hear their voices, which are basically positive.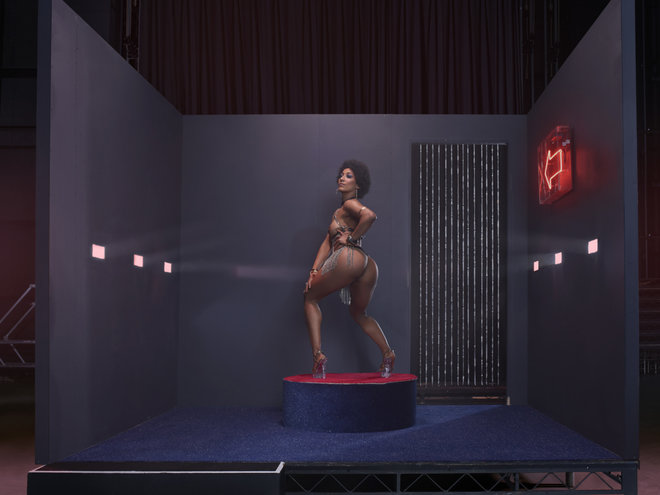 Monique, Stripper
How did you try and put that positive spin within your photography - to make it provocative, but not exploitative?
Each woman came to my house, and I spent a lot of time with her. I interviewed them and they told me about their lives, how they got into what they're doing and how they feel about it. Afterwards, I started working with them together on a suitable set that I could create for them. It wasn't planned to be a straightforward shoot of "Oh you look great, let's put you in a sexy outfit and I'll photograph you in some scene or another". The whole photograph, set and story is about them and the stories they've told me. So, I guess you could say that I balanced out the provocative versus exploitative nature by creating sets for each individual woman, and making each of them more beautiful in their own way.

Why did you decide to create sets?
I first thought I'd go to the location where they actually do work, but I decided against it, as it had probably been done too much already. The sex industry has been photographed to death and one thing I was concerned about was if I was repeating something that had already been done over and over again. I wanted to approach this subject matter in a completely different way. The more I talked with my women, the more I realized how much their lives and jobs were about acting and performing and creating sets for their scenes was a – perhaps novel – but also natural approach. When I'm on a shoot, I'm just being myself, but everything is a performance for these women, and I wanted to show that. I then created these, I hope, beautiful sets and photographed them with the surrounding of the studio beyond that.
This was the first time I had specifically built sets for people, Normally, I merely hire an existing location, bring in my props and modify it to fit my scenario... Here, I worked together with a set-builder, but created the set design and the colour palettes myself. I hoped that the viewer would see that it wasn't a fake set, but what was going on wasn't real. That's why I kept nails in the wall, and other imperfections in them, as well.
Could you tell me about the women that you photographed?
I wanted to show a wide variety of women, with different backgrounds and stories; I actively searched for diversity within my project. I felt that seeing a subject matter like the sex industry from different perspectives would make the shoots and interviews with them so much more interesting. Having escorts, dominatrices, porn actresses, web cam performers, strippers and lap dancers can say a lot more than if they were all porn stars, for example.
Some of the women I photographed are also on the cusp of being sex workers. Munroe, for example is a transsexual, but not engaged in sex work per se. You could say that she doesn't belong in the series, but I found her very intriguing, and her story an extremely important one to tell.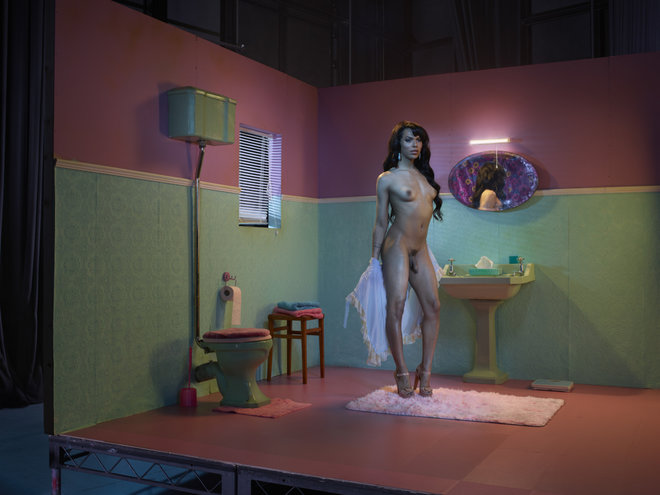 Munroe, Transexual
What were you most interested in, while you interviewed them?
I wanted to learn more about their lives and why and how they chose these careers or this form of life, which is ostracized by a majority in our society and frowned upon by most feminists. Some of them were very open and honest, and I'd say that maybe a third of them were maybe a bit more careful in what they said and how they presented what they did. One common thing that I asked all of them was if they're a feminist, or if they had any bad experiences. Thankfully the latter wasn't the case with any of them, as far as they told me.
One thing that I found really interesting is how they perceive themselves within the sex industry, discussions arose whether or not they really engaged in sex work; maybe just nudity, kinky or much more personal than 'just' sex. Once they opened up to me I found out that there is really a whole spectrum of sex work. If you look at Veronica, Morgan Hall and Lola Marie you can see how different these women are. Veronica hangs herself on her hair, which is incredibly painful, and she does a strip tease act whilst she's doing it. She's not physically engaged in a sex act, so she questions if she's part of the sex industry, plus she's also a very strong feminist. Then you look at Morgan Hall, who's a dominatrix, and she doesn't think she's part of the sex industry, whilst I think her job is all about sex. Lola Marie on the other hand, is an escort. She's got a partner and a son, who know about her job and what she does, she has men paying her for intimacy. But, she adds that a lot of the time her clients don't come for sex, they come to cuddle or talk, or they just want to be stroked or massaged by her. They have a desperate need for closeness with a woman that they're not getting from their partner. When you hear her talk, you go, "Yeah, I kind of get that".
Did your views on the sex industry change after interviewing and photographing these women?
I had to do quite a lot of research on the sex industry before I started on the project, and there were things that stuck in my mind that I found difficult to digest. I really struggled with many of the things that can be seen on porn sites, and still do. In the past, I thought of sex workers as a bit of a taboo subject, probably because I had never really met or talked to any of them. But when I interviewed these women, I found them to be very down to earth, very lovely people. Now, I've become more open-minded and more accepting than I had been before.
Did you struggle with anything when you were photographing them?

Sometimes I wasn't quite sure how I was going to photograph them, because it was difficult to avoid making images that are sexually explicit, without meaning them to be that. For example, when I was photographing Mouse, who's a ping pong girl, I wondered if I should photograph her with her legs wide open towards camera or if that was too explicit. Eventually I chose not to do that, but I can say that there are probably only two images in this series which are more explicit than the others. As I've been entering photographic competitions recently, I haven't actually included those because I thought they might be rejected because of the way they're so openly exposed.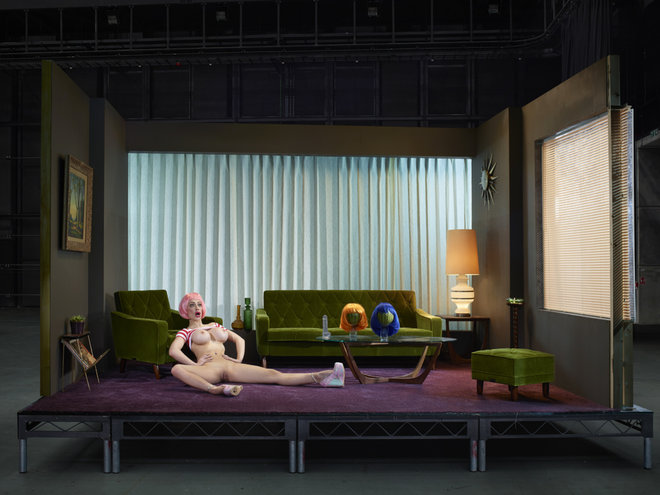 Chessie Kay, Pornstar
Why do you think that's the case? Isn't art supposed to make people uncomfortable or provoke people?
I find that in most of those competitions, adjudicators are fine with nudity as long as it's "tame". One of the explicit photos is of Chessie Kay, a porn star, and she's sitting in the photograph very much a blow-up doll with her legs wide open... not tame at all! It's one of my favourite shots, I love the setting and I think she looks amazing in a 'small body and blow-up breasts and lips' kind of way. Then there's Monroe, who's all woman except she's got that thing between her legs. Again, some people might find it a little bit too much. Personally, I haven't got a problem with it. Plus, I'd rather have somebody have an extremely strong reaction to my work than just say that it's alright.