New York/Milan based photographer Giada Ripa travels through different regions of the world in order to understand ongoing changes as well as her own role in these changes. In her latest multi-layered book Displacement, she approaches China, the Caucasus and Central Asia, both as a 'traditional' documentary photographer as well as a conceptual artist. It is not only a book which brings together these two modes of photography, but also the first of its kind because of its publisher: Moleskine.
Known mainly for its trendy diaries and notebooks, Moleskine has now branched into the field of photo books, with Displacement as their first offering. Though the company has for the last number of years produced agendas with themes like Star Wars or Peanut, Moleskine has also recently started to offer templates which can be customised online, for those who want to make a personal book. As with other print-on-demand services, the choice of formats is limited, so a designer/photographer is heavily dependent on the options available.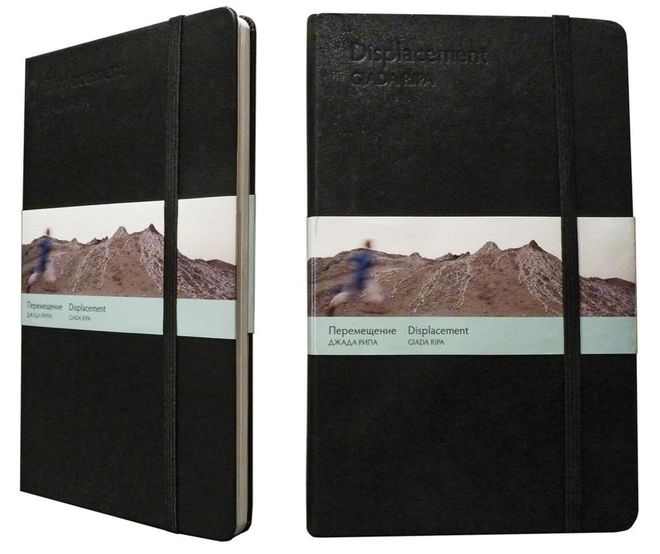 Yet, Displacement wasn't created according to the same rules. Ripa's book has adopted the Moleskine format and design, but it's a special photo book project that's been released by Moleskine as the publisher. Though it carries a Moleskine 'identity' similar to the bespoke agendas, it isn't, strictly speaking, a print-on-demand book. Therefore Displacement is an interesting test case for other photographers who would consider printing their photobook with Moleskine.
As a medium, there is of course the risk of Moleskine-based photo books becoming repetitive. On the other hand, just like Blurb, Moleskine will be developing and expanding its templates, so photographers, among others, will be able to choose from a wider range of options and get more control over the design of the books. In spite of any reservations about the idea of Moleskine photobooks, Displacement is beautifully produced. Even though it's built using the recognisable Moleskine format, these elements work in its favour. Since the book is a kind of travelogue, the diary-look of Moleskine in this case fits perfectly with the content.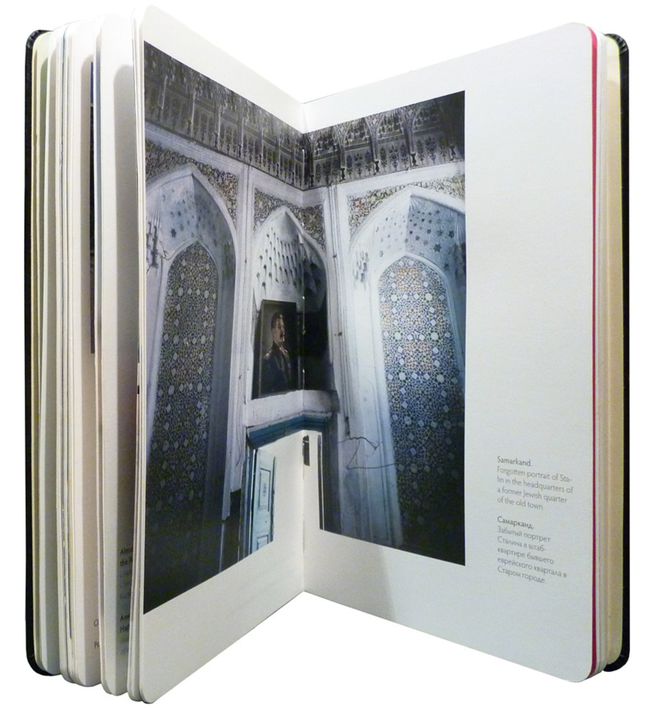 The book has been split in two parts. The first part, 'Beyond the Oil Route', has a traditional documentary approach divided into chapters based on location. It contains portraits, barren landscapes and stills taken along the former Silk Road, now known as the Oil Route. By documenting these scenes, Ripa restores the identity of the inhabitants by relating the land to its people. In her own words: "Displacement is what we experience daily when confronting ourselves with the outer world, with the unknown (...) Roots are what identify us, and the globalization in which we are trapped has brought many of us to confuse our beliefs and certainties and to constantly try to fit in as well as assert our origins at the same time."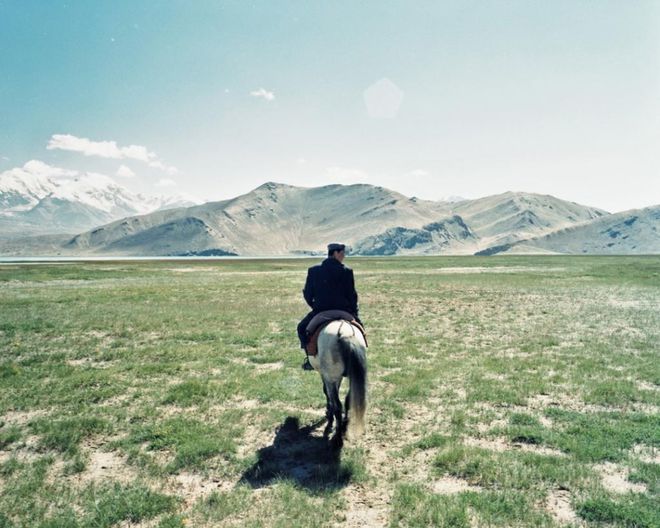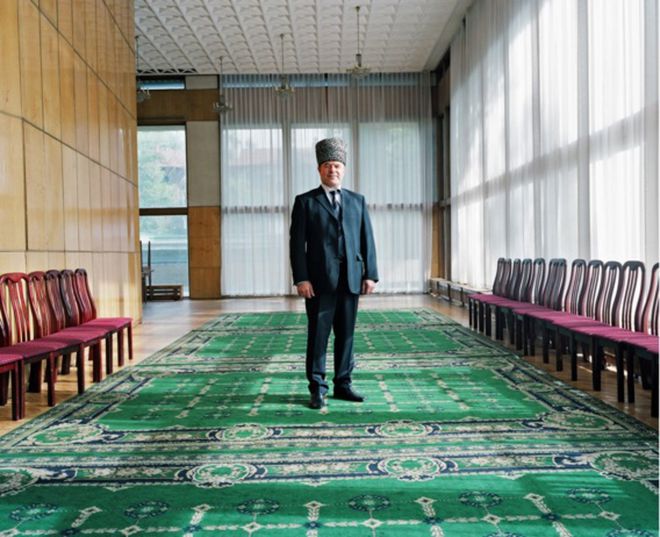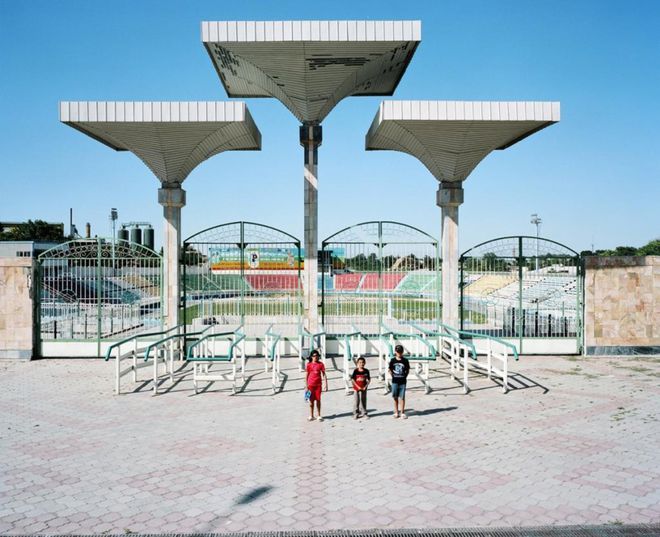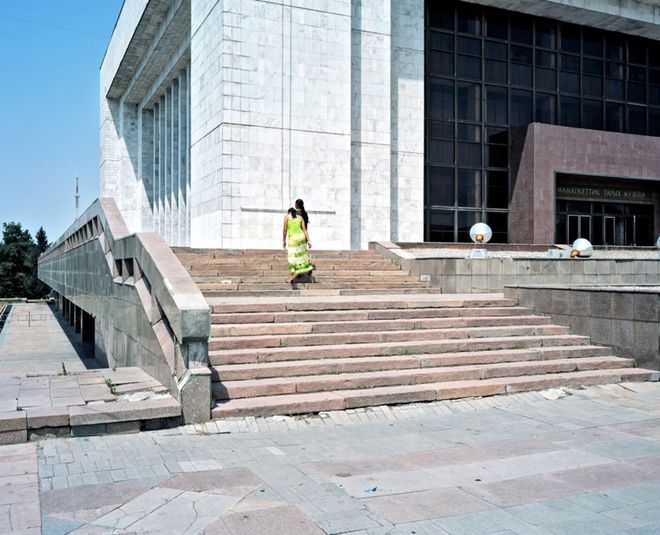 The second part of the book, 'Falling Icons', follows a conceptual approach in which Ripa physically places herself in the scenes, capturing herself right at the moment losing her balance. These portraits are taken in the same regions as the first part of the book, but now function as a view on the artist travelling alone, far from home. Displaced like her subjects, but surely focused on what she is doing.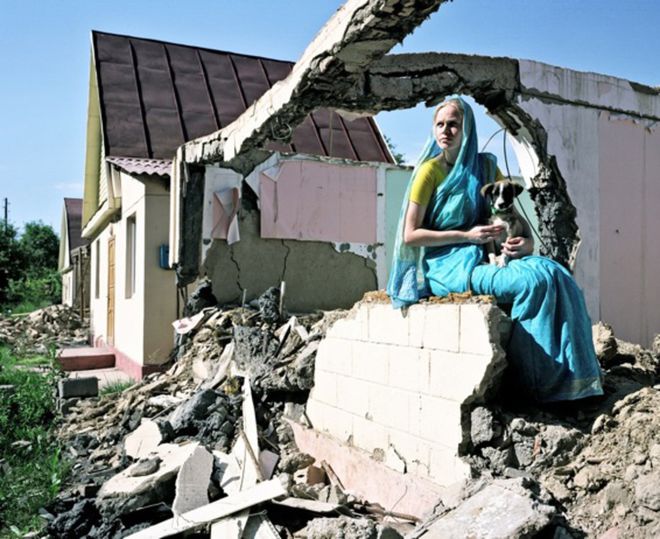 Photographs by Giada Ripa
Text by Giovanna Calvenzi, Marco Buttino, Ereditarell Paesaggio, Viktor Misiano
Published by Moleskine, 2013
128 pp., 53 color illustrations, 5x8¼"
Published in occasion of the author's first museum exhibition in Moscow (Moscow Museum of Modern Art).