The work of Dirk Braeckman is on display, in a joint exhibition with Zarina Bhimji, at de Appel arts centre in Amsterdam until March 31, 2013.


Armed with his handheld camera and light insensitive film, Dirk Braeckman has been exploring and recording the world around him for over thirty years and, in the meantime, creating his very own aesthetic language. The result consists of mostly snapshots, but not of the holiday variety. And, while the subjects he comes across are commonplace, they're not necessarily the things you or I would focus our lenses on. The lion's share of his photographs is monochrome, but these are not black and white images; there is hardly any black or white to be found. Braeckman's world is a dense, low-contrast, intensely grey one, without room for such eccentricities as complete darkness or light.
Braeckman had an extensive solo exhibition in M Leuven last winter, which displayed his oeuvre arguably the way it's meant to be seen: not bound by series or chronology, so that works from different times and places can interact with each other freely, and each photograph can fully come to its own. De Appel arts centre continues on that approach by showing a number of Braeckman's works selected by the artist himself, representing both his photographic and video work. Here, he has been able to take advantage of a more low-key venue, by delving more deeply into his own archives. The two shows are linked by Braeckman's self-titled publication (which the artist rightly calls 'a cross between an artist's book and a survey publication'), the companion piece to both events. Some of the works represented only existed previously in his archive, were then published in the book, and have now been printed for the first time especially for this show.
The most important factor when approaching a work by Braeckman is time: don't expect to be easily satisfied. The works completely lack spectacle. The large grey surfaces demand your attention, but once they have it, they are not keen to share their secrets. A veil seems to hang over them, making them impervious and inaccessible at first glance. It's best not to try to search for any information either. Braeckman's photographs are completely autonomous works of art; they exist outside of any context. They mostly bear titles that seem to function only as codes to an unknown inventory, for example, 'G.P.-P.O.-09'. Where photography conventionally focuses on specific people, scenes or sceneries, Braeckman obscures his subjects until they are largely unrecognizable and completely interchangeable. Where usually the (decisive) moment of exposure is of the utmost importance, Braeckman clicks at a moment when nothing at all is happening.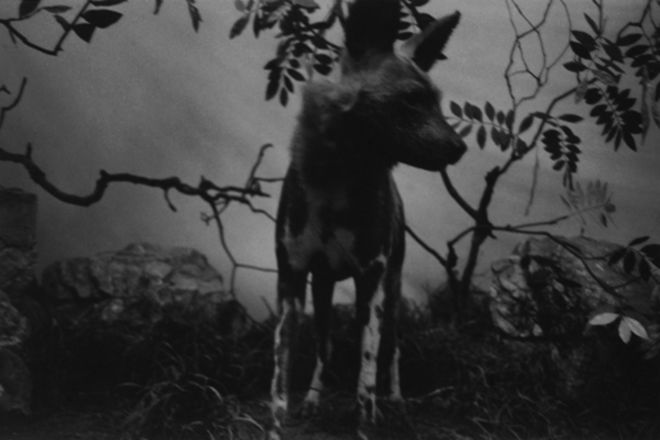 M.V.-K.W.-98-01
, 1998 – 2001, 39,5 x 60 cm, Ultrachrome Inkjet Print on Japanese Silk Paper stretched on a panel. Courtesy of Zeno X, Copyright Dirk Braeckman
In 'Dirk Braeckman', the book, Martin Germann writes in reference to these images of 'non-places', and that is exactly what they come to represent. Braeckman hides his information behind many layers. This becomes most clear in the series Sisyphus (2005): by photographing details of images from pornographic magazines lacking faces and body parts, he takes away the tools of easy satisfaction that pornography normally relies on. Furthermore, he makes clear that they are pictures of pictures by showing us the shadow of his camera hovering over the pages. By way of re-photographing, textures of human skin are replaced by the texture of paper, further removing information and details. The result is a series of images that holds a different, more general truth than their originals, inviting the viewer to formulate his own anecdote.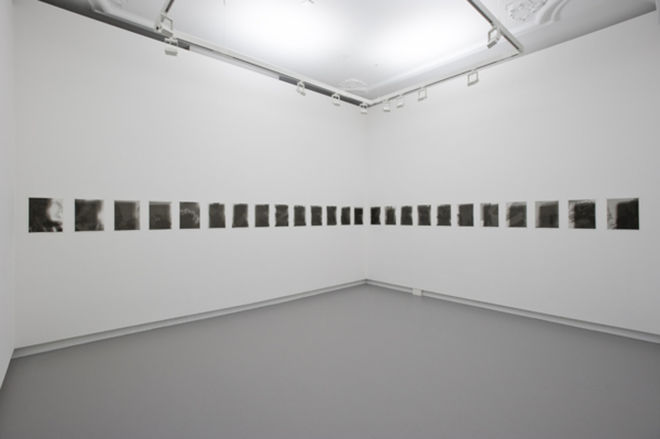 Sisyphus
series (installation view), 2005, 30 x 40 cm, Inkjet on glossy blueprint paper. Courtesy of Zeno X, Copyright Dirk Braeckman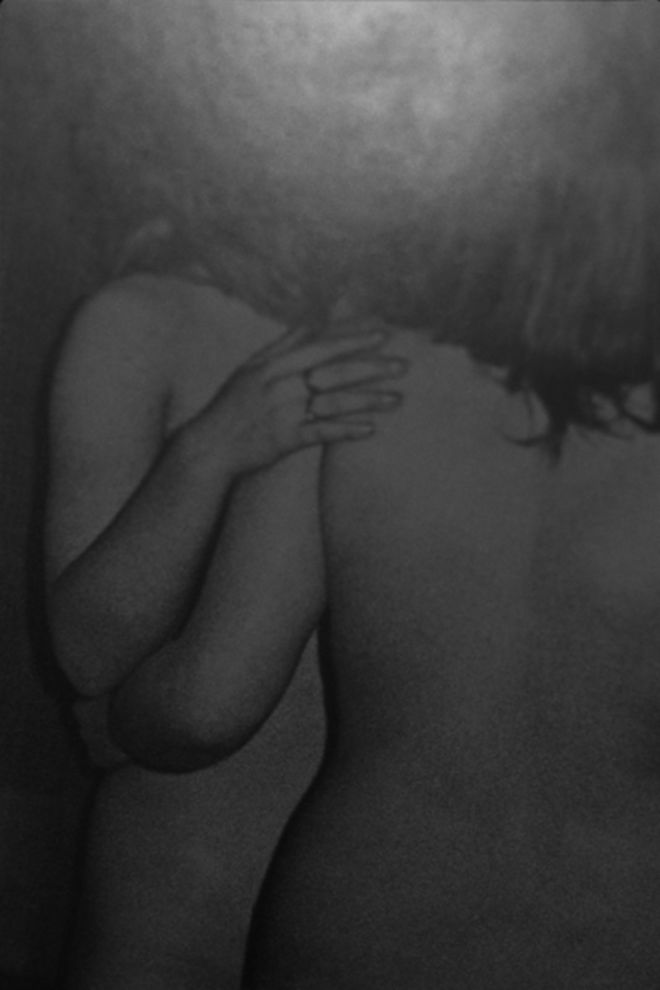 T.C.-T.H.-11
, 2011, 100 x 66 cm, Ultrachrome Inkjet Print on Japanese Silk Paper stretched on a panel. Courtesy of Zeno X, Copyright Dirk Braeckman
A significant number of the photographs included revolve around a theme, or rather an object: the curtain. His obsession with everyday decorative elements, and specifically curtains, is unique and truly fascinating. He can make curtains into completely different things. In one photograph, 'G.P.-P.O.-09', it becomes an impenetrable, heavy, almost solid object. In another, 'V.B.-C.N.-11', the reflection of the photographer's flash makes parts of the curtain intensely dark, almost invisible, while other parts seem to become light sources themselves. In both cases, the depiction of a curtain becomes more than just the image. It is no longer simply a photograph of something, but rather, the photograph becomes an object in and of itself. It seems tangible to the extent that you may feel yourself longing to touch it, only to be frustrated by the realization that you can't; these objects are extremely fragile works of art. This becomes exceptionally clear in the new 'M.T.-T.P.-12', in which a depiction of painted bathroom tiles is printed on Japanese silk paper, creating the illusion that you're looking at the tiles themselves. Braeckman is sometimes called a painter, but in this way he is more of a sculptor.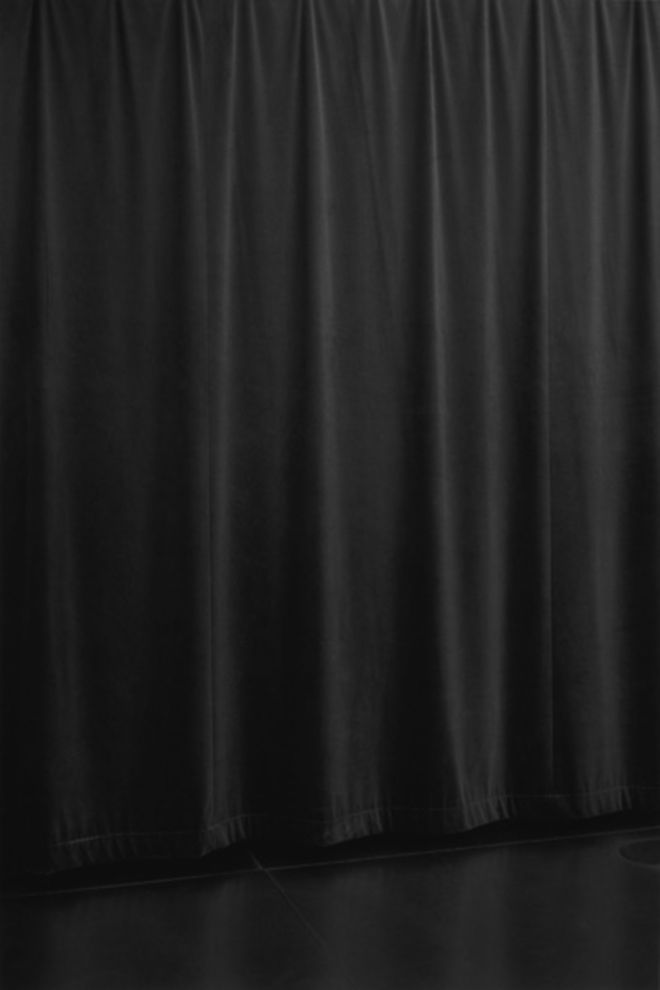 G.P.-P.O.-09
, 2009, 120 x 180 cm, gelatin silver-print mounted on aluminium. Courtesy of Zeno X, Copyright Dirk Braeckman
Most of all, though, Braeckman is a photographer. Everything he does can be seen as playing with the laws and conditions of photography in order to discover what photography really is. As the artist himself has said, he is 'concerned with photography in photography'. While hiding information about his subjects, he shamelessly shows the characteristics of the medium. In 'KL-DK-12', he goes so far as to build in three photographic layers: we see an image of an image inside an interior. Here, as he often does, the artist uses the reflection of the light from his camera's flash to make us aware of the fact that we're looking at a photograph. The intense brightness of it obscures details in some cases and reveals them in others. Taking the picture is only a small, relatively unimportant part of Braeckman's photographic process; it is in the dark room where the image is formed into its final appearance. By accentuating or obscuring certain parts, he manipulates the image so much that the final product has very little to do with the original negative.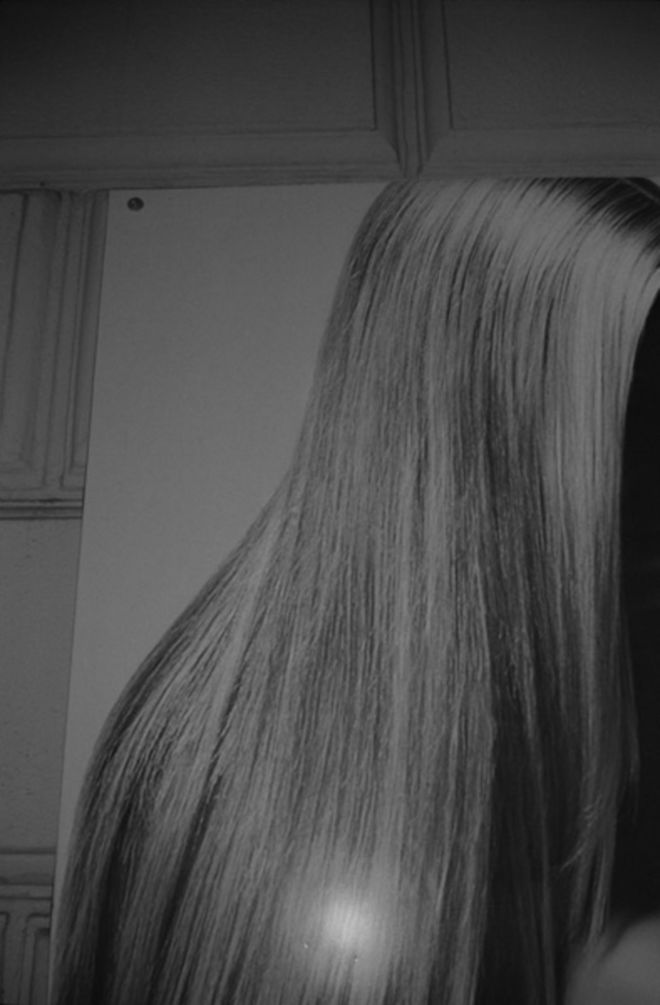 K.L.-D.K.-12
, 2012, 60 x 39,5 cm, Ultrachrome Inkjet Print on Japanese Silk Paper stretched on a panel. Courtesy of Zeno X, Copyright Dirk Braeckman


It's admirable that Braeckman decided to try out new works and a new way of showing them for his show at de Appel, but it's not as though his work is so well known that he doesn't need an introduction anymore, and this is something of a 'hard core' Braeckman show. If you're not already an adept, this exhibition might have difficulties convincing you. However, when you're prepared to patiently let these works settle into your mind, it won't be easy to get them out. They provide a means to escape from reality that can be incredibly soothing. They may well change the way you look at things.