In collaboration with Sony, we asked Amsterdam-based photographer Cris Toala Olivares to discover his adopted hometown by photographing it with the Sony α7R II camera and brand new PlayMemories Sky HDR Camera App, from Sony's online PlayMemories store. Besides the stunning photos of Amsterdam we wanted to know more about his life, his award-winning photography, his goals and his ambitions.

Hi Cris, please tell us something about yourself and your background.

I come from Ecuador but I left when I was 18 to come to the Netherlands, leaving behind quite a poor situation. I have always been interested in social issues and people – in Ecuador I was working with people living on the streets, where they even died sometimes. But even in a completely different situation like The Netherlands, I was still interested in finding solutions to help people, so I studied social work and then medicine for two years.

So how did photography come along?

I often heard people talking about what they'd like to buy, like a house or a car, thinking that they could buy safety this way. But you cannot buy things in order to be safe. I always knew that safety was never important to me, because I don't think it exists. So in 2009 I went to Gaza, in the middle of the war, to volunteer in a hospital. I met a boy called Mohamed who had leukaemia, and I signed a paper for him so that he could get proper treatment in Egypt. A couple of days later Hamas decided that all the foreigners had to go. I met Mohamed on the border and I saw one of the Hamas people telling him he wasn't going anywhere, and I took pictures of this happening. A guy came to me and said: "That was a good shot. I'd like to buy that picture". He was the photo editor of Al-Mustaqbal, a Lebanese newspaper. He bought my photo and, after that, the Red Cross called me to put them in contact with the boy they had seen in my picture. Months later, Mohamed called just to thank me, I had saved his life with that single photo. It was incredible for me. After that, I quit medicine and took on photography. I easily got assignments and started working for De Telegraaf, a local newspaper.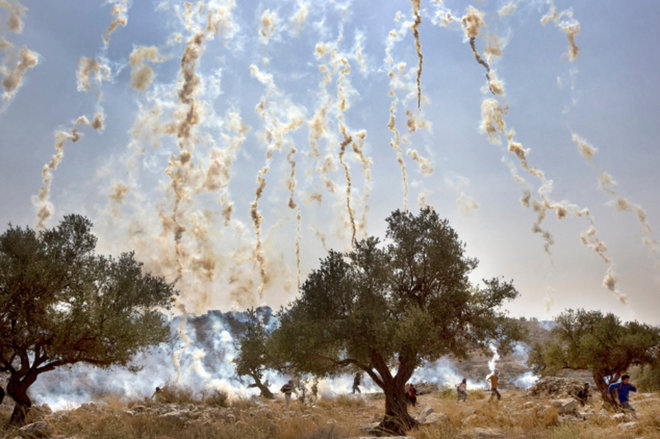 You recently won the Magnum LensCulture Photography Award 2016 in the Documentary Single Image category.

Yes, I won it with a picture showing a tear gas bombing in Ni'lin, a Palestinian village on the West Bank. It's the kind of photo showing something that everybody knows about but no one wants to see. I think that the true purpose of photography should be to show things in your face. I believe that when you feel like doing something from your heart, then you have a mission, you know what you have to do.

How would you describe your work?

I focus on the relationships between the people and their environment, which is basically what I've done as well with my book The Amsterdam Canals (TERRA, 2014), for me it is all about how people interact, not only with the canals, with the rooftops, the windows, the staircases... I was photographing all kinds of people and merged all these subjects into one book.
"Beauty is important because it draws attraction. I have to find beauty within the beast
You just now tested the Sky HDR Camera App on a Sony α7R II camera in Amsterdam. What was your approach with this app?

It was not an easy cookie! You know, when I decide what my subject is going to be, I wait for the perfect light to come, I observe the colours, the contrasts... it's quite usual that I have to wait for a week to take a picture. But with the app you can take the photo right away and then do the editing directly on the camera screen, which feels quite unusual at the beginning, but it's a new way of working. With the app it felt like I was 'painting' directly on the screen.

What are the advantages of the Sky HDR Camera App?

It saves a lot of time, and allows you to take a good picture even if the light conditions are difficult, and you don't need post-production programs. When you get to know the tool better it makes you want to try different things and experiment. The screen actually helps you create your image in real time. It's perfect for people who love technology.

Is there an instance in which the app is particularly useful?

When you're dealing with strong light, for example at noon you can easily make the sky darker. It helps if you want to be very technical and precise: the camera will assist you to make the perfect picture when the conditions are not perfect. It's great for people who travel to places specifically to photograph, when you cannot keep waiting forever for the perfect light. It was pretty easy to catch a great picture, and definitely interesting to see how this new tool works.
"The volcano project is about beauty, but also what I told you before about safety: nobody has safety. These people are there because they feel attracted by something, not because they feel safe
Let's talk about your volcanoes project, which is a personal work aimed to document the life of people who live close to volcanoes. How did you start with this project?

I was looking for a story for GEO in Ecuador. I wanted to find something special, and I was taken to a spot where there was a swing hanging from a tree, from where you could see a volcano from no more than 500 m. You know, by travelling around the world, people have taught me a lot of things and, for example, in Bolivia someone told me: "When you're about to drink water, pour some to Pachamama as well, to Mother Earth". But in Ecuador I found myself in front of a volcano actually drinking a beer, so as a little bit of a joke, I poured some to Pachamama. In that moment the volcano exploded. And I took a photo.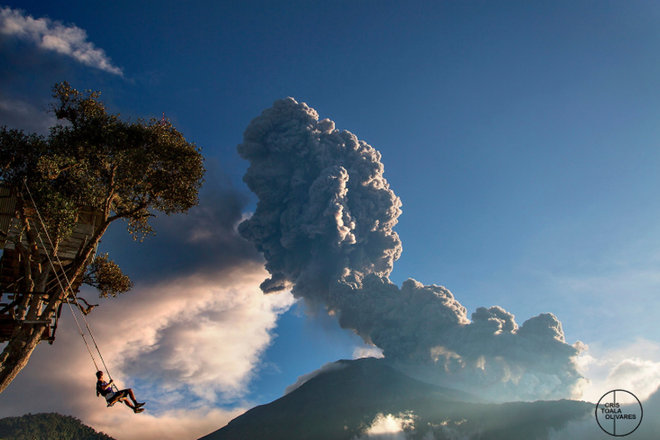 What is it that you find fascinating about volcanoes?
The fact that they make me feel the power of the Earth makes me understand that we're nothing, although we actually think we can destroy nature. A lot of people don't realize where we come from, they are so far from the Earth, they live in the city and cannot live outside of it. In Iceland I met other travellers who, in the middle of nothing, wanted to find a toilet to pee, which was absurd. I look for the stories of people who live close to volcanoes so that I can learn from them. In Stromboli people call the volcano Iddu, it means 'He' in the local dialect, which shows how much they respect it. That's what I want society to see.

Do you think beauty is enough to express that? Tell me about the role of beauty in your work.

Beauty is important because it draws attraction. When people look at my pictures they ask themselves: "It's beautiful, what is it about?". Then sometimes when you read the caption, the story behind the photo actually wants to punch you in the face. I have to find the beauty within the beast, and that is difficult. Sometimes I have to wait for one year in order to take a photograph. The volcano project is about beauty, but also what I told you before about safety: nobody has safety. These people are there because they feel attracted by something, not because they feel safe.

Tell us about Iceland, as you recently went there for your project.

Well, usually the ground near volcanoes is really fertile, but what is interesting about Iceland is that it is the only country where you can't see this, because the volcano is quite young [and it takes thousands of years to make the soil so fertile]. So I was making photos from above, almost as if the camera was parallel to the ground, focusing on the colours and the shapes, making very abstract pictures. What you can see clearly is the iron, the sulphate and other minerals. I work with researchers who tell me what minerals show in the photos, and what they are for. This way you can understand the photograph.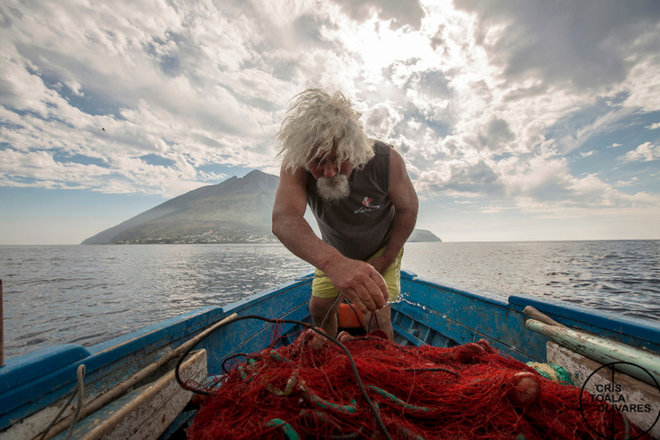 So you don't agree that photos need to speak for themselves.

Sometimes we have to explain things, like the stories of these volcanoes. But for example, take the picture of Gaetano, the fisherman I met in Stromboli. He's blessing the net with the water before he throws it in the sea. This is a spiritual moment. It's him and the sea, him and nature, him and God. In that moment he said to me, "Cris, silenzio, be quiet now". The picture of him, blessing the net with Iddu in the background, actually already tells a story. The thing is that it's not only about the photos, I talk to people, I interview them. I remember when I asked Sasà, another local I met in Stromboli, if I could take a picture of him in the crater. He replied: "We have to wait, we cannot say tomorrow or when, we have to wait for a favourable moment". And eventually that moment never came, I have no picture of him, but that's okay, because I learned that we need to respect nature's time.

Cris's work will be exhibited during the International Photoreporter Festival in Baie de Saint-Brieuc, France, starting October 1.

Follow Cris on Instagram
More on Sony's PlayMemories Camera Apps here