Federico Clavarino's book 'Italia O Italia' (Akina, 2015) documents "metaphysical cities [that] hide the enigma of a timeless place between sunburst dead-ends and shadowy arcades." Or that is at least how the publisher has attempted to put it in words. Federico Clavarino (Italy, 1984) is thus basically shaping an Italy of the mind, yet his initial method of wandering seems very much in line with how a street photographer would operate. How exactly does – or doesn't – that comparison stand in reference to 'Italia O Italia'?
Street photography is an extremely democratic activity: everybody with a camera is potentially a member. No contribution is required and the 'playing field' is highly accessible. Notwithstanding, the noteworthy moments – those occasions that stand out from the mundane – are nevertheless as rare as ever before.
The medium itself is in no way preventing anyone to give it a try and the crowd makes for a cumulative sum of good quality pictures, but the excellency to maintain a certain level – to capture the anomalous over and over again – is still only in the hands (and eyes) of a fine selection of all those that would like to consider themselves a 'street photographer'.
Many have attempted to climb the Olympic mountain of Seeing, yet very few have eventually reached its summit. It is not enough to just recognize the situation. One also needs to be able to arrive at aesthetically pleasing visual dish in which all the elements (ingredients) involved are served as intended.
"Keep in mind that you are looking for a single, brilliant moment and 99% of the time, you won't get it. That's what makes street photography so difficult but also so exciting," says Matt Stuart, one of the most prolific exercisers of this sport within photography – the 'sport' not so much being the competition against other practitioners, but rather the hunting game for that 1% of 'getting' what they are all after, in solitude.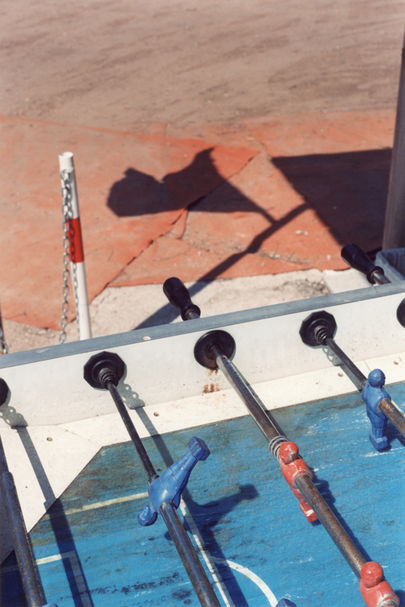 How to characterize this type of people? In order to come to an answer to that, it helps to first be reminded of how the intellectual Walter Benjamin already managed to describe the build up of the modern experience in relation to the growing popularity of photography with great clarity. One particular modern figure that he highlighted in that context was the so-called 'flaneur': the idler, the urban explorer, a connoisseur of the street.
The 'flaneur' is not merely doing anything. Instead, (s)he is a hyper alert observant. While the actual behaviour is far from overly active, the eye is always 'on' – voracious, with a greedy need for anything unusual. Indeed, it is exactly that which makes the street photographer a 'flaneur': his or her hunger for the extra-ordinary, the things in everyday life that have the potential to be captured and preserved as visual poetry.
Being a passive bystander while trying to accomplish a task seems paradoxical, but it is the natural behaviour of a street photographer. Ideally, one either freezes and frames the serendipity once it has been 'discovered' (and, as this is the kind of beauty of the most evaporating kind, often done so with immediacy) or, alternatively, one recognizes a metaphorical 'change of temperature' within the social atmosphere as caused by a singular and unique time-space relationship.
As already mentioned by Matt Stuart, it is not an easy task to find, recognize and capture the beautiful fragments as occurring within the everyday cycle of the urban environment (which is the natural habitat of the flaneur-with-camera). Let alone to repeat the detection and to establish a consistent collection of 'treasures'. Maybe the hardest job for a street photographer is to get across what has been detected in the most precise articulation; to deliver a picture as a subjective comment, without the use of additional words.
The 'flaneur' is not merely doing anything. Instead, (s)he is a hyper alert observant
Federico Clavarino however, has succeeded in just that: putting the stress on what he sees, aphonic. But is he really to be recognized as a street photographer? Be it that, for his book 'Italia O Italia' (Akina Books, 2015), he did indeed travel without exactly knowing what to look for, and that the 'catch' of his wandering spirit was stumbled on along the way, he was always on the lookout for something very specific.
Federico Clavarino might still be defined as a 'flaneur' – not knowing on beforehand what his strolls (or 'derives', as the French Situationists would coin this non-intentional activity) would bring him – but other than most exceptionally talented street photographers he is not so much interested in the openness of the world; he is not in the game for the love of the happenstance.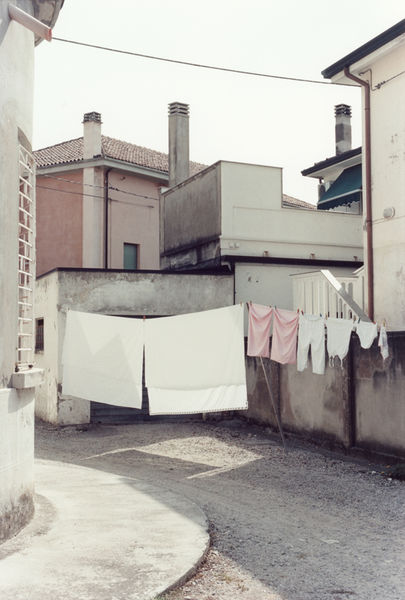 Alternatively, he applied very strict rules towards the levelling of all the elements included and how they relate to each other. The consistent horizontal framing – which is unusual in street photography – and also the strict colour 'palette', are both clear indicators of a conceptual approach, helping to get control over the eclectic nature of the matter. But it is the meticulous archiving of a metaphysical and subjectively experienced 'being in the world' that ultimately makes 'Italia O Italia' so distinct when compared with the genre of street photography.
'Italia O Italia' is the successful result of a seemingly impossible self assigned task to arrive at a visual poem on a country by means of an academic inquiry and with that, it has very little to do with street photography as it is commonly understood. Clavarino might have operated on the same pitch, be it with deviating intensions. Whereas a street photographer would just snap whatever (s)he considers worthy taking a picture of, Clavarino only allowed himself a very narrow frame of interest. One that is imbued with the knowledge that he has of the rich culture of his native country.
And so, rather than capturing whatever beauty the everyday is willing to reveal, the ultimate photographic achievement here has been this: to allow the intellectual and the poet within one Self - that of the photographer, Frederico Clavarino - to team up with each other and to cease the opportunity to have those seemingly opposite mechanisms operate as a beautifully balanced tandem, functioning within one aesthetic body.