Skateboarding, as we know it, was probably born sometime in the late 1940s, or at least early 1950s, when surfers in California wanted something to do when the waves were flat. But it wasn't until the early 1970s, that skateboarders started to discover the pleasure of riding in so-called 'bowls'.
Believe it or not, this trend might've actually evolved due to circumstances related to the weather. That is, the severe drought that hit California in 1976 (and lasted for almost two years) aligned harmoniously with the rise of skateboarding. Here is how: in effort to conserve water, many swimming pools were being emptied throughout the state, and emerging skate legends discovered these deserted bowls as the ultimate surface to practice their tricks.
These experiments have had an immense impact on the movement of skateboarding as a sport, and the lifestyle that surrounds it. Anyone who watched the impressive – and award-winning – documentary 'Dogtown and Z-boys' (Stacy Peralta, 2001) or, if not that, has flipped through a specialized magazine on skating, immediately understands that photographers were overly present at the time, and they were eager to depict the 'skate-o-nauts' who dared to test out those magnificent and – certainly for the rookies – somewhat intimidating bowls.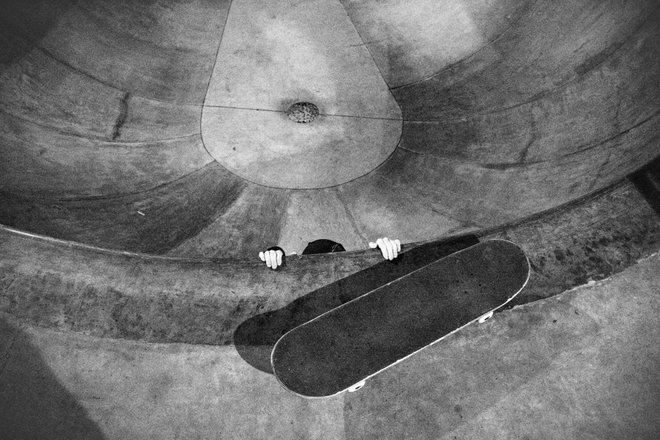 This was the iconic skate era of the '70s, and it all started in California. Whoever feels the urge for nostalgia can find plenty of visual footage of those times. Slovakian photographer Dorota Holubova (1989), however, recently stumbled on a bowl in the middle of a rice field on the Indonesian island of Bali, and her pictures of skate events that currently take place there eerily breathe a very similar air. From the look of it, one might presume that the guys and girls in her images have just skated out of a time machine.
You could imagine yourself surrounded by the Zephyr skateboard team (Z-Boys) who once started it all. Skate-jams, tattoo artists on couches, hard-rock bands, beer, cigarettes, artists from all corners of the world, everything and everybody who naturally blends in is welcomed here – black or white, Muslim or Hindu, anyone can be part of this local village party somewhere on Bali (an island predominantly known as a surfers' paradise) and get infected by the phenomenon of the skate-park called Pretty Poison.