'Arnold Newman: Masterclass' is on exhibit at The Hague Museum of Photography in the Netherlands until Jan. 13, 2013.
Alternating iconic photographers with new and fresh artists, The Hague Museum of Photography strives to impress and surprise its visitors. Inside its limited space, works have been on show from the likes of Leonard Freed, Man Ray, Sally Mann and Pieter Hugo. This time, the work of influential photographer Arnold Newman (b. 1918, New York) is on display for the first time in Holland since his death in 2006.
Newman was undeniably a pioneer of portrait photography. He was among the first to include the surroundings of his subjects in the frame, as opposed to studio portraits in front of a neutral background. This type of photography has become known as 'environmental portraiture.' Wandering through the exhibition – or paging through a catalogue of his work - one may not immediately be aware of how new and different his approach to portraiture was in his time. But without Newman, present-day portraiture would look a lot different.
Because of the way Newman portrays his subjects, we get to know them better than if we were to see only the human figure. After all, the interior of your living room or the state of your studio can say a lot about your character. The environment adds to the photograph as an artistic object as well. Prominently displayed in the exhibition hall is a quote by Newman that, in all its simplicity, says quite a lot about his approach: "A good portrait is first and foremost a good photograph." Focusing on more than just a face, a complete interior can be compositionally more challenging to capture, making for a more interesting image.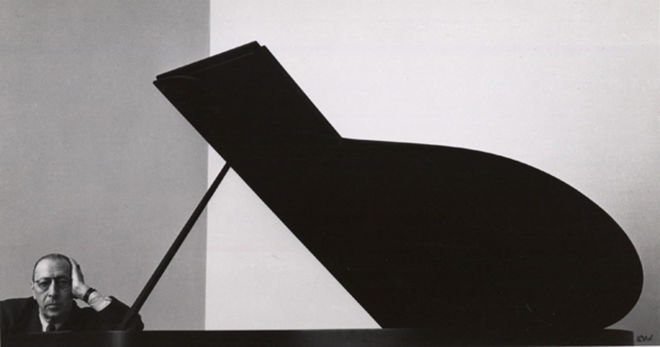 Igor Stravinsky, composer and conductor, New York 1946
© Arnold Newman / Getty Images
Newman was meticulous in his use of composition and lighting, making the exhibition a master class for every aspiring artist when it comes to photographic technique. His iconic portrait of Igor Stravinsky, for example, comes close to photographic perfection: the way the deep black makes us see only the gorgeous outlines of the grand piano; the balance between that black and the white and the grey of the background; the straight lines between light and dark; the way the piano fits perfectly within the frame; the positioning of the subject in the lower left corner. The same tightness and simplicity can be found in the portrait of painter Josef Albers, whom we see standing directly in front of his own painting of multiple rectangular shapes. Artists and their art are the ideal subject matter for Newman, who always searches to play with lines in order to create a flawless composition. However, the portrait of Piet Mondrian - although special because he rarely allowed himself to be portrayed – does not use its given compositional elements to the fullest, creating an uncharacteristically imbalanced image.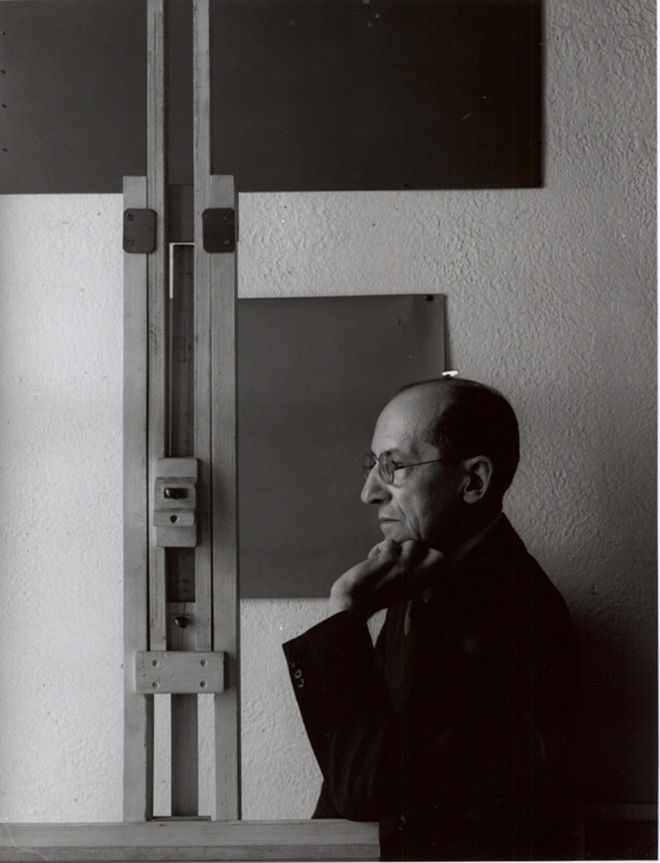 Piet Mondrian, painter, New York, 1942
© 1942 Arnold Newman / Getty Images
Most, but not all, of Newman's subjects are figures from the art scene – both famous as well as the sadly forgotten. Fellow photographers like Brassaï, Ansel Adams and Robert Doisneau are included, for example. Some portraits, however, depict influential businessmen, like Alfried Krupp. Art and photography enthusiasts will not always recognize these figures, but that's no problem at all: Newman himself has said that whoever its subject, a portrait should always excite and interest the viewer. In that, he succeeds wonderfully. Krupp poses proudly and defiantly in front of his own factory, giving us an impression of his personality through the image.
In a close-up portrait of poet Allen Ginsberg, a reflection of the room that the photographer and his subject are in can be seen in Ginsberg's glasses. This is one of the more playful images in an exhibition and oeuvre otherwise full of quite conventional photography. It's a relief to come upon a room full of contact sheets that illustrate the ways in which Newman has come to his end results. It becomes evident that the perfection he achieves is not by accident: a portrait of Picasso was heavily cropped and slightly tilted, and a close-up of Marilyn Monroe was taken from a series of group portraits. Being confronted with the human aspect of Newman's way of working is valuable, for seeing one clinical and flawless image after another tends to become exhausting. In the end, it can be hard to appreciate each individual image separately after you get used to his characteristic tones and compositions.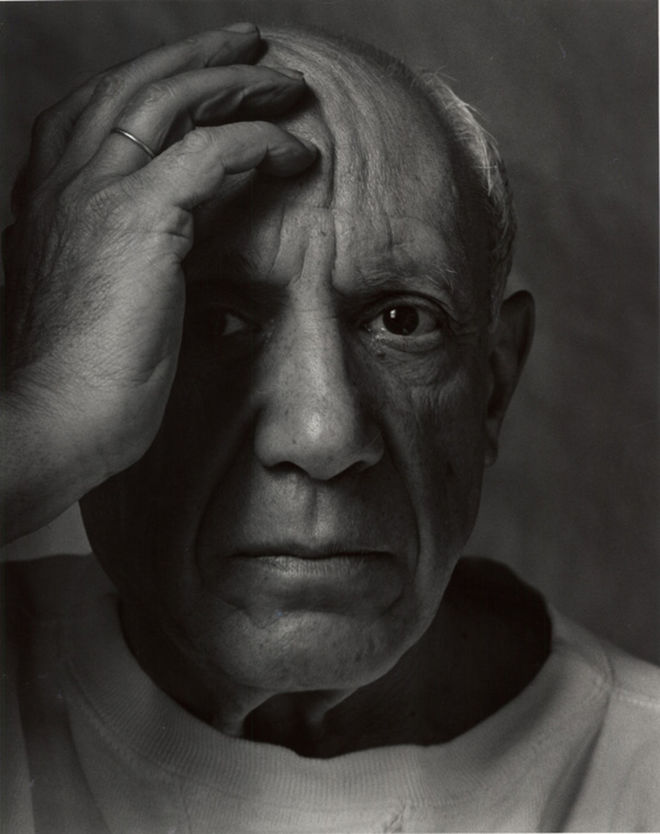 Picasso, painter, Vallauris, France 1954
© 1954 Arnold Newman / Getty Images
Thankfully, the monotony of precision is broken up in more ways throughout the exhibition. For example, there is room for the more humorous side of Newman's work in the extravagant portraits of famous dandies Cecil Beaton and Truman Capote in their lusciously decorated homes. The less esteemed non-portrait work – mostly architectural studies – is mixed in with the better-known images, thus providing a diverse and complete overview of his work. In the end, though, it's all about the portraits. A visitor perfectly summed up what Newman undoubtedly wanted to achieve: "Look, a portrait of [Edward] Hopper. He looks just the way he paints."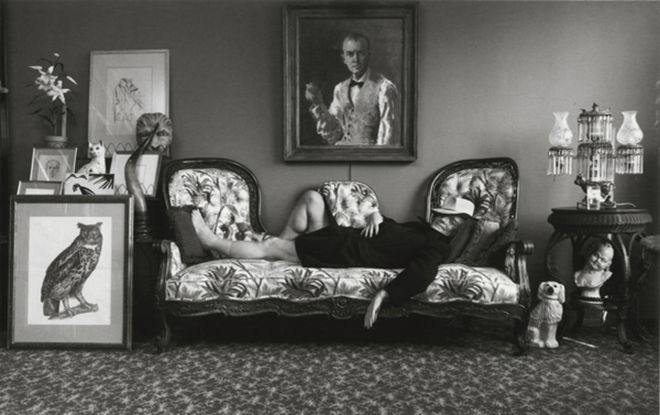 Truman Capote, writer, New York 1977
© 1977 Arnold Newman / Getty Images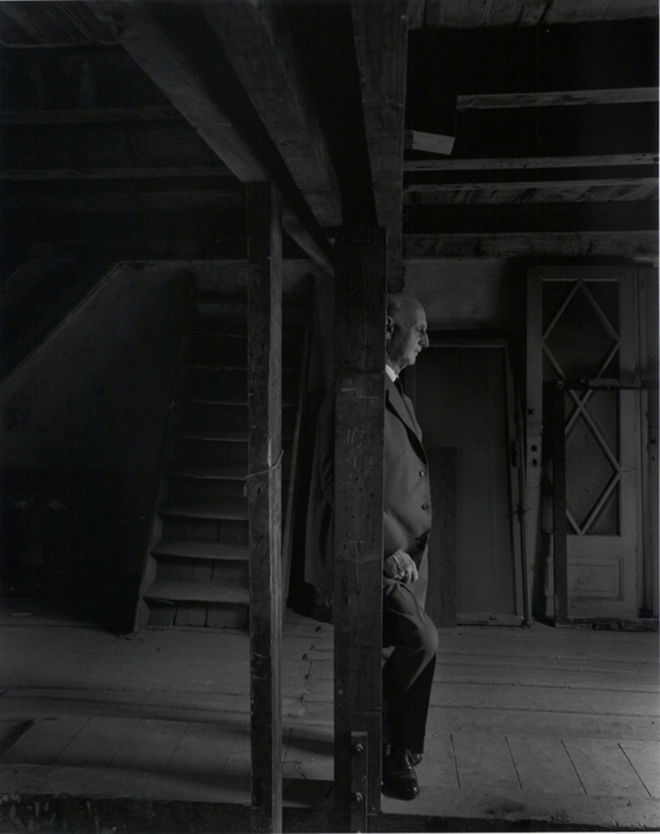 Otto Frank, Anne Frank House, Amsterdam, Netherlands 1960
© 1960 Arnold Newman / Getty Images