For almost ten years, the photo collective Sputnik has focused on Post-Soviet countries, in search of personal stories instead of 'hot news issues'. The nine photographers of the collective include winners of many awards, such as World Press Photos and Pictures of the Year. Founding member Rafał Milach, along with his partner Ania Nałęcka, who designs all of Sputnik's books, were in Utrecht for the opening of Sputnik's exhibition at Fotodok, the first exhibition dedicated entirely to the collective. They sat down with GUP to talk about Sputnik's start, photo books as a slow medium and how they learned to work together as a couple.
Sputnik unofficially started in 2004 when Polish photographer Rafał Milach (b. 1978) went to a workshop in France, where he met other photographers from Eastern and Central Europe. "Funnily enough, we met in France for the first time. Most of us were from Warsaw, but we didn't even know each other," Rafał says while taking a break from building up his exhibition at Fotodok. Sitting in the brightly lit office, he sometimes gets up and runs over to take a book from the shelves, to illustrate what he's talking about. The participants from that workshop in 2004 got along better than any of them could've expected, he says. "It was mostly the energy that we felt," Rafał explains. "During the workshop, we discussed methods and edits. And we hung out. We didn't even really work together that first time, but it was an intense and important time for all of us. During one of those late night dinners, while freely discussing ideas, it turned out that everybody was passionate about working together. Someone proposed the name Sputnik. That name is related with transmission and we wanted the collective to be our personal broadcast, filling the gaps that mainstream media forget about. Our main focus would be on Post-Soviet countries, where we all come from. Even though we didn't know each other yet, we felt this energy between us. Sometimes you meet people and you know that you could work with them. So we decided to give it a try.

"Then, as if he's suddenly realised it, Rafał says: "If we met in 2004, that means that this year is our anniversary. We'll have to celebrate that!"
It wasn't until 2006 that Sputnik became an official organisation. Because Poland had just joined the EU, it became possible for them to apply for European grants. "Plus, as a collective, we could apply together," Rafał says. "Before that, we mostly financed our projects ourselves, which is sometimes hard. So, it was also a pragmatic reason to get together."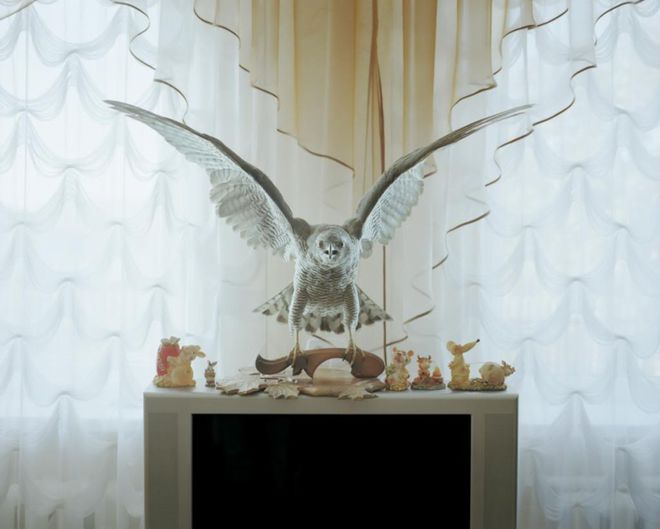 © Sputnik Photos Jan Brykczynski - Standby
That they actually got that first grant was a surprise. "The European Cultural Foundation somehow liked our idea," Rafał says. "We decided to do our first project on the illegal work market in European countries that had just joined the EU. It was the toughest project we ever did." They coordinated the whole project themselves. "A disaster," Rafał thinks. But, with 15 shows in 6 countries, it seems pretty successful. "I have no idea how we did it. During that project, we realised how much more there is to taking pictures: making a book, an exhibition, doing lots of paperwork, exporting photos, then getting those photos back again. It was terrible. But I think it was good that it was so terrible, because it was a test that we could work together even under such stress. It didn't break us."
Over time, Sputnik has completed many joint projects, ranging from visiting enclaves around a river in Poland to covering the daily lives of people under Europe's last dictatorship in Belarus to a documentation of Iceland, the only region they covered outside of Eastern and Central Europe. Every time they work on a specific region, each of the photographers focuses on a different aspect. Rather than discussing things beforehand to decide on a common approach, they give themselves the room to choose their own visions, that later can be gathered in a multitude of perspectives on the region. This way, they believe, it's possible to avoid stereotypes.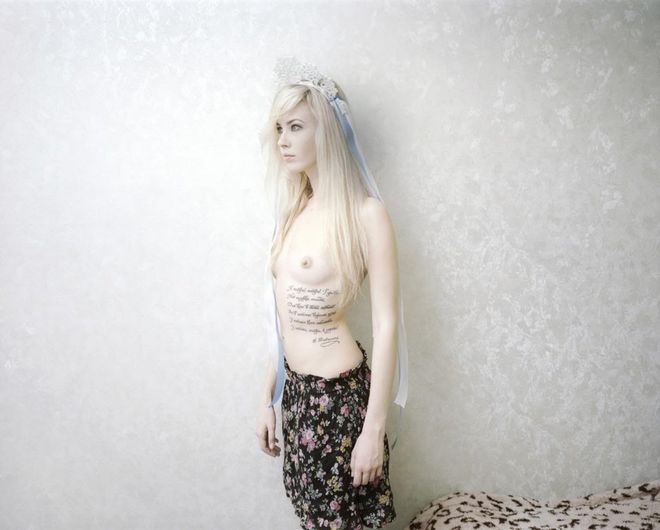 © Sputnik Photos, Agnieszka Rayss - U
"It's funny that people, we as well, are often trapped in the stereotypes that we try to avoid," Rafał admits. "Maybe the harder you try to avoid something, the more you're doing it, actually. Because when the stereotype is your reference point, you automatically relate to it. For example, when we did a project on Iceland in 2010, each one of us from Sputnik actually chose stereotypical subjects, and at first we didn't even know it. I thought that the ring road would be interesting, while all backpackers who go to Iceland take the ring road! Agnieszka worked on geothermal energy, which was a super obvious topic. Jan did rural things, farmers. We all chose stereotypes!" Rafał laughs. However, he emphasizes that it's possible to rework such stereotypes as a photographer by approaching it from a unique angle. "We decided to approach our topics with our own visions, our own experiences. For example, when you do a series on geothermal energy, people will expect steaming water and beautiful landscapes, but Agnieszka actually showed a much wider and darker and dense landscape, not the idealistic and beautiful landscape that you would expect. And when you photograph the ring road you can pay attention to little things that you personally often look at, everywhere you go, not only in Iceland. Like a spoon on the table or a little dust on the floor."
Sputnik's organisation has expanded over the years, and, while they're still relatively small, operating mostly out of Warsaw, where five members of the collective are based, they now also work with a coordinator for projects, a coordinator for exhibitions, somebody who helps with PR, and a designer -- Rafał's partner, Ania Nałęcka.
Ania sits opposite to Rafał at a table in Fotodok's office, with a cup of coffee in her hands, adding information or extra questions every now and then, her eyes shining. "When Sputnik started, I still had a full-time job in an advertisement agency," she says. "Then I quit to do books, and I was just very lucky, because it was absolutely the best moment to do so. Sputnik wanted to make some books, and individual photographers wanted to do books. So, it worked out perfectly."
Sputnik is an active book producer. With approximately twenty productions, and collaborations with publishers like Kehrer, Sputnik has become one of the fastest producing collectives. Why do they like photo books so much?
Ania: "The viewer spends more time with a photo book, and that's what Sputnik wants."
Rafał: "We focus on the small scenes in daily life, and we look for hidden lives, in the regions we come from. Some parts of these regions, and some topics are already well covered by big news media. Probably 150 photographers are in Kiev right now, documenting the demonstrations. So, that's covered. For us, it's interesting to go next year, or before the elections."
Ania: "The difference is if you're interested in the result or in the reason. If you want to see the action or where it comes from. We want to see where it comes from."
Rafał: "Photo books make you slow; they slow you down. They help in such a way of thinking. You can come back, you can analyse, you can discover new things, in the book and about a region."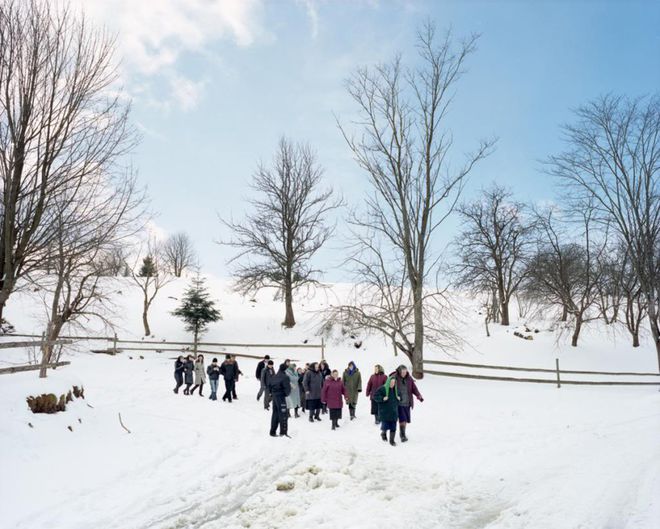 © Sputnik Photos Jan Brykczynski - U
Whenever Sputnik makes a new photo book, Ania makes sure she spends a lot of time talking to the photographer first. Two things are important: narrowing down a story, and making it complete. "Sometimes things are obvious to the photographer, but they aren't in his or her work," she explains. "I want to be informed when I make a book, so that I'm able to help the photographer tell the story he or she wants to tell. I need this back and forth with the photographer. After that rational information, it's intuitive. Then the idea for the book is something that suddenly pops out. And that part, I believe, happens between the two of us. It's neither my idea nor the photographer's."
Rafał: "It's like ping pong. At some point, there are so many exchanges that it's hard to know where the idea is from."
Ania: "It feels like you suddenly wake up and you both see the book."
When asked if the two of them had ever disagreed on a book, they both simultaneously shout, "Yes!" and laugh.
Ania: "Your last book you made almost entirely by yourself."
Rafał: "Well, I had a clear idea, but that idea would not have come out if I hadn't discussed it with you."
Though they met 18 years ago, when they were both studying graphic design (Rafał calls himself a 'retired graphic designer'), working together is something that has become better over the years. "It's a great experience for both of us now," Rafał says. "It's rich and it's fun. Because of this, we've worked together for such a long time."
Ania: "With each book, we quarrel less emotionally. But, with the first books, it was hard."
Rafał: "It was."
Ania: "But it was also very educative for us. I had to learn how to ask questions well, so the other person wouldn't be offended. Also, it was only after ten years of being a couple that we started to work together. In the beginning, it would not have been possible. We were still looking for our own language. But now we really trust each other. And even when I work on something which does not involve Rafał's work, I consult him. Of course I don't always agree, but I appreciate what he says."
Rafał: "We often consult on works by other people together. With the two of us, we are able to combine a photographer's approach and a designer's approach. Together we're almost like one brain."
Ania: "We can provide the whole process, from the start when you're taking photos, to an exhibition or a photo book."
Rafał gets up to make the final adjustments for the exhibition. "I like art when it's communicative," he says. "I don't like it when you have to dig into several layers, that you need to know all the theory, and then know the complete context too, and maybe only then can you understand it. I'm not a fan of that. I love conceptual work but to me it has to have some communicative hook."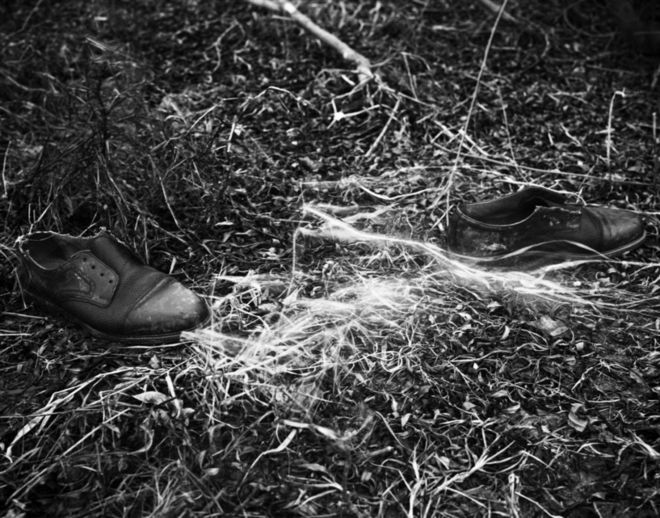 © Sputnik Photos Michal Luczak - Distant Place
And maybe that is also what Sputnik does as a collective: somewhere in between conceptual and documentary work the individual photographers' visions communicate what it means to live in, for example, Belarus (like they did in their 2012 project
Stand BY
), or in Poland (
At The Border, 2008
,
Distant Place 2012
), or in the Ukraine (
U, 2008-2009
). After an hour of hearing Ania and Rafał talk about the exciting yet tiring process of setting up photo projects in different countries, it becomes clear that they focus on the random objects around them with the same dedication as photojournalists would look at a large demonstration, or a political ceremony.
"I have this obsession," Rafał says with a jokingly tone, but he's serious. "Wherever I go, I photograph curtains. The reason is most probably because I saw Twin Peaks a lot when I was a kid. It was such a curtain dense film that they remained in my head. So that's the reason why I photograph curtains. Nothing more or less."
Whatever gave shape to a person's life, whether by watching Twin Peaks on TV or by something entirely different, to Sputnik, it's these little obsessions that can inform about people's unique lives in differering regions. As a group, the Sputnik photographers are able to cast a wide net over many individual obsessions.
Ultimately, they hope that in viewing the quirks of foreign lands, viewers will reflect on their own region and how their own lives were formed. "We don't simply show what we see, but what we want people to observe," Rafał says. "Because then, they might discover little things that they hadn't seen before. Maybe even things that they typically see, and other people don't. The pictures are only the starting point of the viewers' imagination."
An exhibition of Sputnik's work is on view at Fotodok in Utrecht till April 13th 2014.