Russian photographer Sergei Ilnitsky just won the 2nd prize stories in the Sports Action category for his series 'The Golden Touch' during the 56th edition of the World Press Photo. GUP met with Ilnitskiy at the Oude Kerk in Amsterdam where he was setting up his work for the Russ Press Photo exhibition that is on display until June 23.
First of all congratulations for the award! How do you feel upon winning the World Press Photo?
This is a very important contest that means a lot to me personally. In Russia we have a photography journal that would publish the images of the World Press Photo winners every year. In 1986 I saw these pictures for the first time, and from then on tried to see the photographs every year. As a child I would dream about being the photographer who took the winning picture, so I eventually started working on it. World Press Photo is the biggest and most important contest in the world, with the best photo editors and judges and a lot of remarkable photographs. I am proud that my work is respected and looked at by these people, even though for professional photography this is only a very small step.
For your award-winning series The Golden Touch, you covered the fencing contest during the Olympic Games in 2012. Did you have any relationship with the discipline before?
No, not on Olympic level anyway. Our chief sport editor came to me and said: "Russians are always good at shooting fencing and rhythmic gymnastics. So this is what you will be doing." When I came to the piste [the sparring area] for the first time I did not understand what was happening. Within two minutes the decision is being made, everything goes really fast. Only the next day I started to get an idea. After five days, I eventually knew all about fencing and I was able to react more precisely and to capture the small movements at the right time.
What I really like about your series is that it captures the intensity of the moment, this all-or-nothing mentality just moments away from triumph or defeat. How do you experience these moments as a photographer?
We had two points for shooting at the Olympics, one point near the piste and another on top of the spectator's tribune. Me and my colleague were standing among the athletes that were not attending the competitions of the day. We were chatting and wondering why they were crying so much. I mean, one day you lose but the next day you might win. But some athletes were sitting above us, saying: "Guys, I have been training for this moment for 15 years and only one touch might divide me from my dream. I am on this high level of physical and emotional condition only for one, maybe two Olympic Games. I may lose my dream and never catch it." After this encounter, I started shooting differently, I actually started being nervous about the bouts. I no longer had only the information, but a real idea of what I was shooting. The Golden Touch is not a story about fencing, it is the story of a dream and the uncountable small steps it takes to achieve this dream. The small tragedies of people.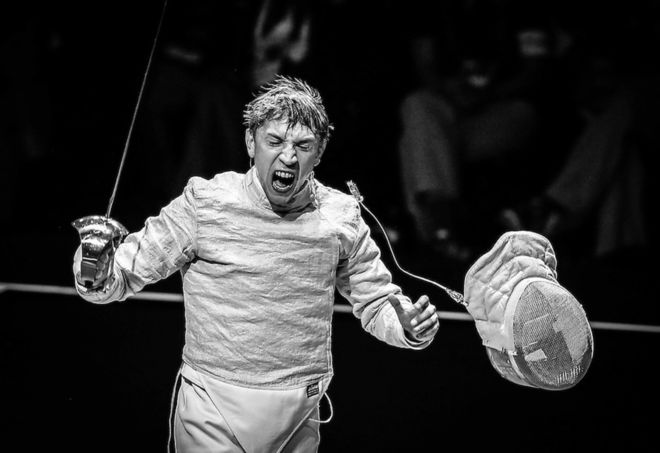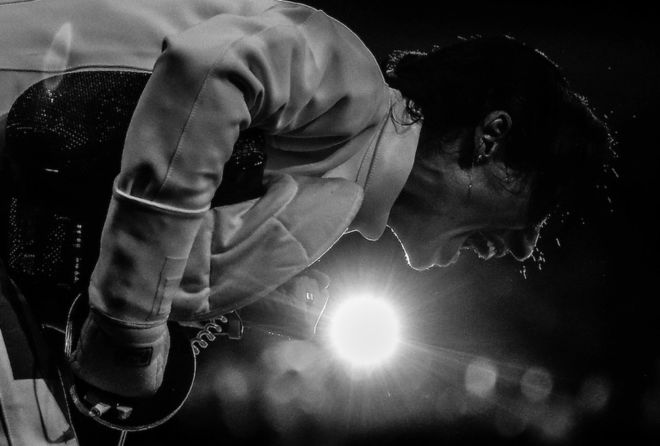 The Golden Touch © Sergei Ilnitsky
Why did you choose for black and white with this series?
I prepared the story in colour, but it was not good. You had the white suits and blue lights on the piste with red and green stripes. Colour broke the beautiful images, you would not have been able to concentrate. Besides, I mostly shoot black and white. I've been working in professional photography for 20 years, of which 10 years I have been shooting exclusively in black and white for a Russian newspaper (in Russia we only have black and white newspapers). I think in black and white. That's my thing.
You have covered topics ranging from everyday life in the Russian villages to the life of a nomad, as well as children's colonies in Siberia, the miner's strike in the Kemerovo region, and a project about the Chernobyl nuclear power plant. However, the 2012 Summer Olympic Games in London were your career's first big sporting event. What's the biggest difference between photographing political events and sporting events? Is there a difference in the way you approach your subjects? Do you think it is necessary to connect with the people you portray in order to make good images?
They are of course very different things, but as a photographer I always try to capture the decisive moment and that's the same thing for political or social projects. What's different though is the importance of the connection with the subject. For a social story I would say it is necessary to know the people you are about to portray. For example, when I shot the story 'Inverted Childhood' [a series about a colony for underage prisoners in Siberia] I lived with the boys in the colony during four days - playing football, doing push-ups, joking around - all without my camera. When I eventually started shooting, they weren't even noticing me anymore.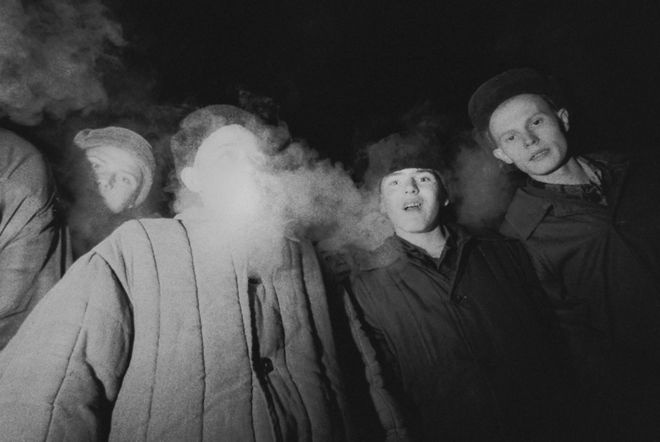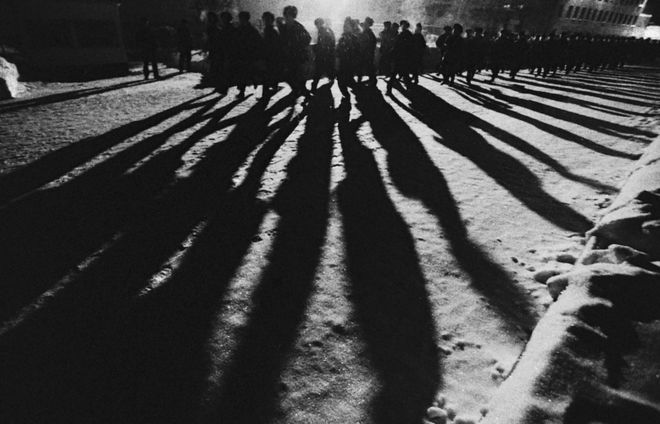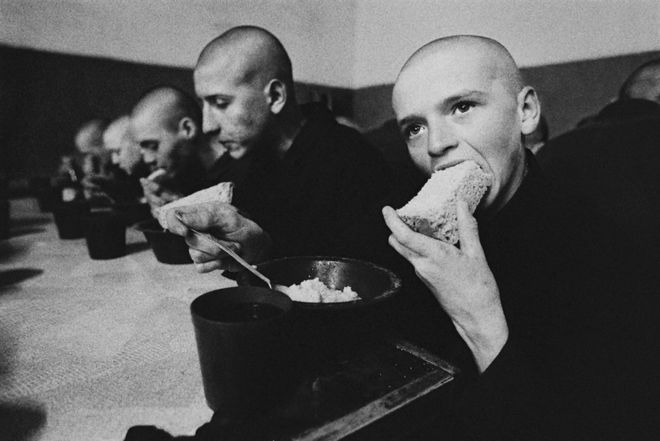 The Inverted Childhood © Sergei Ilnitsky
How do you handle the conflict you see when working on your project? I imagine it can be hard to separate your personal feelings from being professional sometimes.
For me, a photographer must be first of all human, and after that a professional. A photographer, like a writer, should ask something to other people and have an idea of what they want to say to the human society. If I have this idea, I take my camera and enter into a conversation with the people through a good picture. Visual information is the best way to bring something directly to the mind, without even really thinking about it. All photographers try to show their own opinion, their own view of the world. For my social projects it is very important to make an emotional impact on the viewer and communicate a certain message. But you must understand that I am shooting in different situations. When I shoot war in Afghanistan for example I have no idea what's going on, I have no television, no newspaper, no telephone. Then I just see a situation and react to it by shooting. Seeing something, shooting it, bringing it to the society and writing a small piece in human history - this is our mission as photojournalists.
What are some of the projects you'll be working on now and in the immediate future?
I am currently going back to the colony where I shot the 'Inverted Childhood' series to work further on the project. This time I am shooting from a different angle because the economic and political situation changed a lot during the past 10 years. I will keep working mainly in Siberia, as the country is fascinating and the people are interesting. They are very open, not like in Moscow where photography can be very hard work. Besides, I like shooting simple life stories and simple life people. At the moment I don't really have the time and money to shoot a big project. But I have ideas, many ideas! One of my favourite photographers, Robert Frank, drove through America and I want to do the same with Russia, doing a photographic road-trip all the way to Sakhalin and Kamchatka. This might be a very, very long project but it is my dream.
The Russ Press Photo exhibition is on display until June 23 at the Oude Kerk, Amsterdam.
See more of Ilnitsky's work on his website.